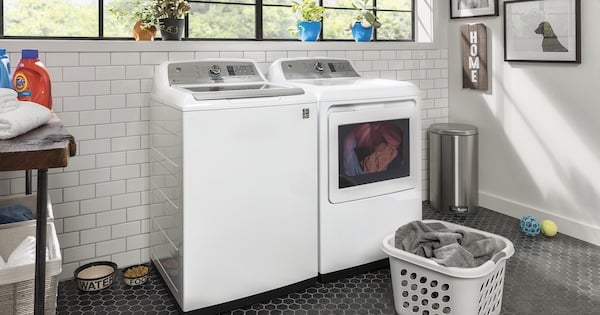 GE Appliances is one of the largest appliance brands in the US and was founded over 100 years ago. Their innovations include inventing the over-the-range microwave in 1978 and the first "smart" dishwasher that used sensors to gauge how dirty your dishes were in 1995. They may not be the first brand people think of when they need washers and dryers, but GE has a small but solid selection of top load and front load washers and dryers.
If you're considering a new GE top load washing machine for 2019, you might be interested to know about GE's model revamp taking place this spring. There are two reasons why this knowledge is valuable: if you want to save money, you may be able to snatch the older model for a lower price; and if you want to avoid discontinued models to ensure you can easily find replacement parts or get the latest and greatest features, you may prefer the newer model. Let's dig into what GE is changing about its top load washer lineup!
GE offers eight high efficiency top load washers and six agitator top load washers as of this writing. This year, they are introducing a new lower-priced impeller washer, updating two of their agitator washers, and discontinuing one of the agitator models. The new agitator models offer larger tub capacities and some changes to the control setup. Popular features like deep fill options and the ability to open the lid during the cycle to add garments are still available on the new models.
Note: If you click any of the links below and end up at a 404 error page, that means the model in question has been discontinued.
First up: the GTW330ASKWW agitator washer, retailing at $629, is being transitioned to the GTW335ASNWW, which retails at the same price. The capacity has increased from 3.8 cubic feet to 4.2 cubic feet, but the exterior dimensions aren't changing - both models measure 27" wide by 27" deep by 44" tall. The main differences are in the controls: instead of listing Load Size, they have a Water Level dial along with a Precise Fill option for automatic load size sensing and filling. They mean the same thing, but they most likely changed it to make it clearer to consumers that you can decide how much water the washer dispenses for a cycle. Precise Fill will save the most water by letting the washing machine take over, but this washer is a good option for people who want to control the water level. The new control layout also emphasizes the Deep Rinse option, which uses extra water in the rinse that is ideal for distributing fabric softener evenly throughout the clothes.
For those curious about energy efficiency, the Energy Guide for both models is very similar with an estimated yearly energy cost of $22 when used with an electric water heater. Keep in mind that energy cost does not include the cost of water usage.
Pictured below: the controls for the old vs new model.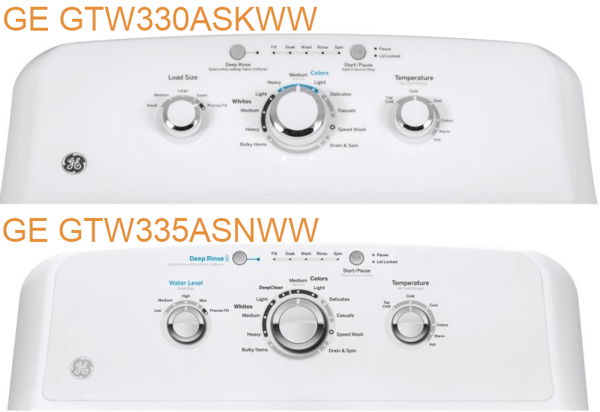 Other great features you'll find on these models:
Heavy-duty single-action agitator

Stainless steel wash basket

700 RPM max spin speed

Dispensers for bleach and fabric softener

6 temperature options, 5 load size/water level options, Deep Rinse option

11 Cycles: Colors - Light, Normal/Medium, DeepClean; Whites - Light, Medium, Heavy; Delicates; Casuals; Speed Wash; Drain & Spin; Bulky Items
Next up: the GTW460ASJWW, which retails at $729, is being replaced by the GTW465ASNWW. The capacity is increasing from 4.2 cubic feet to 4.5 cubic feet while remaining within the 27" by 27" footprint and 44" tall to the top of the backguard. This is the next step up from the GTW330/335 models above, and they expand on the base model with a few extra features and options reflecting changes in washing machine technology. For example, the agitator is a dual-action agitator. According to GE, the dual-action agitator has a top and bottom half that operate independently. The top portion moves in one direction to move clothes down towards the agitator base. The base portion moves in both directions to provide the mechanical cleaning action. GE says that the dual-action agitator provides better circulation and turnover of the clothes than their single-action agitator.
The controls have been changed on the new model to reflect that the "Load Size" dial is actually for selecting the water level. The Water Level dial and Deep Fill option have been highlighted on the new model as well to draw your attention!
Here are the additional cycles and options available:
14 Cycles: Same as the previous model, plus Towels/Sheets, Jeans, and Active Wear

Auto Soak options: Off, 15 Min, 30 Min, 1 Hr, 2 Hr

Rinse/Spin Options: Off, 2nd Rinse, Extra Spin, 2nd Rinse + Extra Spin, Deep Rinse (use when adding fabric softener), Deep Rinse + 2nd Rinse

Deep Fill option
As far as energy efficiency goes, the new model uses less energy, bringing the estimated kWh usage from 284 down to 210 (saving you about 25% on electricity if you have an electric water heater).
2019 Model GE GTW465ASNWW - $729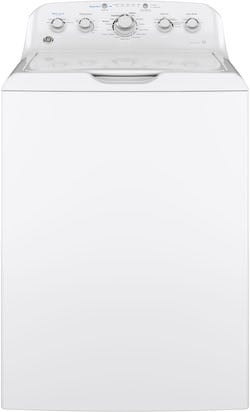 Lastly, the Energy Star rated agitator model GTW485ASJWS has been discontinued, although they still offer two other dual-action agitator models in addition to the options highlighted above: the GTW685BSLWS (4.5 cubic foot capacity, available in white at $849 or diamond gray at $949), and GTW755CSMWS (4.9 cubic foot capacity, available in white at $949 or diamond gray at $1,049).
What you'll find in the GTW685 agitator washer models:
14 cycles plus options for soaking, deep fill, delay wash, extra rinses, and more

Soft-close glass lid

800 RPM max spin speed

Stain-removal guide for handling blood, tomato, dirt, wine, and grass

Time remaining digital display with touch controls and a cycle selection dial

A 10-year parts warranty on the motor

Energy Star rated - uses less water and less energy
Click here to read over 200 real customer reviews of this product!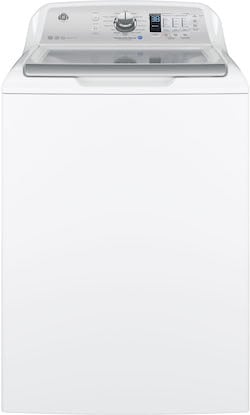 What you'll find in the GTW755 agitator washer models:
SmartDispense technology similar to Whirlpool Load & Go - add up to 75 ounces of detergent at once and the washer will automatically dispense the right amount for each load!

Wifi connectivity so you can control and monitor your laundry from anywhere with a smart device

Soft-close glass lid

Built-in faucet inside of the washer for pre-washing that dispenses water and detergent

800 RPM max spin speed

13 cycles plus options for soaking, extra rinses, delay wash, and deep fill

A 10-year parts warranty on the motor
Click here to read over 135 real customer reviews of this product!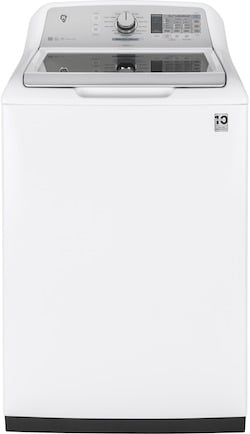 A new low-priced Energy Star rated impeller model GTW500ASNWS is joining the lineup. It has a solid lid rather than the glass lid featured on the more expensive impeller models in the lineup and retails at $779. The other models in the lineup include the GTW680BSJWS (4.6 cubic feet, available in white at $849 or diamond gray at $949) and GTW750CSLWS (5.0 cubic feet, available in white at $949 or diamond gray at $1,049). Both of the existing models are highly rated based on customer reviews, so it will be interesting to see how the new kid on the block performs! The impeller models are all Energy Star rated, so they will use 25-30% less water and energy than comparable washers that are not Energy Star rated.
Like the previous higher-end agitator washer models we discussed, the GTW680 and GTW750 models come with similar extra features. The GTW680 models offer a stain removal guide, digital time remaining readout, plus a recirculation pump (found on all GE washers with glass lids) to thoroughly saturate clothes with water and detergent once the washer has filled. Click here to read over 1,300 reviews of this product!
The GTW750 models come with wifi connect and an automatic detergent dispenser. Click here to read over 300 reviews of this product! They look pretty similar in exterior style to the agitator washers pictured above.
The new GTW500ASNWS features a solid lid rather than a glass lid and offers 4.6 cubic feet of capacity. It comes with a Stain PreTreat option dial selection, 13 wash cycles, and dial options for water temperature, soil level, and rinses. Use the wash cycles and let the washer handle things, or choose the specific temperatures and soil levels if you prefer to control every step of the process. GE calls their impeller an "efficient infuser" for some reason, so don't let that term confuse you when you're out shopping.
Here's what you'll find in this new impeller washer:
Stainless steel wash basket

800 RPM max spin speed

Adaptive fill - Deep Fill and extra rinse/deep rinse are still available, but you can't set the water level like with the agitator models

5 Soil Levels: Extra Light, Light, Normal, Heavy, Extra Heavy

Rinse/Spin Options: Auto Soak, 2nd Rinse, Extra Spin, 2nd Rinse + Extra Spin, Deep Rinse (select when adding fabric softener)

Deep Fill option

6 Temperatures: Tap Cold, Cold, Cool, Colors, Warm, Hot

13 Cycles: Colors/Normal, Dark Colors, Casuals, Delicates, Cold Wash, Active Wear, Speed Wash, Drain & Spin, Jeans, DeepClean, Bulky Items, Towels/Sheets, Whites
This model is a nicely featured washer that's Energy Star rated while still giving you the ability to add extra water when you need it.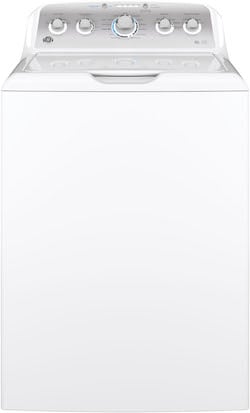 That sums up what's changing and what's staying the same in GE's top load washer lineup for spring 2019. It can be difficult to keep up with these changes so we hope that having it all in one place will be helpful. As a quick review...
The "basic" tier of agitator washers are the 460/465 models retailing at around $729

The "mid-level" agitator washers are the 685 models retailing at $849 - the impeller washers are the 680 models and also retail at $849

The more premium agitator washers are the 755 models retailing at $949, while the impeller models are the 750 models retailing at $949 as well - the major upgrades are automatic detergent dispensers and wifi connectivity

The new "basic" impeller washer is a 500 model number that retails around $779
Check out our reviews of the best top load washers of the year for more products to compare, or our list of the largest agitator washers of the year if you want a traditional top load model!
What do you think about these changes? Do you like GE laundry products? Leave us a comment below - We'd love to hear from you!
Editor's Note: This blog was originally written in April of 2019 and has been completely revamped and updated for accuracy as of the publication date noted above.