If you are looking for an inexpensive but dependable new washing machine, a Hotpoint washer is definitely worth considering.
Hotpoint is a trusted appliance brand founded in California that has been producing appliances since 1911. Hotpoint is now a subsidiary of GE Appliances which is owned by Haier Corporation, a Chinese manufacturer. They are known for their dependable, reasonably priced American-made products, currently produced in Louisville, KY. If you are researching new washer models and looking for a great value, put Hotpoint on the list. Check out more information on choosing a clothes washer in our washing machine buying guide!
Let's take a closer look at what Hotpoint has to offer for a top load washer!
There have been many changes in the laundry industry, and some consumers long for the simplicity of days gone by. With a traditional top load design, rotary electronic controls and agitator, this machine fits the bill for people looking for a simple and familiar washer design.
The Hotpoint washer lineup is simple, at the moment consisting of just one top load model, Hotpoint washer model HTW240ASKWS.This traditional agitator style model offers great value with a 3.8 cubic foot capacity stainless steel tub at just $479. One feature useful for washing heavily soiled items is the load size selector. You can let the washer automatically fill the tub using the Precise Fill selection, or set the load size yourself. The 3.8 cubic foot capacity is about average among agitator washers - it's not quite big enough to wash a queen size comforter.
The top spin speed of 700 RPM isn't too impressive so your clothes will spend some extra time in the dryer. The agitator's aggressive wash action is a good choice for heavy soils and heavy-duty fabrics, but can be rough on stretch fabrics and other more casual materials. It's also pretty noisy. If you keep your laundry in the basement, then that may not be an issue, but if your laundry area is near living areas or the bedroom, the noise could be disruptive.
If you are looking for a few more features and options, or improved top spin speeds, you may want to check out GE's top load washer lineup, which includes several agitator top load washers with MSRPs starting at around $649 as of this writing. If you're focused on getting an agitator washer but have a larger budget, consider Speed Queen top load washers, which are made to last 25 years.
Features:
Load Size Selector: Small, Medium, Large, Super, Precise Fill

10 Wash Cycles: Whites (Light, Medium, Heavy), Colors (Light, Medium, Heavy), Delicates, Casuals, Bulky Items, Drain & Spin

2 Wash Options: 6 temperatures, Deep Rinse (when using fabric softener)

Max spin speed: 700 RPM

Bleach dispenser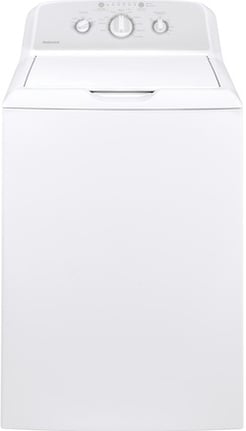 We hope you enjoyed our Hotpoint washer review. Don't overlook this value model if you are in the market for a new top loading washer. This machine is well priced at under $500 and goes on sale frequently during manufacturer promotional periods around national holidays like Memorial Day, Independence Day, Thanksgiving and others. When it comes to the under-$500 price point, your options are limited, and the longevity of these machines is uncertain (it can vary greatly depending on factors like how many loads you run per week, etc). The secondhand market or clearance appliances (scratch and dent items and returned items) might be a better choice if you're looking for a washer with more features that will last or if you plan to use your washer heavily.
Looking for another option for an inexpensive top load washer? Read our article about a competing Amana top load washer model priced at just $399.
We hope you enjoyed this review. If you want to learn more about the entire line of Hotpoint appliances, click here to read all of our Hotpoint appliance reviews. Please feel free to leave us a comment below. We'd love to hear from you!
Editor's Note: This blog was originally written in December of 2017 and has been completely revamped and updated for accuracy as of the publication date noted above.