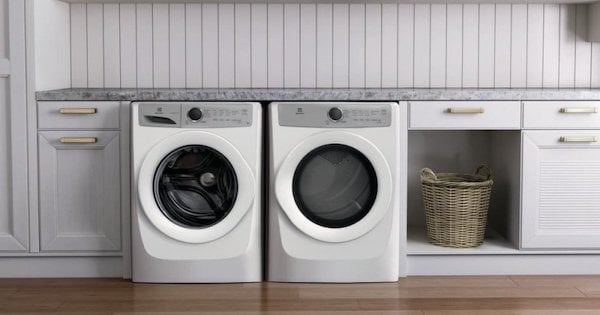 There has been a lot of new washing machine technology introduced in the last decade that improves performance and efficiency. Embracing this new technology can benefit the consumer in many ways. As you begin researching new washing machines, you'll want to learn more about some of the new features available. (Side note: Check out our washing machine buying guide for even more helpful information!)
Whether you choose the $499 washer or the $1,299 washer, you will benefit from some of this new technology. There are many different products with many different feature packages for you to choose from. You will have to decide for yourself which features your family will benefit from the most.
When you decide what you will be spending on your new washer, consider the following points:
Clothes are expensive and you want to keep them in good condition so that they will last. New washers offer much better fabric care than many older models offered. They use HE detergents, which are more concentrated and perform well at cooler wash temperatures than old detergents!

The value of one load of clothes that you are washing is sometimes worth half as much, or many times all of what you will pay for your washer.

Proper washing and the use of dedicated cycles on your washing machine can make your clothes last longer and stay looking new.

Many new machines have gentler washing action, more control over spin speed and water temperature, steam cycles, and cycles for whites, sportswear, bedding, jeans, and even wool, which allow you to take better care of your fabrics.
New Features That Help Washing Machines Work Better
Improvements to detergent mixing help your washer clean more effectively. Some brands offer top load and front load washers with detergent dispensers specifically designed to handle PODS.

Washers with internal water heaters can ensure that any hot water used in the wash is heated to the optimum temperature to fight stains, soils, and bacteria (although using cold water is great for fabrics and works fine for the average load). If someone in your household is sick, or if you have some very unpleasant soils to deal with, a washer with a Sanitize cycle could give you peace of mind!

Higher spin speeds, in particular on impeller top load washers and front load washers, help pull more water out of your fabrics so they spend less time in the dryer. Reduced drying time means reduced wear and tear, especially when it comes to stretch fabrics. For example, materials like elastane (commonly found in stretch denim) don't handle heat well.

Anti-vibration technology has gotten better, too. Today's front loaders can be incredibly quiet and keep vibrations to a minimum. Top loaders, which can be noisy during certain parts of the cycle, have gotten quieter as well.

Tub cleaning cycles and features like improved drainage keep your washer smelling fresh. Some washers will remind you to run a cleaning cycle periodically to get rid of any detergent buildup periodically to keep the washer operating at its best.

...And so much more!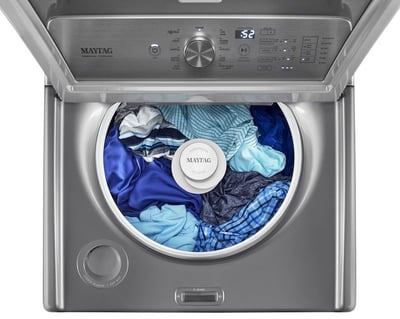 How Do You Choose a New Washer?
If it's been ten or more years since you last replaced your washing machine, you can rest assured that just about any new replacement you choose will be gentler on your clothes. So you can decide on whether you want to take advantage of the specialized care cycles that some machines offer, or keep it simple.
Consider factors like...
Whether you want a top load or front load model

Whether you can take advantage of rebates and other promotions to save $$$

If you could use a larger washer dryer pair so you can do fewer loads each week
Many people want to find a balance between cleaning power and fabric care, and so do many washing machine manufacturers. We recommend reading washing machine reviews and information on blogs like ours to help you decide on the best model for your home.
Beyond just looking at what other consumers and the manufacturers are saying, you can also check out independent review organizations that actually test and evaluate different products. Resources like Reviewed and CNET make it easy to find how they test the washing machines they review (Check out CNET's washing machine testing procedure and how Reviewed tests washing machines if this interests you). These testing procedures tackle things like stain fighting ability and fabric wear and tear, so you can decide on the best balance of cleaning power and fabric care for your needs.
There are many new washers in both front load and top load models that incorporate this new washing machine technology. Some offer more than others, but most offer better laundry care than your old machine. Each year, we review some of the best top load washers and best front load washers to help you decide on a new model (click the links to read these reviews). Top-of-the-line washers often have around a dozen specialized wash programs and features like large capacities, steam, smart connectivity, bulk detergent reservoirs, and more. These models start at around $999 retail pricing, although holiday sales, rebates, and package deals can shave 20% or more off of the upfront price.
If these washers have too many features and hit too high of a price point for your preferences, many brands offer budget friendly models, including Whirlpool, Frigidaire, and GE. Top loaders are usually less expensive than front loaders, so you may want to explore GE's top load washers or Frigidaire's value-priced washer and dryer. Hotpoint and Amana offer some of the cheapest options on the market, but these are basic agitator washers that may not perform as well as mid-range models. Traditional top load washers with agitators can be rough on fabrics, in particular the knits and stretch fabrics that are so common in today's wardrobes!
All of these machines and many more of the new models that are available save on water, energy, and soap, and offer better fabric care for your clothes. These factors can save you money and time and make life a little better. We hope you enjoyed this review of some of the exciting new washing machine technology. Please leave a comment below. We'd love to hear from you!
Editor's Note: This blog was originally published in March of 2015 and has been completely revamped and updated for accuracy as of the publication date noted above.