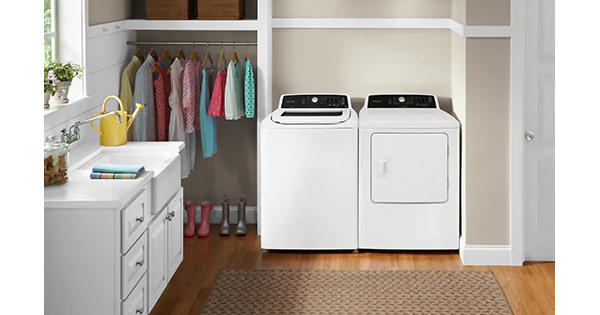 In today's changing laundry industry, you may be wondering where to turn for good-quality, dependable and reasonably priced products. One option to consider is Frigidaire's popular top load washer and matching dryer.
Frigidaire is a trusted manufacturer of home appliances and they've been popular in the US for decades. They have been absent from the top load market in previous years but have returned with a new washer and dryer pair, although they have yet to offer a front load washer. They also offer laundry centers if you're looking for a stacked design with a top load washer. Let's take a closer look at their top load washer and dryer offering.
Learn more about top load washers in our 3-minute video!
1. Frigidaire Top Load Washer FFTW4120SW - $649
The Frigidaire top load washer model FFTW4120SW has a large 4.1 cubic foot stainless steel wash drum with a traditional agitator inside rather than an impeller-driven style (click the following link to learn more about HE top load washers with impellers). Agitator-driven machines can be more durable than impellers, but tend to use more water and can be rougher on fabrics. This is a nicely featured washer with automatic water levels plus a MaxFill option to fill the washer to (you guessed it) the max. You'll find plenty of cycles and options, including a Quick Wash cycle and 11 others. The electronic controls are easy to use while cycle status lights and a time remaining display keep you informed on the cycle progress. Add fabric softener at the beginning of the cycle and select the Fabric Softener option, and the liquid will be dispensed during the cycle automatically.
This model has been highly rated overall and has a lot to offer for the price, including a large tub capacity despite the agitator. If you want to consider other agitator washers, check out our reviews of the largest agitator washers of the year!
Cycles & Options:
12 Cycles: Normal, Delicates, Hand Wash, Active Wear, Colors, Whites, Heavy Duty, Bulky, Quick Wash, Rinse & Spin, Drain & Spin, Tub Clean

7 Options: Delay Start, Soak, Extra Rinse, Fabric Softener, Chime On/Off, Favorite Cycle, Max Fill

5 Soil Levels

5 Wash Temperatures
Dimensions:
Width: 27"

Depth: 29"

Height: 44.25"
Click here to read over 85 real customer reviews of this product!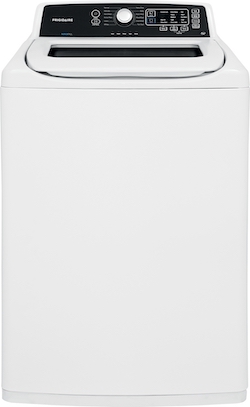 2. Matching Dryer Frigidaire FFRE4120SW - $649 (Electric)
Pairing perfectly with the washer, Frigidaire dryer model FFRE4120SW features a 6.7 cubic foot stainless steel drum with a moisture sensor control that eliminates any time-dry guesswork. Sensor drying is more efficient, saving you money and preventing damp clothes or the wear and tear of over-drying!
It has electronic touchpad controls in the same style as the washer. The single turn-dial cycle selector and touch-pad options are easy to read and select. Frigidaire includes the option to reverse the dryer's door swing to accommodate easy loading and unloading.
Five dryness levels and four heat selections are adjustable for different clothing fabrics to help eliminate wrinkles and static. Ten user-friendly cycles like bulky, delicate, quick dry, normal, sanitize, and towels are all at your fingertips. There's also an indicator light to alert you when the lint filter needs to be cleaned.
The gas option, model FFRG4120SW, is available for $100 more at $749.
Cycles & Options:
10 Cycles: Normal, Delicates, Active Wear, Towels, Sanitize, Heavy Duty, Bulky, Quick Dry, Time Dry, Air Fluff

6 Options: Delay Start, Favorite 1, Favorite 2, Time Adjust, Wrinkle Release, Chime On/Off

5 Dryness Levels

5 Temperatures
Dimensions:
Width: 27"

Depth: 30"

Height: 42.875"
Click here to read over 55 real customer reviews of this product!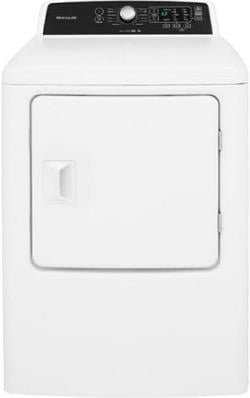 We hope you enjoyed this review of the Frigidaire top load washer and dryer pair. This is a great laundry pair at a competitive price point from a trusted brand. At about $1,300 for the pair, you really can't go wrong if you're looking for an agitator washer.
Other brands to consider for agitator washing machines include Speed Queen, Maytag, and GE - we've written about the Speed Queen washer lineup and GE's top load washer lineup in detail! If you're not sure if agitator models are right for you, check out our list of the best top load washers of the year.
Please leave a comment below - We'd love to hear from you!
Editor's Note: This blog was originally written in August of 2017 and has been completely revamped and updated for accuracy as of the publication date noted above.