GE has also improved the balancing ability of these washers compared to previous generations and included a Smart Dispense feature - add 50 ounces of detergent into the reservoir and allow the washer to take care of dispensing it for you for each cycle (up to 32 loads). When it comes to cycles and options, you won't be disappointed - there's a Tumble Care option that uses intermittent tumbling to keep damp clothes fresh after a wash. There's also a Power Steam option to loosen stains, PreWash for heavily soiled items, and specialized cycles like Sanitize + Allergen and a 20-minute Quick Wash.
This model is an inch wider than the traditional 27" front load washer platform but maintains a closet depth design at 32" deep, and can be installed flush to the wall. GE offers a one year parts and labor warranty plus 10 years on the wash basket and motor.
With a solid set of convenient features and options plus a spacious interior, this front load washer has a lot to offer for a great price!
Features:
12 Cycles: Active Wear, Bulky/Bedding, Cold Wash, Delicates, Normal, Power Clean, Quick Wash, Rinse + Spin, Sanitize + Allergen, Self Clean, Towels, Whites

9 Options: Delay Start, Delay Wash, Extra Rinse, Power Steam, PreWash, Smart Dispense, Time Saver, Tumble Care, UltraFresh Vent

Max spin speed: 1,300 RPM

Wi-Fi connectivity

UltraFresh Vent system with Odorblock dries tub faster and prevents mold/odors

Can be installed flush to back wall - true 32" closet depth
Dimensions:
Height: 39.75"

Width: 28"

Depth: 32"
Click here to read over 210 real customer reviews of this product!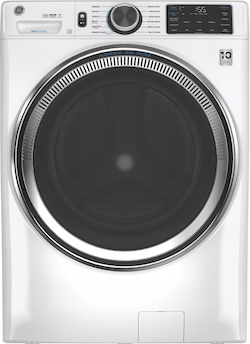 3. LG WM4000HWA - 4.5 cu. ft. - $1,149
Next up on our list of 2022's best front load washer options is the LG WM4000HWA. It has a large 4.5 cubic foot capacity and is available in white at $1,149 or graphite steel at $1,249. It is shallower than some other washers at 30.25" deep, so it may work better for closet installations. It's also compatible with LG pedestals, including the LG SideKick mini pedestal washer, and LG's SmartDiagnosis troubleshooting app. The SmartThinQ® technology allows you to start and monitor wash cycles and get notifications when a cycle is complete. The tempered glass doors are sleek, feel high-end, and won't get scratched by zippers and other items like plastic doors.
This washer has an inverter direct drive motor and comes with a variety of great new features. Steam technology helps gently release stains and soils, the FreshCare cycle helps keep clothes smelling fresh by periodically tumbling them after a cycle completes, and the Allergiene cycle uses high heat and steam to remove over 95% of common household allergens. AI Direct Drive technology helps to select the optimal wash and dry settings - and your washer can tell the dryer how to dry your clothes based on the current load being washed. New for 2020, AI DD doesn't just sense the volume and weight of each load - it can actually identify the fabric types in the load and determine the best wash cycle setting for improved cleaning. LG claims it can extended the life of your clothes by 15%!
Newer washers available with steam cleaning technology are one way to get serious stain removal performance without beating up your clothes. LoDecibel Quiet Operation and the TrueBalance Anti-Vibration System keep this washer steady and quiet. This washer is a great pick for busy households and people looking for premium features in their new front load washer.
Features:
12 Cycles: Normal, Heavy Duty, Bedding, Sanitary, Allergiene, Tub Clean, Bright Whites, Perm. Press, Delicates, Towels, Speed Wash, Downloaded

13 Options: TurboWash®, Steam, Fresh Care, Pre-wash, Remote Start, Delay Wash, Wi-Fi, Add Item, ColdWash, Extra Rinse, Rinse+Spin, Control Lock, Spin Only

6Motion Technology mixes up the washing motions for thorough but gentle cleaning

SmartThinQ® Technology and AI Direct Drive

Compatible with LG SideKick pedestal washer

Tub Clean cycle uses water jets and heats up to 149 degrees Fahrenheit

LoDecibel quiet operation

Dispenser with prewash option
Dimensions:
Height: 39"

Width: 27"

Depth: 30.25"
Click here to read over 450 real customer reviews of this product!
4. Samsung WF45T6200AW - 4.5 cu. ft. - $999
Another great choice for a front load washer in 2022 comes from Samsung. The Samsung WF45T6200AW is a 4.5 cubic foot capacity front load washer available in white at $999. It provides a premium look and feel with a stainless steel Swirl+ drum, steam washing options, and Vibration Reduction Plus Technology.
Although many new washers feature steam technology, Samsung makes the innovative choice of releasing the steam from the bottom of the tub rather than the top to ensure that the load is completely saturated. The Super Speed option can be used to reduce cycle time on five different cycles for washes as quick as 36 minutes. This washer will remind you to run the Self Clean+ every 40 cycles, and the cleansing action includes sanitizing the gasket!
With Samsung's Smart Care troubleshooting app and Wi-Fi controls, this front load washer is a great choice for tech-savvy households interested in using new steam washing technology to destroy stains!
Features:
10 Cycles: Normal, Heavy Duty, Whites, Bedding, Sanitize, Permanent Press, Quick Wash, Delicates, Rinse+Spin, Self Clean+

8 Options: Pre Soak, Delay End, Steam, Super Speed, Alarm Off, Spin Only, Smart Care, Child Lock

Vibration Reduction Plus Technology

Self Clean+ cycle with cleaning reminders every 40 washes

Wi-Fi connectivity plus Smart Care app for quick troubleshooting

Maximum spin speed: 1,200 RPM

Stainless steel Swirl+ drum design


Dimensions:
Height: 38.7"

Width: 27"

Depth: 31.3"
Click here to read over 290 real customer reviews of this product!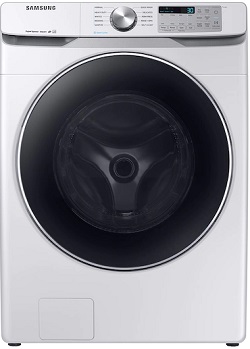 5. Electrolux ELFW7537AW - 4.5 cu. ft. - $1,099
Electrolux is a Swedish appliance manufacturer known for innovative appliances. One of their best front load washer offerings for 2022 is the Electrolux ELFW7537AW, available in white starting at $1,099 and titanium at $1,199.The LuxCare Plus wash system provides a thorough clean by distributing detergent and additives evenly, improving wash operations, controlling temperature, and measuring load size.
On top of that, this Electrolux front load washer comes with the world's first adaptive dispenser designed to accept PODS as well as traditional liquid detergents. It also has Perfect Steam technology that releases steam at the bottom of the washer so it rises up and penetrates the fabrics for maximum effect on stains and wrinkles.
The Electrolux Platinum Star Limited Warranty provides three years of coverage on parts and one year on labor, plus it comes with a ten-year warranty on the motor and a lifetime warranty on the tub. If you're looking for a front load washer with a large capacity for a smaller space, this front load washer is a great option! We think it's definitely one of the best front load washers with steam. Interested in seeing more Electrolux laundry products? Check out our Electrolux washer reviews for more info.
Features:
10 Cycles: Heavy Duty, Whitest Whites, Normal, Delicates, Rinse & Spin, Clean Washer, Fast Wash (15 minutes), Activewear, Colors, Towels

7 Options: StainTreat II, Pure Rinse, Perfect Steam, Allergen, Extended Refresh, 1-12 Hours Delay Time, Steam, Control Lock

Brilliant LED display

Adaptive dispenser for PODS

Perfect Balance System/Second Floor Guarantee

Maximum spin speed: 1,300 RPM
Dimensions:
Height: 38"

Width: 27"

Depth: 32"
Click here to read over 90 real customer reviews of this product!
Electrolux ELFW7537AW - $1,099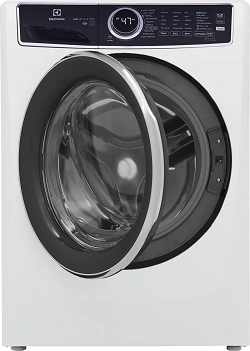 6. Whirlpool WFW560CHW - 4.3 cu. ft. - $999
The Whirlpool WFW560CHW is a 4.3 cubic foot capacity front load washer pricing at around $999. This model features a closet-depth design, allowing you to save space.
Whirlpool updated their washer and dryer model lineup for 2019 with Intuitive Controls intended to simplify the process of customizing your wash cycle. First, you choose from a handful of "What to Wash" options, then choose "How to Wash" the load. You can customize your wash care with a relatively simple control panel! Add an automatic presoak, sanitize your fabrics with ease, or customize up to 35 of your own.
The Smooth Wave stainless steel wash basket protects against snags and rust, and the Single Load Dispenser allows you to run a wash cycle with a different detergent at the proper time. You also get cycles and options like Sanitize w/ Oxi, Quick Wash, Presoak, and Cold Wash. Check out this front load washer and see if the new control setup appeals to you!
Features:
What to Wash: Regular, Delicates, Bulky Items, Whites, Colors, Towels

How to Wash: Normal, Wrinkle Control, Heavy Duty, Sanitize with Oxi, Cold Wash, Quick

4 Options: Clean Washer with Affresh, Drain & Spin, Extra Rinse, Pre Soak

Smooth Wave Stainless Steel Wash Basket

Whirlpool Intuitive Controls
Dimensions:
Height: 38.625"

Width: 27"

Depth: 31.563"
Click here to read over 70 real customer reviews of this product!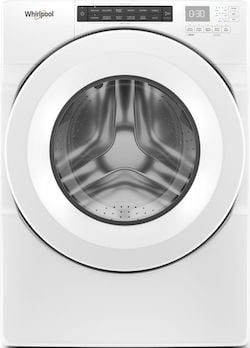 7. Speed Queen FF7005WN - 3.5 cu. ft. - $1,849
Last but not least on our list of the best front load washing machines is the Speed Queen FF7005WN. This model was released in mid 2019 after Speed Queen discontinued their old front load washer dryer pair in 2017. It retails at $1,849 in white and $1,949 in stainless steel. This model is far from the cheapest or largest option on our list of the best front load washers, but Speed Queen guarantees the reliability of its products, making this a great investment for the long haul.
Every major component of Speed Queen's washers and dryers is tested to last 25 years. With truly heavy-duty components plus dynamic balancing technology to reduce noise and vibration, this washer is a match made in heaven for people who value reliability and durability over all else. And in the event that you have any issues with your front loader, Speed Queen's warranty covers a full five years on the entire machine, and their machines are built with ease of repairs in mind.
Customize your wash with nine wash cycles, four temperatures, four spin speeds, and four soil levels. Patented baffles and tumble rhythms ensure that your fabrics are totally saturated with water and detergent for the best possible clean. If you're looking for an investment that will give you years of dependable service, you should definitely consider Speed Queen.
You can read more about this new washer and its sister model, the FR7002WN, in our Speed Queen front load washer review.
Features:
10 Cycles: Heavy Duty, Favorite, Whites, Bulky, Normal Eco, Quick Wash, Permanent Press, Sanitize with Oxi, Delicate, Spin

5 Options: Soak, Extra Rinse, Delay Start, Pre-Wash, Allergy Rinse (plus Signal On/Off and Control Lock)

Maximum spin speed: 1,200 RPM

Digital time remaining display

Tested to last 25 years; designed to be easy to repair
Dimensions:
Width: 26.875"

Depth: 27.75"

Height: 40.4375"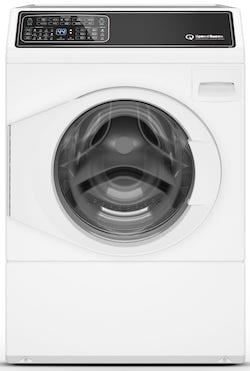 What do you think of our picks for the best front load washer models of 2022? With plenty of energy efficient options available and new features like steam cleaning and better vibration reduction, this is just a small sampling of the many amazing options out there! The cheapest front load washer on our list comes from Maytag at $949, while the largest model options are around 4.8 cubic feet from GE. If you're looking for more XL models, check out our reviews of the largest front load washers of the year as well!
In your opinion, what makes a front load washer better than a top loader? What features are you looking for in a front load washing machine? Leave us a comment below - We'd love to hear from you!
Editor's Note: This blog was originally written in July of 2018 and has been completely revamped and updated for accuracy as of the publication date noted above.