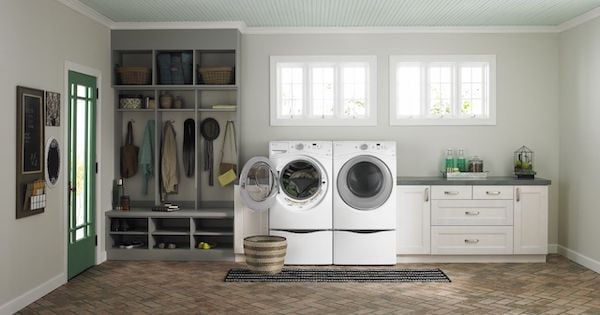 Many consumers have come to love the Amana brand for both kitchen and laundry appliances. Amana has been manufacturing appliances in the US since the 1930s and their products are well-known for quality and value. They produce solid products with good basic features at very affordable prices. Some consumers just love them!
If you are in the market and doing your research on new washers, you may be looking for an Amana front load washer. As of this writing, Amana produces one 3.5 cubic foot top load model, and their 4.2 cubic foot front load washing machine has been discontinued. When this blog was initially published, Amana did not produce front load models at all!
We'll review the Amana front load washer (although it may be harder to find now that it is discontinued), plus the top load model just for ease of comparison and an entry-level Whirlpool front loader as well. Check out our washing machine buying guide for more information on buying a new clothes washer!
The Amana Front Load Washer - A Discontinued Model
The Amana front load washer, model NFW5800DW, is a 4.2 cubic foot capacity Energy Star rated machine priced starting at $799. This model uses a High Efficiency wash system, requiring HE detergent, and has an automatic dispenser for fabric softener, detergent, and bleach. The stainless steel wash basket and direct drive motor are durable features that we love to see in a washing machine.
A mix of turn-dial and tap touch controls with LED cycle indicator lights and a digital time remaining display give this washer a clean, upscale feel. This model also features an Efficiency Monitor that will provide real-time feedback on the washer's efficiency based on the cycles and options you choose. So if you're interested in conserving energy and water usage, this little efficiency monitor can make that easier! An Add a Garment light lets you know when it's still early enough in the cycle to pause it and add in a forgotten sock.
Amana has created a nicely featured front load washing machine at a great price. Although it is has been discontinued, we will be eagerly watching for a new model! We've also reviewed an entry-level front load washer from Whirlpool as an alternative later on in this article.
Cycles & Options:
7 Cycles: Normal, Delicates, Heavy Duty, Quick Wash, Cold Wash, Drain & Spin, Clean Washer

Options: Delay Wash
Dimensions:
Width: 27"

Depth: 33.1"

Height: 39.75"
Amana NFW5800DW - $799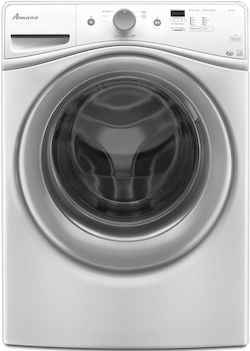 The Amana Top Load Washer - A Budget-Friendly Alternative
If you are focused on sticking with Amana for your next washer, you should check out the Amana NTW4516FW. This is a traditional top load washer with easy-to-operate dial controls. It is simple to use and offers all of the basic features you need. A dual action agitator rolls clothes through the bottom of the washer to ensure maximum cleaning results, and the Late Lid Lock gives you extra time to add in extra items to the wash.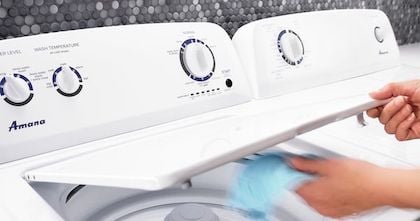 The simple dial controls are intuitive and easy to use, and status lights let you know where the washer is in the cycle. Clean Washer is a great feature that many consumers overlook. Amana recommends that you run this cycle about every 30 washes to keep the inside of your washer fresh and clean. They suggest that you use it with an Affresh® Washer Cleaner tablet or liquid chlorine bleach to ensure maximum cleaning and freshness.
This machine features a porcelain tub and is not Energy Star rated, but the owner's manual includes information on the efficiency of each cycle, as well as the cleaning power and gentleness. It's a great budget top load washer priced at just $499.
Cycles & Options:
8 Cycles: Normal - Heavy, Normal - Regular, Casual, Delicates, Bulky/Sheets, Drain & Spin, Rinse & Spin, Clean Washer with Affresh

Options: Deep Water Wash
Dimensions:
Width: 27.5"

Depth: 27"

Height: 42"
Click here to read over 1,370 customer reviews of this product!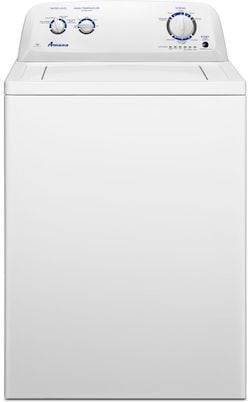 Whirlpool's Budget-Friendly Front Load Washer
If you are more focused on getting a front loading model and disappointed that you can't get one in the Amana line, we can recommend the next-best thing. Amana is owned and manufactured by their parent company, Whirlpool. Luckily, Whirlpool does make an entry level front load washer that might fit your needs perfectly, the Whirlpool WFW560CHW. This model is new for 2019 and is based on a best selling entry level model from previous years.
This Energy Star rated model is priced a $899 and has a 4.3 cubic foot capacity with a Smooth Wave stainless steel wash basket. The Precision Dispense feature releases detergent, fabric softener, and bleach automatically at the correct time in the cycle for the best results.
Whirlpool's Intuitive Controls simplify the process of customizing the cycle and options to each load: first select "What to Wash" (for example, Delicates) and then select "How to Wash" (for example, Quick Wash).
This model is available at a similar price as the Amana front load washer and is a great option if the Amana model is no longer available.
Cycles & Options:
What to Wash: Regular, Delicates, Bulky Items, Whites, Colors, Towels

How to Wash: Normal, Wrinkle Control, Heavy Duty, Sanitize, Cold Wash, Quick Wash

Options: Presoak, Extra Rinse, Drain & Spin, Clean Washer with Affresh
Dimensions:
Width: 27"

Depth: 31.5"

Height: 38.625"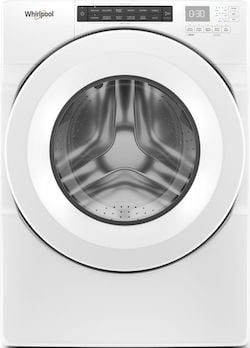 We hope this article provided you with information on the Amana front load washer you were aiming for as well as some alternatives now that the model is no longer available.
Leave us a comment below - We'd love to hear from you!
Editor's Note: This blog was originally written in December of 2017 and has been completely revamped and updated for accuracy as of the publication date noted above.