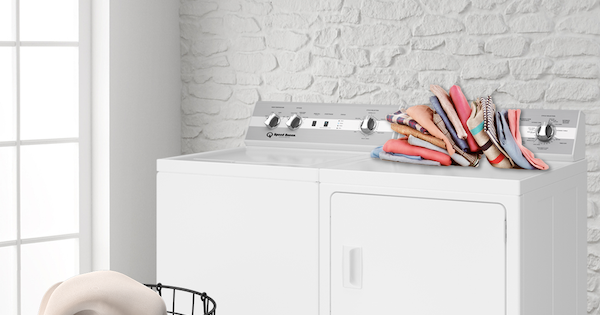 Are you looking for the most dependable, longest-lasting washing machine on the market? If so, then you're probably looking at commercial washing machines for home use. These models are rare in the home appliances market, but they're out there. These washers are made with heavy-duty construction and often do not have the energy efficiency of consumer-grade models. They are priced similarly to many high efficiency top load washers but don't have as many of the modern "bells and whistles." You will have to make some trade-offs if you want one of these models, but if durability is your most important criteria, a commercial washing machine made for home use is a great choice.
When it comes to the best makers of commercial washing machines for home use, the brand that most often comes to mind is Speed Queen. When researching a new washing machine, you'll certainly want to consider the Speed Queen brand - and check out our washing machine buying guide for even more information!
Speed Queen is a specialty laundry manufacturer headquartered in Wisconsin that has been making great laundry products for both the commercial and domestic markets in the US for over 100 years - that's a pretty solid reputation right off the bat!
Some brands like Maytag offer commercial technology in their residential washing machines (although Maytag now offers a true commercial washer now available for residential use: the Maytag MVWP575GW). This can give you a step up in reliability and the longevity of the appliance, but Speed Queen is known for extensively testing every aspect of their machines and designing them to resist decades of wear and tear. Even the electronic touch control panels are designed to last 25 years!
With an expected life of 10,400 cycles, their machines are made with the same durable, long-lasting design as their commercial washers that are used in laundromats and other commercial locations. Speed Queen washers feature a one-of-a-kind wash system that not only gives users the best wash available, but also takes care of your clothes! The tub and agitator work together to create a gentle wash action that moves the maximum amount of water through the clothes.
One examp
le of that commercial technology at work can be seen in the solid mount suspension system. The full steel base and heavy-duty springs help reduce vibration and out-of-balance issues for a longer lifespan and noise reduction. Even the controls are designed to handle extreme testing conditions, including vibration and power surges.
Get an Inside Look at a Speed Queen Washer!
One of the most popular Speed Queen washing machines is the TR3000WN. This Speed Queen commercial washer has the one of the best warranties in the industry: three years to cover all parts and in-home labor plus a lifetime warranty covering the outer drain tub and the stainless steel wash basket (see manufacturer's warranty for complete details). Many manufacturers today offer a one-year warranty on parts and labor with some additional warranties on parts like the motor or wash basket, but the Speed Queen warranty is truly impressive. Speed Queen laundry products are a cut above most and a good choice for any home! Other Speed Queen washers have even longer warranties, as long as seven years.
This entry-level model has a 3.2 cubic foot capacity and simple turn-dial controls with four wash programs (Normal Eco, Heavy Duty, Delicates, and Permanent Press), three temperature options (Hot, Warm, and Cold), and four load size selections (Small, Medium, Large, and Auto Fill). Cycle status lights let you know where the washer is in the cycle, and you can also set an Extra Rinse option. It has a max spin speed of 840RPM.
Dimensions:
Height: 42.75"

Width: 25.6"

Depth: 28"
Click here to read over 110 real customer reviews of this product! Speed Queen TR3000WN - $919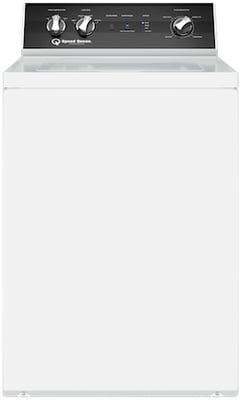 See Speed Queen's full product lineup here.
You should consider a commercial washing machine for home use if...
You value reliability and durability over other factors. Speed Queen machines are built to last, and are repairable if they break (check out that video above to see an example of their build quality). The tradeoff: they're less energy efficient and use more water, and tend be louder as well. The model lineup is limited and has a pretty traditional aesthetic.

You need serious washing action. The industry-standard washing machine tests used by review organizations usually focus on basic clothing and small towels. However, if your job involves machinery, construction, or other work that results in seriously dirty, grimy clothes in heavy-duty fabrics like canvas and denim, a washing machine that uses more water and has a stronger wash action may be what you need to get your workwear clean.

You prefer simple wash programs and options. Speed Queen washers keep it simple - the one we reviewed above has just four preset cycles plus a water level selector and extra rinse option.

You don't mind paying more for what you want. The warranty and build quality add to the price of a Speed Queen washer. More fully-featured machines that vibrate less, use less water, and have larger capacities can be found for similar pricing or lower prices. There are many dedicated fans of Speed Queen, but if you're not sure about what you need, check out our washing machine buyer's guide or visit your local appliance store for in-person help.

Speed Queen can also make a claim that no other laundry brand can make: in both the luxury washers and dryer categories, Speed Queen is the most recommended brand among US women. This is based on a national survey sent to hundreds of thousands of women. Speed Queen was voted the most recommended brand, earning the Women's Choice Award several years in a row, from 2014 to 2017.
We hope you've found this discussion of commercial washing machines for home use with a focus on Speed Queen to be informative. Want to see more blogs about washing machines? We've got plenty! Please leave a comment below. We'd love hear from you!
Editor's Note: This blog was originally written in March of 2017 and has been completely revamped and updated for accuracy as of the publication date noted above.