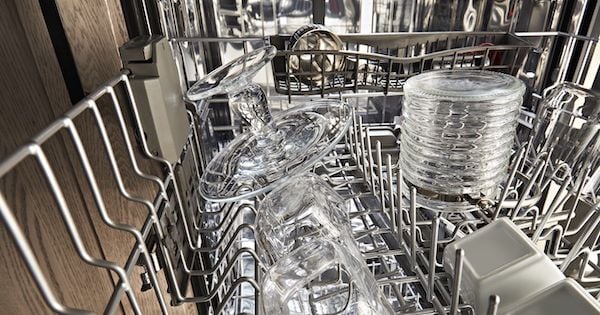 Statistics show that dishwashers are a necessity for most families, right up there with clothes washers and dryers. Having an appliance clean up after a meal rather than hand washing is preferred as people are busy with work, school, sports, activities, and hopefully, the occasional relaxing movie night. Plus, dishwashers use less water than hand washing and can sanitize dishes and cutlery with super-hot water.
Many spacious homes have the kitchen either open to the living quarters or very close by within listening distance, so having a quiet dishwasher can be critical. There's nothing worse than hearing a continuous humming sound while you're trying to read a book or talk with friends and family. In some cases, dishwashers can run over two hours depending on the cycle, so quietness matters!
Let's compare Bosch and KitchenAid and take a close look at two of their quietest dishwashers under $1,000. (Before we dig in, check out our writeup on dishwasher decibel levels for more info!)
The Bosch SHP865ZD5N - $999 - 44 dB
Bosch is one of the most demanded brands in the industry when it comes to dishwashers. Model SHP865ZD5N from the 500 Series is a consumer favorite due to its quietness and flexibility. The cycle and option controls are located at the top edge of the door above the towel bar style handle, hidden from view when the dishwasher is closed. Combined with the pocket handle, this dishwasher will blend into your kitchen. It runs at just 44 decibels - the average conversation takes place at four times the volume of this dishwasher!
Dishwasher racks are one of the main things to look at in the process of searching for a new dishwasher. This model features a RackMatic adjustable upper rack with nine possible positions, which will allow taller items to be placed on top if the lower rack is full, plus a removable third rack for long utensils, silverware, and other items. The third rack adds 30% more usable cleaning area. A full stainless steel inner tub and door assembly keeps it quiet and the sensor wash system assures sparkling clean performance.
(Pictured below: Bosch's Flexible 3rd rack. It offers slightly more room than the typical third rack configuration.)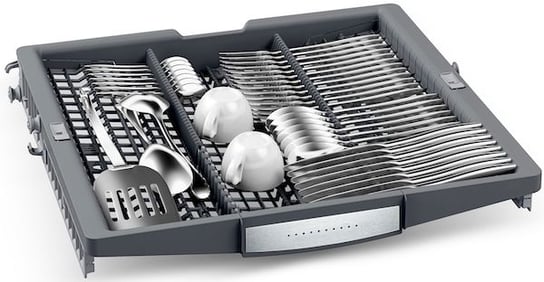 For flood protection, Bosch has created "AquaStop." This is a leak protection system that will recognize any water droplets outside the tub assembly, even if the dishwasher isn't running. If water reaches the sealed bottom of the dishwasher, a moisture pad will tell the dishwasher to close off the water intake valve and also start the drain pump to get rid of any water in the tub.
Bosch does not use a heating element to heat the water or dry the dishes. Their wash and dry design utilizes an in-line hot water heater and condensation drying. The in-line heater will boost water temperature to the appropriate heat for washing and sanitizing. This model's condensation drying is handled by the cooling of the stainless steel cavity which draws moisture off of the dishes, glasses, and silverware. Aside from the drain pump periodically discharging water, there is no electricity being drawn to dry.
Priced at $999 in stainless steel, this design looks sleek and would be a welcomed addition to any kitchen.

Click here to read over 20 real customer reviews of this product!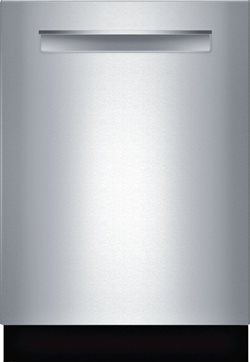 The KitchenAid KDTE204KPS - $949 - 39 dB
KitchenAid is another well-known brand that has been known to perform flawlessly for consumers throughout the years. Like the Bosch dishwasher, the KitchenAid Model KDTE204KPS also offers a full stainless steel tub, third rack, and adjustable SatinGlide upper rack. Operating at a whisper-quiet 39 dBA, the quietest cleaning from KitchenAid, this model is quiet enough to operate near the main living area without interfering with conversation.
Loaded with user-friendly options, this dishwasher makes after-dinner clean-up a breeze. The five cycles, consisting of Express Wash, Normal, ProWash, Rinse Only and Tough, are all conveniently located on the integrated control panel, allowing you to select a cycle for any job. Use the Heat Dry option to ensure completely dry dishes, or use the ProWash cycle to let the dishwasher's sensors select the best cleaning process for you.
KitchenAid dishwashers have an overall capacity for 14 place settings and the optional selection of SaniRinse, which reaches a final rinse temperature of 155 degrees to get rid of 99.999% of bacteria - great for baby bottles or any item where sanitization is needed.
Priced at $949 in PrintShield fingerprint-resistant stainless steel, $1,049 in PrintShield fingerprint-resistant black stainless steel, and available in black or white as well, this model has a lot of features that give the competition a run for the money.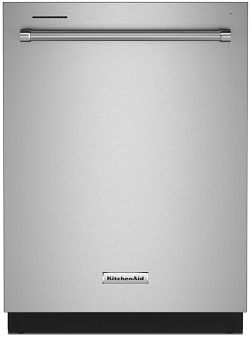 Features Comparison
Cycles & Options: The KitchenAid model offers Heat Dry, but both models come with 1-hour quick washes and Sanitation options. At this price level, you'll find very nicely featured dishwashers, and these models keep cycles and options simple so it's easy to choose what you need. Basically, if heat dry is a must-have for you, you'll probably prefer the KitchenAid.

Look & Feel: Both models have hidden top controls and bar handle designs. The Bosch model doesn't have a brand badge like the KitchenAid model, so it's a good option if you like to have your appliance brands match. Both models come in stainless steel, and the KitchenAid model provides more color options: black stainless steel, black, and white. KitchenAid also offers a version of this dishwasher with front controls and a pocket handle if you want the "Bosch" look with KitchenAid's features.

Quietness & Other Features: Both models come with third level racks and ball bearing glides on the upper racks. KitchenAid wins out in quietness with a rating of 39 decibels, while Bosch is slightly louder at 44 decibels. This is about as quiet as you can get for under $1,000! For an even more spacious third rack, check out the KitchenAid KDTM404KPS. Its third rack has room for bowls, mugs, and 6" glasses!
When shopping for a new dishwasher, keep these brands in mind. If you value flood protection and want the lowest decibel level you can find, you may prefer the Bosch model. If you want totally dry dishes after every cycle, you may like the KitchenAid's heated dry option. Both feature premium styling and hidden controls that look sleek and refined! It will be up to you to choose which is better based on your tastes and preferences. These are definitely two of the quietest dishwashers under $1,000.
We hope you enjoyed this article. Please leave a comment below. We'd love to hear from you!
Editor's Note: This blog was originally published in February of 2016 and has been completely revamped and updated for accuracy as of the publication date noted above.