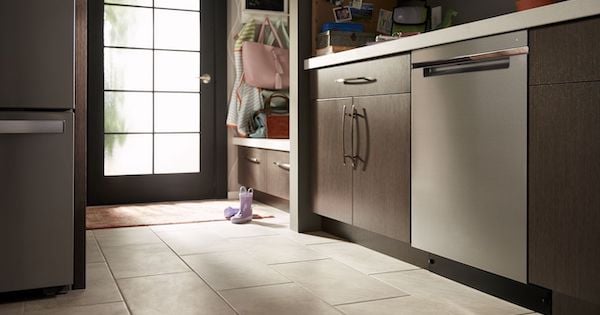 Dishwashers come in many price ranges. Stainless steel is a go-to for today's modern kitchen, but you don't have to be a big spender to get a dishwasher that will look great in your space. We've highlighted five stainless steel dishwashers at different price points so you can get the aesthetic you're looking for no matter your budget! Of course, keep in mind that holiday sales and package deals can send these retail prices down by 20% or more.
Each of the models in our reviews have integrated top controls (except for one model from KitchenAid) and a smooth front with no brand badge for a sleek look. We cover options from Frigidaire, Bosch, Whirlpool, and KitchenAid. Be sure to include these brands when researching a new dishwasher (check out our dishwasher buyer's guide for more info!). You might discover some unique features that you will like. Let's dig in!
Table of Contents
Start off on the right foot - Check out our video on choosing the perfect dishwasher!
1. For a Low Price & High-End Look: The Frigidaire FFID2426TS - $529
The new line of Frigidaire dishwashers are made in one of the Electrolux factories in Italy and they have added many new quality features to the product line. Their new Satellite spray arms and OrbitClean wash system offer great washing performance, and these models are quieter and better at drying as well.
If you're looking for the best stainless steel dishwasher for under $600, the Frigidaire FFID2426TS is one of the best-looking options out there (and during a recent holiday sale it was available for under $400). This model has a plastic polymer tub rather than the superior stainless steel interior and operates at 54 decibels. Unlike many of today's dishwashers, it comes with a heated drying system.
It also has a nice array of four cycles and three options for the price, including a Sanitize cycle and a Top Rack only wash option. It comes in black stainless steel as well if you want a cool new look for your kitchen. It has a smart soil sensor to improve cleaning performance but no dedicated Automatic cycle.
You have a couple of other similar options available from the Frigidaire Gallery line, such as model FGID2476SF pricing at $799 if you'd like more features as well as a great look and feel.
Key Features:
54 dB

4 Cycles: Heavy, Normal, Top Rack, Rinse Only

2 Options: Delay Start (2/4/6 Hours), Sanitize, Hi Temp Wash, Heat Dry

BladeSpray Arm offers improved water coverage

Self-cleaning hard food disposer (louder than manual clean filter but doesn't require periodic cleaning)

Plastic tub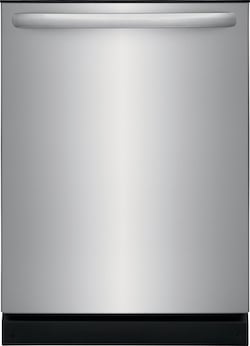 2. For a Quieter Modern Model: The Bosch SHX3AR75UC - $699
Are you looking for a quiet dishwasher? If so, you should probably read up on dishwasher decibel levels. Basically, a 10-decibel decrease means 50% quieter operation, so differences of 5-10 decibels can be significant! Bosch is known for making quiet dishwashers and at the $699 price point they offer the 50 dB Bosch SHX3AR75UC. Part of Bosch's budget line, you'd never guess based on the exterior! Inside you'll find a stainless steel tub with a plastic base and an adjustable upper rack.
The six wash cycles include a 30-minute Quick Wash and options for Delay Start and Sanitize. Unlike the Frigidaire model above, you'll get a Delicate cycle for china and glassware as well as the express wash. Bosch's 24/7 AquaStop leak protection keeps your kitchen safe from leaks even when the dishwasher isn't running.
For more great stainless steel dishwashers from Bosch, check out their 500 series and 800 series models, such as the model in our Bosch vs KitchenAid dishwasher review, which offer more features and even quieter operation. For a full overview of the Bosch line, check out our Bosch dishwasher reviews.
Key Features:
50 dB

6 Cycles: Auto, Heavy, Normal, Delicate, Express, Half Load

2 Options: Delay Start (3/6/9 Hours), Sanitize

24/7 Overflow Protection System

Height adjustable upper rack

Stainless steel tub with plastic base
Click here to read over 470 real customer reviews of this product!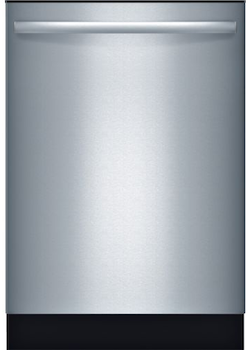 3. For Feature Upgrades & A Pocket Handle: The Whirlpool WDTA50SAHZ - $799
Whirlpool also offers this model in black stainless, but you're here for the best stainless steel dishwasher - which in this case is model WDTA50SAHZ, a sleek pocket handle model in fingerprint resistant stainless that has a modern minimalist feel. During a recent sale, this model was pricing at close to $500!
Operating at 47 decibels, it'll be much quieter than your old dishwasher, and it has a fully stainless steel interior tub that's more durable than plastic and offers better drying performance. The in-door silverware basket frees up space in the lower rack, and the upper rack is adjustable so you can make room for tall items. There are five wash cycles, including a one-hour wash, and six cycle options, including Sani Rinse, Heated Dry, and Extended Dry.
If you're looking for a pocket handle look but want even more cool features at a similar price point, check out the Samsung DW80R5060US, which retails for $799 in stainless steel.
Key Features:
47 dB

5 Cycles: Sensor Wash, Heavy, Normal, 1-Hour Wash, Soak & Clean

6 Options: Delay Start (8 hours), Control Lock, Hi Temp Wash, Sani Rinse®, Heated Dry, Extended Dry

In-door silverware basket

Adjustable upper rack

TotalCoverage spray arm

Stainless steel tub
Click here to read over 1,930 real customer reviews of this product!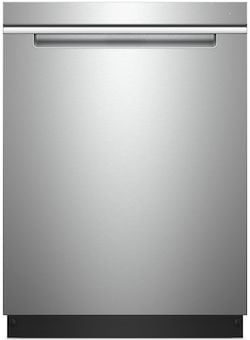 4. For Stylish Front Controls: KitchenAid KDFE104HPS - $899
KitchenAid is one of the top brand names in the appliance industry and has a reputation for offering some of the highest quality appliances to the consumer. Their dishwashers are very different in design and styling and each offer some unique features.
The KitchenAid KDFE104HPS at a price point of $899 (although it has been on sale before for closer to $600) is a front control dishwasher with the controls recessed and set at an angle for convenience and maximum aesthetic appeal, and a pocket handle. This Energy Star rated dishwasher operates at just 46 dBA and has a stainless steel tub. If you prefer front controls but still want a sleek design, check out this model if you can!
This stainless steel dishwasher from KitchenAid includes nylon racks and SatinGlide® Max Rails on the upper rack for a smooth, premium feel when pulling out the upper rack. The upper rack also features stemware holders for safely washing wine and champagne glasses. Wash cycles include ProWash automatic sensor wash cycle and Express Wash for a fast wash time. The cycle options include Sani-Rinse for a high-heat final rinse and Heat Dry to speed up drying time
This dishwasher is an excellent product that looks great and performs very well. It's available in PrintShield smudge proof stainless steel, black, white, or premium black stainless steel at $999 (read more about the pros and cons of black stainless steel in our article). Consider this model when shopping for your new dishwasher - it's a great choice and one of the best stainless steel dishwasher models in the $800 range. KitchenAid offers a variety of models with towel bar handles as well for a more commercial look.
Key Features:
46 dB operation

5 Cycles: ProWash™, Tough, Normal, Rinse Only, Express Wash

5 Options: Heat Dry, Extended Heat Dry, 2-4-8 Hour Delay, Sani Rinse®, Hi Temp Wash

SatinGlide® Max Rails

Fold-down shelf with stemware holders

Filter-Based Wash System (Manual clean filter)

Stainless steel tub
Click here to read over 845 real customer reviews of this product!
5. For a 3rd Rack & 44 dB Operation: The Bosch SHP865ZD5N - $999
Last but not least on our review of the best stainless steel dishwashers under $1,000 is the Bosch SHP865ZD5N, retailing at $999. It operates at just 44 decibels for close to whisper quiet performance. This model is from Bosch's 500 series and has a lot to offer, starting with Bosch's flexible third rack with fold-down sides for 30% more loading capacity. The EasyGlide ball bearing rack system and Rackmatic upper rack makes the upper rack easy to unload and to adjust.
This model comes with five cycles and five options, plus room for 16 place settings. The Extra Scrub option is perfect for blasting a dirty pot or casserole dish with intense jets of water to scrub it clean all in one go. A new Auto Air feature helps to improve drying - choose this option and the dishwasher door will automatically pop open at the end of the cycle to pull moisture from your dishes. It's the quietest dishwasher on our list so it's a great choice for open floor plans or eat-in kitchens.
You can find a lot of great dishwashers in this price range from brands like Bosch, GE, LG, KitchenAid, and more with great styling and cool features. Bosch has other great models in the $699-$899 range as well with some pretty great features!
Key Features:
44 dB operation

5 Wash Cycles: Heavy, Auto, Normal, Speed 60, Rinse

5 Options: 24 Hr Delay Start, Half Load, Sanitize, Auto Air, Extra Scrub

AquaStop 24/7 Leak Protection

RackMatic adjustable upper rack with EasyGlide ball bearing rails

Flexible Third Rack

Stainless steel tub
Click here to read over 20 real customer reviews of this product!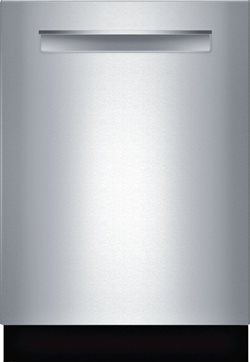 We hope you enjoyed this article and that it helped you to identify the best stainless steel dishwasher for your budget. Frigidaire offers some of the least expensive top control options that look high-end, but as you move up in price you'll find better features and quieter operation, especially from brands like Bosch. If you want to explore more of the quietest dishwashers, we compared the top models of the year in our article: Quietest Dishwasher - Top 10 Quietest Models.
What do you look for in a new dishwasher? What do you think of these models? Please leave us a comment below. We'd love to hear from you!
Editor's Note: This blog was originally published in November of 2014 and has been completely revamped and updated for accuracy as of the publication date noted above.