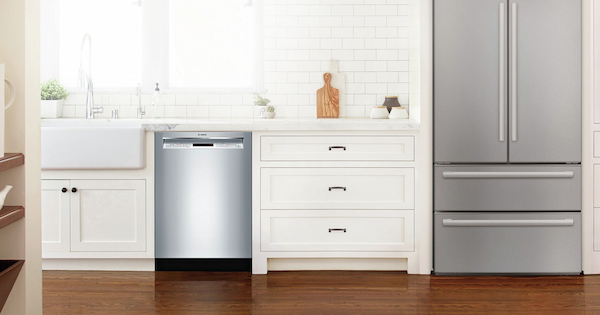 For years, Bosch dishwashers have held a powerful presence in the appliance market since they began to focus on creating quieter dishwashers. With legendary German engineering behind their products, consumers associate the brand with high quality and performance. And for good reason - all of their dishwashers go through 485 quality checks before leaving the factory to ensure that the products are working properly, and they're "the quietest dishwasher brand in the US!" Most Bosch dishwashers for the US are made in North Carolina, although their Benchmark series is made in Germany.
They have a large array of dishwashers available, and while looking at every one of them would be a daunting task, we will look at a few of their most popular models in this article so that you can get a good idea of what this brand has to offer and the different features available. We'll start with one of Bosch's more basic dishwashers from the Ascenta/100 series and go on up to the 800 series.
Before we dig into the reviews, we'll go over what cool features are available from the over 100 dishwashers Bosch offers, and what the different lineups have to offer.
Table of Contents
Bosch Dishwasher Features Overview
(If this section looks a bit long to you... Click here to skip to the reviews!)
What types of features are commonly found on Bosch dishwashers? For starters, even their most basic models come with a partial stainless steel tub rather than a full plastic tub. All models come with detergent dispensers compatible with tablets and use the same basic wash system. Bosch offers pocket handle models with front controls as well as premium options with hidden top controls, as well as bar handle models with top controls. Third racks are standard on many Bosch dishwashers as well.
RackMatic System: Mostly found in the 300, 500, and 800 lines, the Rackmatic height-adjustable upper rack is designed to easily adjust to three height levels and nine tilt positions to fit a variety of different items. EasyGlide ball bearing racks are also available on the 500 series and above to make it even easier to load and unload the upper rack.

AutoAir Dry: This feature is rolling out in 2019 on select 500 series models and might be inspired by Samsung's AutoRelease Dry: the doors of AutoAir Dry models will automatically pop open to release steam and speed up drying. Bosch dishwashers do not have a heating element because they use a lot of energy and can cause other issues, so they have to make the most out of condensation drying methods.

MyWay Third Rack: Found on 800 series and Benchmark models, this new third rack design is angled with a removable silverware tray and folding tines to accommodate ramekins, cereal bowls, and more without sacrificing space in the upper rack. As of 2019, Bosch dishwashers in the 300 and 500 series all come with third racks to boost capacity!

CrystalDry: New for 2019, this "hot" new drying feature boosts the interior temperature during the drying cycle without increasing energy usage thanks to the mineral "zeolite" that reacts to moisture by releasing heat, taking internal temperatures to 176 degrees. A common complaint about newer dishwashers is that they don't dry well, so this is an exciting improvement that's still energy efficient!

Speed60 Express Wash: Most Bosch dishwashers come with this express wash option that cleans lightly soiled dishes in 60 minutes or less.

InfoLight: For dishwashers with integrated top controls, the InfoLight shines on the floor to alert you when the wash cycle is in progress. Select luxury models actually project the cycle time remaining on the floor!

AquaStop Leak Protection: AquaStop detects leaks in the dishwasher's solid molded base even when the dishwasher isn't running. It will automatically shut down the cycle if one is running, and pumps water out before it can contact your floors. Some models feature AquaStop Plus, which incorporates an electro valve at the water tap and a double-walled hose system for comprehensive protection.

Built-In Water Softeners: Avoid water spots on your glassware and improve washing results with a dishwasher with built-in water softening (available on select models in the 300 series and up).
When it comes to the different lineups, this can help you narrow down what Bosch dishwasher might be right for you based on your budget and the features you're looking for. Pro tip: In the 300, 500, and 800 series, look for DLX models since they have extra features and upgrades!
Ascenta, or 100 Series: Bosch's entry-level option with scoop handles and front controls. Pricing ranges from around $549 to $699 and sound ratings are around 46 to 50 decibels (read more about dishwasher decibel levels here), which is quieter than many entry-level options. These models have hybrid tubs: a plastic base with stainless steel sides and door.

300 Series: Next up, this series starts at around $849 to $1,049 and are usually around 44 to 46 dBA. As of 2017, third racks and the RackMatic system are standard, and there are options with a built-in water softener to reduce spots on glassware. Design options include panel ready, bar handles or pocket handles with hidden controls, and pocket handles with front controls

500 Series: Now we're getting into some very well-featured dishwashers at around $999 to $1,049. This is a smaller lineup featuring a flexible third rack setup and 44 dB sound rating that is otherwise pretty similar to the 300 series.

800 Series: This is Bosch's flagship lineup and it has plenty of models! Lots of hidden control models that can be as quiet as 39 decibels - truly whisper quiet. Prices go from $1,049 to about $1,299.

Benchmark Series: This is Bosch's ultra-premium line of dishwashers priced over $1,199 up to $2,249 and with whisper-quiet sound ratings across the board. These models are made in Germany and come with interior LED lights and a great look and feel.
1. The Entry-Level Ascenta/300 Series Model: Bosch SHE3AR75UC - $649
The Bosch SHE3AR75UC comes in stainless steel at $649 and is also available in black or white for just $549. This pocket handle model has basic button front controls and an LED time remaining display. It has a hybrid tub with a plastic base and stainless steel walls and door, rather than the typical full polypropylene plastic tubs found on the economy models of other brands (read about stainless steel vs plastic tubs here).
It operates fairly quietly compared to older dishwasher models at 50 decibels and comes with a nice set of cycles. Options are simple: Delay Start and Sanitize. If you're looking for a solid upgrade that will last you a long time and perform well, but have a limited budget, the Ascenta line may have the perfect dishwasher for your needs.
Features & Options:
50 dB operation

6 Wash Cycles: Heavy, Auto, Normal, Delicate, Express, Half Load

2 Options: Sanitize, Delay Start

Self-latching door stays put and latches

AquaStop 24/7 Leak Protection
Click here to read over 1,070 real customer reviews of this product!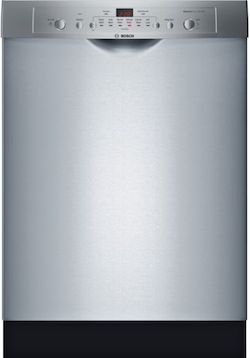 2. The Mid-Range 300 Series Model: Bosch SHEM63W55N - $949
The next model on our list of Bosch dishwasher reviews is from the 300 series and offers several upgrades from the Ascenta model. The Bosch SHEM63W55N retails for $949 in stainless and is also available in black at $849. It has a recessed handle with angled set back controls, unlike the last model, so you won't accidentally start a cycle if you lean on your dishwasher!
This model comes with a third rack, FlexSpace fold-down tines, and the RackMatic feature so you can adjust the height and angle of the upper rack. It operates at just 44 decibels and has a full stainless steel interior tub plus the 24/7 AquaStop technology. For a style upgrade, check out the 300 DLX series model SHSM63W55N with hidden top controls.
Features & Options:
44 dB operation

5 Wash Cycles: Heavy, Auto, Normal, Speed60, Rinse

4 Options: Delay, Half Load, Sanitize, Extra Dry

AquaStop 24/7 Leak Protection

RackMatic adjustable upper rack

Third rack
Click here to read over 1,830 real customer reviews of this product!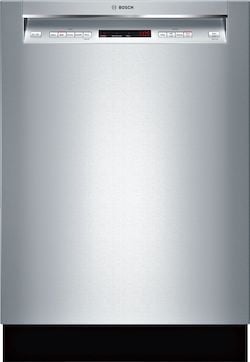 3. The Upper-End 500 Series Model: Bosch SHPM65Z55N - $1,049
The Bosch SHPM65Z55N 500 series dishwasher is the next step up from the 300 series. This model is priced at $1,049 in the stainless steel finish. This dishwasher has a pocket handle like the other models we've looked at, but has integrated controls on top of the door rather than front controls. Similar 500 series models are also available with bar handles. Combined with the logo-less design of this dishwasher, this creates a stark but sleek appearance that is versatile in many kitchens, especially if you're combining different appliance brands.
Like the 300 series Bosch dishwasher, this one has the RackMatic adjustable upper rack, fold down tines, stainless steel tub, and 44 decibel operation. This model comes with an upgraded Flexible 3rd Rack with expandable wings that can be lowered for deeper items, plus adjustable tines to help fit bulky items. It also has a flexible silverware basket that can be split into two pieces and placed anywhere in the rack.
A new AutoAir feature improves drying without using extra energy: the door pops open at the end of a cycle to pull moisture off of your dishes. This has replaced the "Extra Dry" option available on the previous generation of Bosch dishwashers.
Features & Options:
44 dB operation

4 Wash Cycles: Economy, Heavy, Rinse, Speed 60

4 Options: Delicate, EfficientDry, half load, Sanitize

AquaStop 24/7 Leak Protection

RackMatic adjustable upper rack with EasyGlide ball bearing rails

Flexible Third Rack
Click here to read over 3,020 real customer reviews of this product!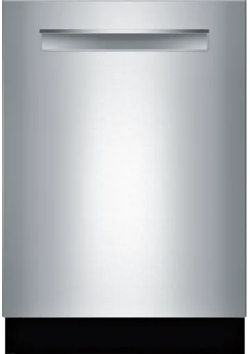 4. The Flagship 800 Series Model: Bosch SHPM78Z55N - $1,249
So, what does the flagship 800 series have to offer? We'll look at two dishwashers from this higher-end line. First up: the Bosch SHPM78Z55N is another pocket handle dishwasher which looks just like the last model from the outside and is priced at $1,249 in stainless steel. This model contains all of the features we discussed on the last model but adds a few upgrades.
First of all, this dishwasher operates at only 42 decibels, which is nearly silent. All of the other Bosch models we analyzed have push button controls but models from the 800 series have capacitive touch controls on the top of the door for easy programming. The 500 series dishwasher doesn't have a delicate and auto 53-60°C cycle option, whereas this one does.
Another new feature released in 2019 is CrystalDry, which uses a mineral called Zeolite to speed up drying by 60% (including notoriously hard-to-dry plastics) without increasing energy usage. Zeolite releases heat when exposed to moisture, so when the CrystalDry option activates, this nontoxic lab-created mineral will help dry your dishes. It lasts for the life of the machine and is a great alternative to energy-sucking electric drying!
Features & Options:
42 dB operation

6 Wash Cycles: Auto 53-60°C, Delicate, Economy, Heavy, Rinse, Speed 60

4 Options: Crystal Dry, Delicate, Half load, Sanitize

AquaStop 24/7 Leak Protection

RackMatic adjustable upper rack with EasyGlide ball bearing rails

Flexible Third Rack

Crystal Dry technology speeds up drying by 60%
Click here to read over 1,015 real customer reviews of this product!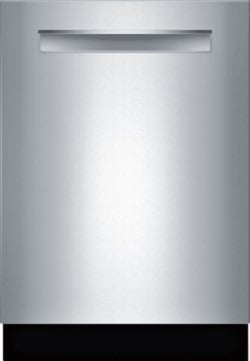 5. Another Upgrade in the 800 Series: Bosch SHXM88Z75N - $1,449
The last Bosch dishwasher we'll look at is the stainless steel, bar handle design Bosch SHXM88Z75N, also from the 800 series and priced at $1,449. The cycles and features on this dishwasher are similar to the previous model but there are two notable upgrades. This model also comes with CrystalDry technology.
This model operates at 40 decibels, which is virtually silent! That means you won't have to worry about any disturbance when running this dishwasher at any time of the day, which can be nice especially if you have an open floor plan or spend a good amount of time in the kitchen area. It's one of the quietest dishwashers available. The other feature is Bosch's exclusive MyWay third rack that gives you the industry's largest third rack loading capacity. The rack is angled to fit larger items such as bowls and espresso cups without sacrificing space in the lower two racks.
If maximizing your dishwasher space is a deciding factor for you, then this model is definitely worth considering! Dishwashers from the 800 series are also available in panel ready options for consumers who want to have them blend seamlessly into their cabinetry.
Features & Options:
40 dB operation

6 Wash Cycles: Heavy, Auto, Normal, Speed 60, Rinse, Eco

6 Options: 24 hr Delay Start, Half Load, Sanitize, Crystal Dry, Extra Scrub, Delicate

AquaStop 24/7 Leak Protection

RackMatic adjustable upper rack with EasyGlide ball bearing rails

MyWay Third Rack

Click here to read over 705 real customer reviews of this product!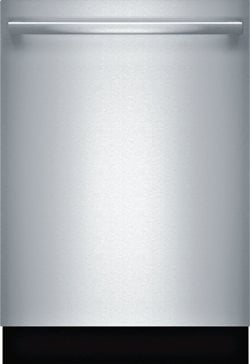 If you're looking for a new dishwasher and want a brand with a proven track record of performance, Bosch is certainly a brand to look at. All of their models will provide thorough cleaning of your dishes, but depending on which extra features you're looking for, different models may better suit your needs. As you go down the line, the dishwashers become quieter and equipped with more desirable features like sleeker exterior designs and better third rack options.
That's it for our Bosch dishwasher reviews. We hope these proved helpful in uncovering the best one for your specific needs. Please leave us a comment below. We'd love to hear from you!
Editor's Note: This blog was originally written in March of 2018 and has been completely revamped and updated for accuracy as of the publication date noted above.