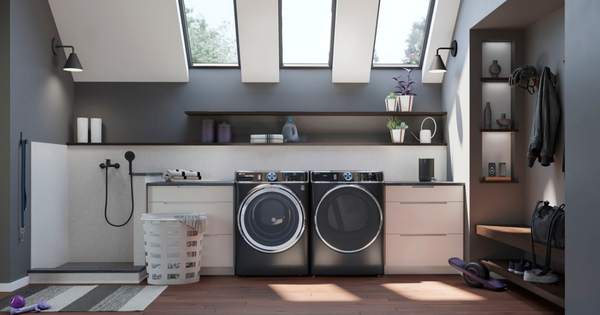 There are a lot of factors to consider when buying a new washing machine. If you've decided you prefer a front load washer and are looking for the largest model you can find, you're in the right place! In this article, we'll review the largest front load washer models of 2023 from a few great brands.
Samsung made a strong attempt in this niche with the FlexWash front load washers with 5.5-6.0 cubic feet of total capacity, but reviews have been mixed on their reliability. So, although Samsung offers the absolute largest front load washers on the market, at this time, we will only recommend one of their highly rated non-FlexWash models, as well as models from LG, Maytag, Whirlpool, and GE. There's also a 5.8 cubic feet LG Signature washer, the LG WM9500HKA, but it's more of a niche premium product due to its $1,999 price point, so we will be focusing on other options instead.
Our reviews are numbered for your convenience but are listed in no particular order, and include models with 5.0 and 5.3 cubic feet capacity. If you're looking for more information on choosing a new washer, check out our washing machine buying guide!
Table of Contents
Watch our video on choosing a new washing machine!
1. Maytag MHW8630HW - 5.0 cu. ft. - $1,399
First up on our list of the largest front load washer models is the Maytag MHW8630HW. It's available in white at $1,399 or in slate at $1,449 and has the largest capacity out of the entire Maytag front load laundry lineup. Along with the 5.0 cubic feet stainless steel drum, you'll find an Optimal Dose Dispenser that automatically dispenses detergent from a reservoir, and can hold enough detergent for up to 8 cycles. Wi-Fi connectivity allows you to start or stop your washer from anywhere and receive notifications when a cycle is complete.
An internal fan lets you wash and dry small loads (under 2 lbs) overnight, and the 24-hour Fresh Hold option will run the fan and tumble clothes intermittently to keep them fresh in case you can't get to the washer right away when the cycle is done. The Extra Power button fights stains with a dual-temperature wash, using both hot and cold water. Useful cycles include Quick Wash and Sanitize.
Maytag offers a ten-year warranty on the wash basket and direct drive motor in addition to the standard one year parts and labor warranty. Check this model out if you want powerful cleaning and lots of helpful features!
Features:
14 Cycles: Normal/Regular, Heavy Duty, Whites, Sanitize, Towels, Bulky Items, Custom Cycle, Quick Wash, Delicates, Wrinkle Control, Colors, Overnight Wash & Dry, Drain & Spin, Clean Washer with Affresh

6 Options: Extra Power, Steam, Wi-Fi Connect, Delay Start, Extra Rinse, 24-Hour Fresh Hold

Wi-Fi connectivity

Optimal Dose Dispenser - bulk detergent reservoir

Most Powerful Cleaning in the industry driven by the Heavy Duty cycle with Extra Power button

10-Year Limited Parts Warranty on the Direct Drive Motor and Stainless Steel Wash Basket
Dimensions:
Height: 38.63"

Width: 27"

Depth: 32.94"
Click here to read over 30 real customer reviews of this product!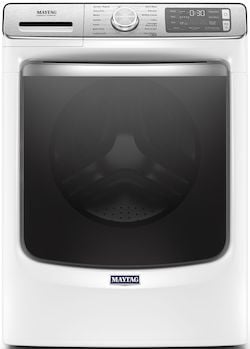 2. Samsung WF53BB8900ATUS - 5.3 cu. ft. - $1,649
Next up: the Samsung WF53BB8900ATUS, available in silver steel and brushed navy at $1,649. This is a stylish Bespoke washer that has a flat-panel design, reachable and easy-to-use controls, and classy and unique color options. Talk about being premium! This Wi-Fi-enabled washer also makes it easy to keep track of your laundry with its smart features. Samsung's Vibration Reduction Plus Technology (VRT+) is 40% quieter than their original VRT, and the Swirl+ Drum interior is designed to improve water extraction.
Running a tub clean cycle regularly is important to keep your front loader performing at its best, and Samsung makes that easy with the Self Clean+ cycle, which uses jets of hot water to thoroughly clean the wash tub. The Steam Sanitize cycle is another option we like to see on modern washers, and other great features include Presoak, and Super Speed. The Super Speed option can be added to wash cycles to cut time without sacrificing cleaning power.
Check out this model if you want a large front load washer that is both functional and beautiful inside and out!
Features:
25 Cycles: Eco Cold Wash, Normal, Heavy Duty, Permanent Press, Steam Sanitize, Bedding, Activewear, Wool, Rinse + Spin, Spin Only, Delicates, Towels, Colors, Self Clean+, Outdoor, Small Load, Denim, Super Speed, Steam Allergen, Steam Normal, Power Steam, Steam Whites, Steam Bulky, Power Rinse, AI OptiWash™

8 Options: Presoak, Extra Rinse, My Cycles, Delay End, Smart Control, Steam, Child Lock, AI Pattern

Internal drum light

Swirl+ drum design

20 Year Digital Inverter Motor Warranty
Dimensions:
Height: 38.7"

Width: 27"

Depth: 34.4"
Samsung WF53BB8900ATUS - $1,649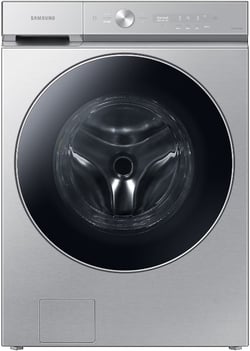 3. GE Profile PFW950SPTDS - 5.3 cu. ft. - $1,548

Here comes the largest among the largest capacity front load washers, the GE Profile PFW950SPTDS, which lands at 5.3 cubic feet. It's available in carbon graphite at $1,548. It has an easily reversible glass door, capacitive touch control with center knob, and chrome accents. This front loader also comes with a stainless steel tub. It has a few cool features that set it apart from the crowd!
This model features the first and only UltraFresh Vent system from GE Profile line, where GE tackles the most common issues faced by front load washer owners: mold and odors inside of their washers. In eliminating excess moisture and odors, the UltraFresh Vent design features an improved drainage design and an UltraFresh Vent drying cycle you can use after each wash to dry the tub without needing to leave the door open. For this model, it is even enhanced with a sensor. It boasts Microban antimicrobial technology that is built into the gasket, dispenser, and draining system of your washer. Another convenient feature is the Adaptive SmartDispense technology - this automatic dispenser can hold up to 32 loads of detergent and can dispense the right amount each load so you can save time when you do your laundry! The Dynamic Balancing Technology with smart sensors rebalances uneven loads and therefore allows for a quiet wash.
Cycles and options include Sanitize + Allergen, Power Steam, 1 Step Wash + Dry, PreWash, and more. Aside from being Energy Star rated, this model is also Wi-Fi enabled so you can manage your laundry remotely. SmartHQ also offers extra cycles and sends you cycle status notifications.
GE Profile offers a limited one year full parts and labor and a limited ten year warranty on the motor. Don't forget to check out this fully-featured model when you shop for large front load washers!
Get a closer look at GE UltraFresh Vent with our video!
Features:
12 Cycles: Active Wear, Bulky/Bedding, Cold Wash, Delicates, Normal, Power Clean, Quick Wash, Rinse + Spin, Sanitize + Allergen, Self Clean, Towels, Whites

9 Options: 1 Step Wash + Dry, Remote Start, Delay Wash, Extra Rinse, Power Steam, PreWash, Smart Dispense, Time Saver, UltraFresh Vent
Adaptive SmartDispense

UltraFresh Vent System+

Microban® antimicrobial technology

Dynamic Balancing Technology for a quiet wash

Wi-Fi connectivity
Dimensions:
Height: 39.75"

Width: 28"

Depth: 34"
Click here to read over 25 real customer reviews of this product!
GE Profile PFW950SPTDS - $1,548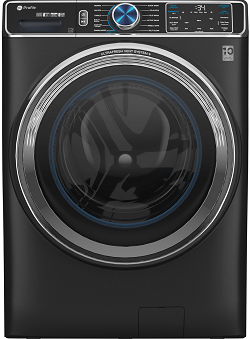 4. Whirlpool WFW9620HW - 5.0 cu. ft. - $1,599
The next washer we'll review is from Whirlpool: the Whirlpool WFW9620HW. This large and convenient front load washer has 5.0 cubic feet of capacity and is available in white at $1,599, in chrome shadow at $1,699, and in black shadow at $1,749. It's a smart washer that's Wi-Fi enabled - you can set, start, track, or pause a wash cycle using the Whirlpool app! This model features Whirlpool's "What to Wash" and "How to Wash" controls that allow you to pair washing actions with fabric types to get the best cleaning results. For this specific model, these controls are part of a touch screen on the washer door.
This washer also features Whirlpool's Load and Go XL Plus dispenser, which allows you to fill up the washer with enough detergent and fabric softener for up to 40 loads! The washer will do the work of automatically dispensing the correct amount of detergent for you, depending on the cycle, options, and other factors. You will also get notifications when the detergent is running low. You can use a "single dose dispenser" as well, such as if you're washing a load of woollens or delicates and want to use a special gentle detergent.

Check out Whirlpool's Load & Go in our quick video!
You'll also get cycles and options like Steam Clean, Sanitize, Pre-Soak, Quick Wash, Cold Wash, and more. Another great feature is Whirlpool's Fan Fresh technology, which is useful when you can't immediately move clothes from the washer to the dryer. With the 12-hour FanFresh option, clothes can be fresh for up to 12 hours after the end of the wash cycle. There's also a built-in fan that allows you to dry small loads overnight.
Other notable features in this model include the stainless steel wash drum and the interior drum LED light. Don't forget to check out this model if you're looking for a large front load washer that is also smart and allows for convenience!
Features:
What to Wash: Regular, Colors, Whites, Towels, Delicates, Bulky Items

How to Wash: Normal, Quick, Wrinkle Control, Heavy Duty, Cold Wash, Sanitize

Wash Options: Pre-Soak, Steam Clean, Extra Rinse, FanFresh®

Smart/Wi-Fi enabled

Load & Go XL Dispenser

12-Hour Fan Fresh technology that can dry small loads

Interior drum light
Dimensions:
Height: 38.62"

Width: 27"

Depth: 33.25"
Click here to read over 15 real customer reviews of this product!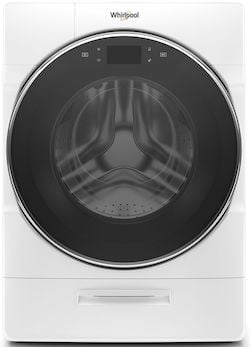 5. LG WM4200HWA - 5.0 cu. ft. - $1,349
Another great option is the LG WM4200HWA. This model has a 5.0 cu. ft. capacity that is available in white at $1,349 and in black at $1,449.
It comes with five powerful jets spray positioned in different part of the washer to target different angles. With its Steam Technology, preventing allergies and dirt from staying in the clothes is now easier. In addition, this model's tub has a smooth surface that helps to prevent your clothes from being damaged.
This washer has been a top seller among the largest front load washers and has tons of custom cycles! The Prewash option can help fight stains and soils, along with the dedicated prewash dispenser. If you want to boost capacity even further, the LG SideKick pedestal washer could be a solid addition to this model, adding 1.0 cubic feet of capacity that's perfect for small loads and specialty cycles.
LG's 10-year direct drive motor warranty and three year warranty on the drum are nice to have, too!
Features:
14 Cycles: Normal, Perm. Press, Heavy Duty, Delicates, Towels, Speed Wash, Drain+Spin, Bedding, Tub Clean, Bright Whites™, Sanitary, Allergiene™, Sportswear, Downloaded

14 Options: TurboWash®, Steam, Fresh Care, Pre-wash, Remote Start, Delay Wash, Wi-Fi, Add Item, ColdWash, Extra Rinse, Rinse+Spin, Control Lock, Spin Only, Signal

10-year limited warranty on the motor

TrueBalance Anti-Vibration System

LoDecibel Quiet Operation

Compatible with LG SideKick pedestal washer
Dimensions:
Height: 39"

Width: 27"

Depth: 33.25"
Click here to read over 180 real customer reviews of this product!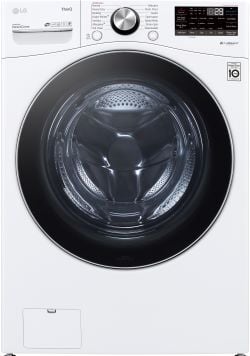 That sums up our review of the largest front load washer models of 2023. These are all incredibly full-featured models with a lot to offer. Most of these washers have sound and vibration reduction systems as well as steam cycle options and time-saving cycles and options. Many models also offer Wi-Fi connectivity to make it easier to keep track of laundry no matter how busy your schedule is.
Which of these options among the largest front load washer models is your favorite? What do you look for in a mega-capacity washing machine? Leave us a comment below - We'd love to hear from you!
Editor's Note: This blog was originally written in January of 2019 and has been completely revamped and updated for accuracy as of the publication date noted above.