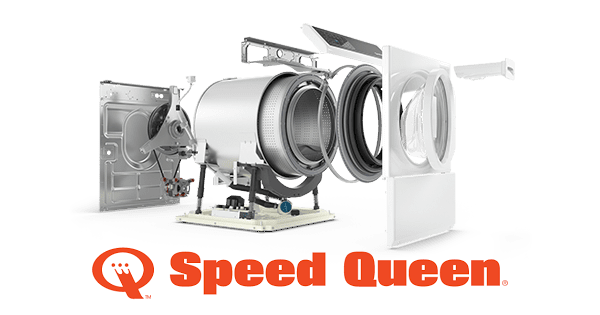 There is a lot of buzz about Speed Queen in the laundry industry, and our readers want to know more about their products. Speed Queen is a specialty laundry manufacturer headquartered in Wisconsin that has been making great laundry products for both the commercial and domestic markets in the US for over 100 years.
Unlike many other appliance bands, they focus their efforts on one thing - laundry! This focused effort has led to great results for Speed Queen. We see this in industry publications and hear it from our own customers. Consumers looking for a Speed Queen front load washer will be excited to learn that Speed Queen offers two front load options starting in 2019. They have slightly revised the lineup for 2020.
The Speed Queen AFNE9RSP113TW01 was an extremely popular front load washer model produced by Speed Queen for many years. Sadly, this model was discontinued in 2017. In 2019, Speed Queen brought back commercial grade front load washers for home use - an exciting time for consumers!
Speed Queen offers the FF7 with front controls with a 5-year warranty. They have discontinued the FR7 with rear backguard controls in 2020. New for 2020 is the FF7008WN, which has a righthand door hinge, while the 2019 FF7005WN model has a lefthand door hinge. Speed Queen's smooth, heavy-duty piano hinges make the doors non-reversible, hence the need for a right hinge model. The FF7008WN is available in the US only.
The Speed Queen FF7005WN & FF7008WN Front Load Washers
Both pricing at $1,889, the FF7 models have a lot to offer! Like all Speed Queen products, they're built for durability - you'll find a stainless steel tub, extreme-tested electronic touchpad controls, a .9 HP induction motor, and dynamic balancing technology. This dynamic balancing technology virtually eliminates noise and vibration thanks to a combination of algorithms and sensors plus heavy-duty parts - traditional build quality plus innovative new technology! It's 2.5 times quieter plus it spins faster, and increases tub capacity while keeping water usage low.
When it comes to washing, these front loaders have patented baffles and tumble rhythms to ensure your load is thoroughly saturated with water and detergent for the best possible clean. The tubs are 3.5 cubic feet of capacity with a max spin speed of 1,200 RPM. With 9 cycles to choose from (plus a Spin option), four temperature options, four spin speeds, four soil levels, and five awesome wash options, you have everything you need to get a great wash for any load. The control panel includes a time remaining display, too, so there's no guesswork about when to check the laundry!
Every major component of these washers is tested to last 25 years, so they're built to withstand moisture, temperature changes, power surges, and a lot more. With a five-year warranty on the full machine you'll have peace of mind, too. The FF7 model with front controls is available in stainless steel for $2,129 as well as in classic white.
These models are not Energy Star rated, but should only cost about $8 per year in energy on average, or use 68kWh per year when used with an electric water heater.
Cycles & Options:
10 Cycles: Heavy Duty, Favorite, Whites, Bulky, Normal Eco, Quick Wash, Permanent Press, Sanitize with Oxi, Delicate, Spin

5 Options: Soak, Extra Rinse, Delay Start, Pre-Wash, Allergy Rinse (plus Signal On/Off and Control Lock)

4 Wash Temperatures: Cold, Cool, Warm, Hot

4 Spin Speeds: No Spin, Low, Medium, High

4 Soil Levels: Light, Medium, Heavy, Max
Dimensions:
Width: 26.875"

Depth: 27.75"

Height: 40.4375"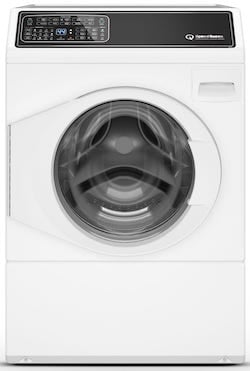 As you can see, Speed Queen offers a lot in terms of quality and features. All this does come at a price with these front loaders retailing at over $1,800. It is up to you to decide if the value is worth it for your needs. We've been selling Speed Queen for years and in our experience, customers seldom regret the extra expense once they get the machines home.
Are you considering a laundry center? We reviewed the Speed Queen stackable washer dryer here. If you're not sure if front load is right for you, we've also reviewed Speed Queen's top load washer lineup.
We hope you've enjoyed this Speed Queen front load washer review. Please leave us a comment below. We'd love to hear from you!
Editor's Note: This blog was originally written in January of 2017 and has been completely revamped and updated for accuracy as of the publication date noted above.