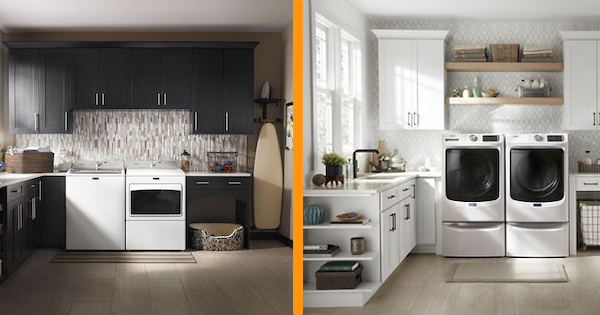 If you are in the market for an American-made washer and dryer, look no further. We all remember the Maytag brand that our families have grown up with. The image of that old washing machine we were so fond of has returned, but with capacities that would swallow that trusty old model!
Maytag laundry products are engineered and assembled in America thanks to the Michigan-based Whirlpool Corporation. They offer 10-year limited warranties on select parts in their washers, namely the wash tub and the motor. We've compiled these Maytag washer and dryer reviews and lineup overviews to give you a closer look at some of their latest product offerings.
Jump To:
Maytag Top Load Laundry Overview
As of this writing, Maytag offers several top loading agitator washers:
The sizes of these models are pretty impressive considering agitator washers are typically closer to 3.2 cubic feet! These washers are not as gentle on fabrics as some other brands, but that may not be an issue if you're usually washing tougher fabrics anyway.
When it comes to washing machines with impellers, also known as high efficiency top load washers, Maytag has a larger range available. These models start at 4.2 cubic feet and max out at 5.3 cubic feet of capacity. Maytag models consistently make our list of the largest top load washers on the market.
Their top load washers include features like:
The PowerWash Cycle, delivering "the best cleaning in its class" with extra cleaning action and a boost of hot water to tackle tough stains.

A "Deep Fill" option, allowing you to add extra water to the wash when you need it.

Optional smart connectivity is new for 2020, so you can receive alerts when a cycle ends, and more.

Built-in water faucets for pretreating are also available on select models.
When it comes to "top load" style dryers made to match with these washers, Maytag offers a few options in gas and electric that are typically 7.0-7.4 cubic feet, but they also offer an 8.8 cubic foot extra-large dryer as well. These dryers use sensor drying to perfectly dry your clothes every time, and some models also offer steam cycles to reduce wrinkles. Select models offer a Sanitize setting as well to really blast away bad memories from your fabrics! The dryer vent can be run up to 64 feet thanks to new blower designs and technology.
As for pricing, Maytag participates in national holiday sales throughout the year as well as offering rebates. Their top load washers and dryers have MSRPs starting at around $699 for basic models all the way up to $1,399 for extra-large fully featured models.
Maytag Top Load Washer and Dryer Review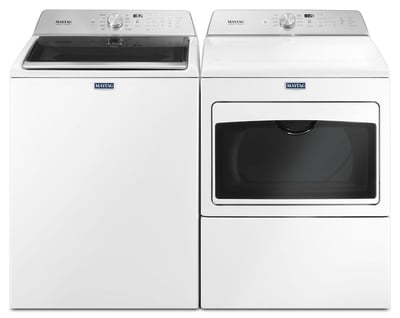 Maytag has a lot of popular laundry products, but one of our best sellers from Maytag has been the Maytag MVW6230HW agitator washer and the matching Maytag MED6230HW dryer.
The Maytag MVW6230HW top load washer has a 4.7 cubic foot capacity ideal for larger households and retails for around $899. One feature people love is the Deep Fill option. Choose from three Deep Fill levels (low, medium, and high), which can be used with any cycle that needs extra water to really rinse the fabrics clean. There are 11 wash cycles, including the PowerWash cycle, Delicates, Rapid Wash, and Sanitize with Oxi. It's a 2020 upgrade to their very popular MVWB765FW model, now with optional wifi connectivity.
The touch controls, digital display with estimated cycle time remaining, and edge-to-edge slow close glass lid add aesthetic appeal to this model that you probably won't find in your old agitator washer! Maytag covers this model's direct drive motor and stainless steel tub with a 10 year limited warranty. The washer is assembled in Clyde, Ohio and is designed and engineered in the USA.
The matching dryer model MED6230HW has a tinted glass hamper-style door and is 7.4 cubic feet. It has metallic accents on the backguard for a premium look. The nine drying cycles include a Sanitize cycle. This model is a 2020 update that offers smart capabilities - you can control the dryer with an app on your smartphone, and receive notifications when a cycle is complete.
Maytag Front Load Laundry Overview
Maytag updated their popular front load laundry lineup for 2019 with a rearranged control panel and some new features on the higher-end models. There are three tiers available (5630, 6630, and 8630), and even the most basic model has a lot of great features. The capacities range from 4.5 to a massive 5.0 cubic feet, yet they can save you hundreds of gallons of water per year!
The Maytag front load washers come with features like:
An "Extra Power" button you can slap whenever your laundry has a lot of stains: Maytag uses a dual-temperature wash to address stains that dissolve best in hot water and in cold water in a single wash.

The 6630 and 8630 models include a Fresh Hold option, which uses a fan and intermittent tumbling to keep clothes fresh after a wash cycle ends. On the entry-level 5630 model, you'll find the Fresh Spin option, which does the same thing but without a fan.

The 8630 model also comes with the Optimal Dose Dispenser, which can hold enough detergent for 8 loads and will automatically dispense the perfect amount depending on the cycles and options, and the weight of the load.
Specialty cycles include Sanitize, and options include adding steam to a wash to help remove stains and boost cleaning power. These models have built-in water heaters to heat water to the ideal wash temperatures. Cycles are typically a bit longer on front loading washers as these machines require a minimal amount of water. As an example, older traditional washers would use a full tub of water yet cycle times were approximately 30-35 minutes. Today's wash cycles can exceed an hour depending on settings and are more energy conservative due to smaller pumps, more efficient motors and decreased water usage.
The dryers are all 7.3 cubic feet and can offer features like steam, advanced moisture sensing, and more. Like the washers, the front load dryers have an Extra Power button to better handle thick fabrics. Sanitize cycles and Quick Dry cycles are also included to match the washers.
Pricing starts at $899 up to $1,349 before rebates or promotional sales.
Maytag Front Load Washer and Dryer Review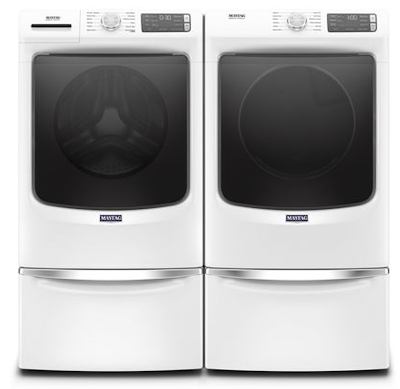 We'll review the mid-tier 6630 washer and dryer models, although the entry-level 5630 models have been very popular with our customers. The Maytag MHW6630HW front load washer and matching dryer model MED6630HW are a great pair retailing at $999 each in white or $1,099 each in gray.
The Maytag MHW6630HW washer offers 4.8 cubic feet of capacity and some cool features. There's the 16-Hour Fresh Hold option, which can circulate air with a fan and tumble the clothes intermittently for up to 16 hours after a cycle ends, for those really busy days when you forget about your wet laundry! Helpful cycles include a 15-minute Quick Wash cycle and a Sanitize cycle, which removes up to 99.9% of three common household bacteria. Options include Delay Wash, Steam, and Extra Rinse. There are 10 cycles overall (besides the Drain & Spin and Clean Washer cycles) to suit a range of fabrics.
This washer has pretty intuitive controls and has a large tinted door that stands out from typical front load washer designs. Maytag covers this model's direct drive motor and stainless steel tub with a 10 year limited warranty. The washer is assembled in Clyde, Ohio and is designed and engineered in the USA.
Click here to read over 125 real customer reviews of this product!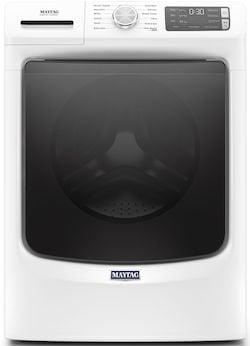 The matching dryer model MED6630HW offers 7.3 cubic feet of capacity and offers Quick Dry and Sanitize cycles to match the washer's cycles. You can use the Steam Refresh cycle to quickly refresh clothes that need a little pick-me-up but aren't so dirty that they need to be washed. Additional steam options target wrinkles and static.
Click here to read over 55 real customer reviews of this product!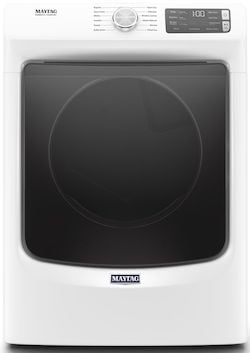 All Maytag matching laundry products are specifically designed to work with one another, meaning that the dryer's interior sizing is determined based on the capacity of the matching washer. The rule of thumb is to roughly double the washer's tub capacity to determine the dryer's drum size.
All Maytag residential washers and dryers carry a one year warranty throughout the product and a ten year limited parts warranty on their motors.
We hope you enjoyed these brief Maytag washer and dryer reviews. Please feel free to leave a comment below. We'd love to hear from you!
Editor's Note: This blog was originally written in July of 2017 and has been completely revamped and updated for accuracy as of the publication date noted above.