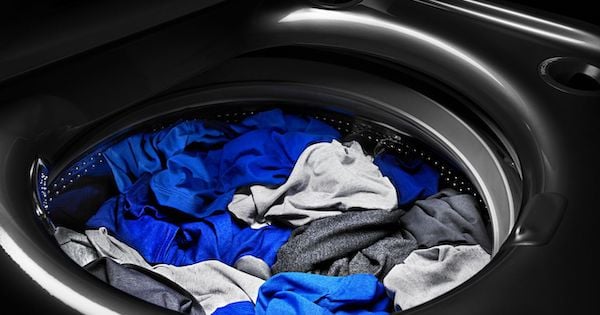 When searching for a new washing machine, there are many different factors, styles and options you can take into account (which you can learn more about in our washing machine buying guide), but sometimes tub size is what you are really focused on. If you are looking for the single largest washing machine on the market, we've got good news for you: LG makes the largest washing machine in the front load category, while Maytag wins in the top load category.
We won't keep you hanging: the Maytag MVWB955FW is the top load model and the LG WM9500HKA is the front load model (you can compare top load vs front load washers in our article). We'll take a closer look at tub size in general and explore the details of these behemoths from LG and Maytag. Let's dig in!

The size of the wash tub is very important and both front load and top load models come in a variety of sizes. The largest tub sizes are generally in the 5.0 to 6.0 cubic foot range, which is 40% larger than most standard tub sizes. Some top loaders don't have agitators, giving you more usable space. This allows you to do larger batches, cutting down on your workload and saving you time. For large families and households, this can be an incredible time saver!
Front load washers also allow you to do larger batches due to their unobstructed interior space, all while using less water than top load models. Be careful not to overload these washers as this can cause problems and shorten the life of the product. All that said, if you are looking for the single largest washing machine available today in the top load category, be sure to check out the Maytag MVWB955FW. This Energy Star rated top load model features an incredible 6.2 cubic foot tub. It also features an impeller instead of an agitator to help maximize the available space.
Maytag's PowerWash System offers some of the best cleaning in the industry thanks to PowerSpray technology for improved water and detergent circulation, the durable Power Impeller that also sprays out water and detergent, and the internal water heater. Optimal dispensers make sure that fabric softener, detergent, and oxygenated additives are released at the right times throughout the cycle. If you're dealing with heavily soiled fabrics, you'll appreciate the Deep Fill option, too!
NOTE: Pay close attention to the dimensions listed below. Some customers have been unable to get this model through their laundry room doorway! The larger capacity of this model means it takes up more space than the average washer. This model's pricing is around $1,299 in white.
Dimensions:
Width: 29.5"

Depth: 30"

Height: 43.4"
Click here to read over 130 real customer reviews of this product!

LG has earned the title of "largest washing machine on the market" in the front load category with the LG WM9500HKA, a front load washer available in black stainless steel starting at $1,999. This Energy Star rated model is part of the LG Signature ultra-premium line. It offers an astounding 5.8 cubic feet of capacity! And if you wanted to combine it with the LG SideKick Pedestal Washer, that adds an additional cubic foot, maxing out at 6.8 cubic feet.
Besides a truly mammoth size, what else does this front load washer have to offer? Quite a lot! This is a smart washer with LG's SmartThinQ technology, allowing you to manage your washing machine remotely through your smartphone (learn more about LG smart appliances in our article). This model also has a direct drive motor with a 10-year limited warranty plus a lifetime warranty on the drum. TurboWash 2.0 technology speeds up wash cycles when selected as an option.
Cycles include Speed Wash, Sanitary, Allergiene, Jumbo Wash, Bedding, and more. Cycle options include PreWash, FreshCare, and Steam technology as well. The detergent dispenser includes sections for prewash, main wash, bleach, and fabric softener. The TrueBalance Anti-Vibration System combined with LG LoDecibel quiet operation means this front load washer works well for second-floor laundry areas and laundry closets near bedrooms and other living areas.
Dimensions:
Width: 29.6"

Depth: 33.1"

Height: 41.2"
Click here to read over 15 real customer reviews of this product!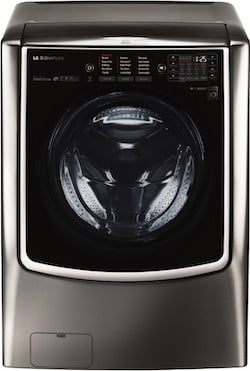 We hope you enjoyed this article about the largest washing machine on the market in both top load and front load categories. LG has dominated the front load category while Maytag has won the top load category! If you are looking to wash big loads - these models are the way to go. They come in at different price points and feature packages, so it's up to you which model is right for your needs. We've also written about the largest top load washers and the largest front load washers of the year if you want to research more great options!
Is one of these mammoth models the perfect choice for you? Please leave us a comment below. We'd love to hear from you!
Editor's Note: This blog was originally written in March of 2017 and has been completely revamped and updated for accuracy as of the publication date noted above.