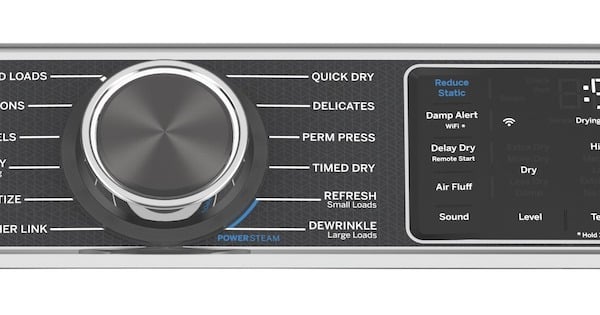 Are you in the market for a steam dryer and looking for a great option? In this article, we'll delve into steam and discuss one of the best selling steam cycle dryer models out there.
Steam cycles are very useful in dryers, and have been around since the late 2000s. They can be used to freshen up items that are clean but may have been stored for a long time or worn just once. They can also be used to eliminate wrinkles and odors during drying cycles. Steam washers tend to focus on stain removal, wrinkle reduction, and sanitize cycles as well. Be sure to consider steam as an option when you are researching new dryers - and check out our dryer buying guide for more information on choosing a new dryer.
Why Bother with a Steam Dryer?
Steam can be used to sanitize clothes and even non-washable items like pillows or toys. It can reduce wrinkles and help refresh clothes that smell a little funky but are otherwise clean. Instead of hanging up a wrinkled shirt in the bathroom while you shower, you could pop it into the dryer to quickly reduce the wrinkles for easier ironing! A steam option in your dryer can also be useful if your wardrobe includes fabrics that are especially prone to wrinkles, such as silk and other natural fibers.
A steam dryer doesn't have to require extra plumbing and it won't greatly complicate the installation of a new washer and dryer: a Y-connection can hook up the dryer to the washer's water hookup. Some steam dryers don't have an external water hookup at all: instead, you have to fill a reservoir with water for the steam cycle option. Steam features are available in many mid- to high-end dryers from brands like GE Appliances, Electrolux, Samsung, LG, and Maytag.
A Steam Dryer Might Be For You If...
You hate the chore of ironing and value time-saving features in your appliances

Many of your clothes are prone to wrinkling or static cling

You want to be able to quickly refresh items in order to wear them again without washing

You want to be able to sanitize items in the dryer
Different models may offer different configurations, with individual steam cycles geared towards refreshing, sanitizing, or wrinkle release. Some steam dryers will also add light bursts of steam throughout a cycle as part of an anti-static option. Look for steam dryers that release a fine mist of water to avoid unwanted condensation in the base of the dryer drum.
Steam Dryer Review - The LG DLEX4000W
Let's take a closer look at an LG steam cycle dryer that features LG's TurboSteam which penetrates fabrics with powerful real steam that generates instantly. This helps to eliminate dirt, odors, and wrinkles.
The LG DLEX4000W is a top-selling electric dryer that's Energy Star rated. This machine can help you cut down on the number of loads you do with its large 7.4 cubic feet capacity. It is both a time and energy saver. In addition, it has a tempered glass door with rose gold trim that adds up to its look!
The steam options include a SteamSanitary cycle for cleaning non-washable items like children's toys and throw pillows, the SteamFresh cycle for refreshing clothes that may have a few wrinkles, and a Reduce Static option that releases light bursts of steam to prevent static buildup. The LG sensor dry system prevents over-drying, and the LoDecibel Quiet Operation technology means this dryer is a great option for open floor plans or laundry rooms near living areas.
The electronic control panel features an LED display with status indicators, a time remaining display, and a FlowSense duct clog indicator light.
Features
Energy Star rated

12 Cycles: Normal, Heavy Duty, Bedding, Anti Bacterial, SteamSanitary™, SteamFresh™, Perm Press, Delicates, Towels, Speed Dry (Manual Dry), Air Dry (Manual Dry), Downloaded

12 Options: More Time, Less Time, Damp Dry Signal, Wrinkle Care, Control Lock, Wi-Fi, Energy Saver, TurboSteam™, Reduce Static, Remote Start, Drum Light, Signal

Aluminized alloy steel drum

SmartDiagnosis troubleshooting feature helps solve issues quickly

LoDecibel quiet operation
Click here to read over 180 real customer reviews of this product!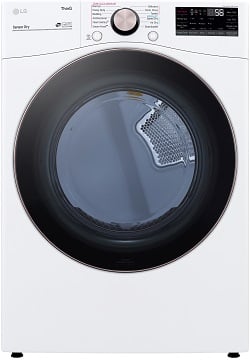 Are you considering a steam dryer, or looking to replace your current model? Is your ironing board collecting dust? Leave us a comment below - We'd love to hear from you!
Editor's Note: This blog was originally written in May of 2017 and has been completely revamped and updated for accuracy as of the publication date noted above.