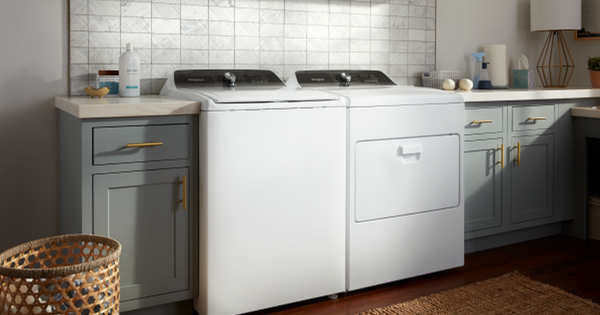 There are many reasons why you might prefer a top load washer over a front load washer - with one important factor being the price. But are you torn between choosing an impeller washer or an agitator model? The Whirlpool WTW5010LW and the Maytag MVWC565FW are both top load washers priced at around $849, but the Whirlpool model is an impeller washer while the Maytag option is an agitator washer. We'll review and compare these two models to help you decide which set of features is best for your needs!
The Whirlpool WTW5010LW - 4.6 cu ft - $849
First up: the Whirlpool WTW5010LW. This 4.6 cubic feet top load washer has traditional turn dial controls and spin speeds up to 770 RPM. It has a Smooth Wave stainless steel wash basket and a plastic impeller at the bottom of the tub. Although this is a high efficiency top load washer, it is not Energy Star rated. However, the energy costs are still relatively low thanks to advances in washing machine technology.
This model is very popular with consumers. The controls are easy to use and a great option for people who like to customize and control their washing machine cycles. Dials for soil level, wash temperature, and number of rinses in addition to your main cycle selections help ensure that your clothes are cleaned thoroughly. Cycles like Heavy Duty and Soak are great for handling seriously dirty clothes and heavy-duty fabrics, and the Presoak option is another great stain-fighting feature. If you're in a hurry, the Quick Wash cycle can wash small, lightly soiled loads in as little as 30 minutes.
Another interesting set of options is that you can choose the number of rinses. Choosing a Rinse with Softener option means you can pause the washer during the final rinse, add fabric softener, and, once you resume the cycle, the washer will distribute the fabric softener evenly throughout the load before the final drain and spin. Some washers come with more advanced dispensers that will automatically dispense the fabric softener at the right point in the cycle, so this washer is more "manual" than others.
Whirlpool offers a one-year limited warranty on this washer.
Cycles & Options:
12 Wash Cycles: Quick Wash, Colors, Whites, Heavy Duty, Jeans, Normal, Active Wear, Delicates, Bulky Items, Towels, Drain & Spin, Clean Washer with Affresh

Wash Temp: Hot, Warm, Cool, Cold, Tap Cold

Rinse Options: 1 Rinse, 2 Rinses, 1 Rinse with Softener, 2 Rinses with Softener

Presoak
Dimensions:
Width: 27.75"

Height: 55.75"

Depth: 27"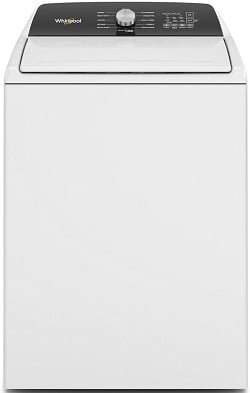 The Maytag MVWC565FW - 4.2 cu ft - $849
Next up: how does a similarly priced agitator washer compare? The Maytag MVWC565FW offers 4.2 cubic feet of capacity with a similar footprint compared to the Whirlpool model. It also features a stainless steel drum with Maytag's PowerWash agitator. This model has a lot of features that consumers appreciate, such as Maytag's PowerWash Cycle and Maytag Commercial Technology components.
This washer comes with a 2X life tested direct drive system and commercial springs, and the direct drive motor and wash basket have a 10-year limited parts warranty. It has a similar controls setup as the Whirlpool model with options for soil level, wash temperature, and rinse options with and without fabric softener.
In general, you can expect agitator washers to use more water and be rougher on fabrics than impeller and front load washers. If a member of your household works in construction, landscaping, or other jobs that can result in some seriously dirty clothes made from heavy-duty fabrics, an agitator washer may be worth it. Maytag's Commercial Technology in this model doesn't compare to Speed Queen's, but the 10-year warranty on the motor and wash basket are a nice touch for people concerned with the longevity of major components.
Like the Whirlpool model in our top load washer review, this Maytag washer is not Energy Star rated. It has a similar set of options and cycles with the Whirlpool model, but has more emphasis on cleaning power. This is part of Maytag's branding of their washing machines, and it's good if that appeals to you!
Cycles & Options:
11 Cycles: Normal, Bulky/Sheets, Wrinkle Control, Whites, Hand Wash, PowerWash, Clean Washer with Affresh, Drain & Spin, Rinse & Spin, Cold Wash, Soak

Water Level: Auto Sensing, Deep Water Wash

Soil Level: Light, Regular, Heavy

Wash Temperature: Tap Cold, Cold, Cool, Warm, Hot

Rinse Options: 1 Rinse, 2 Rinses, 1 Rinse with Fabric Softener, 2 Rinses with Fabric Softener, Deep Rinse
Dimensions:
Width: 27.5"

Height: 42"

Depth: 27"
Click here to read over 11,255 real customer reviews of this product!
Features Comparison
Water Level Options: One complaint about newer, more energy-efficient washers is that they don't seem to use enough water to thoroughly rinse clothes. Part of this issue may be due to the learning curve for newer HE detergents, but manufacturers have responded by offering manual water level settings and deep fill or extra rinse options as well. Both of these washers have automatic water level sensing, but they also offer some form of deep water wash. With the Maytag model, you can apply a deep fill option to any cycle. With the Whirlpool model, you get a dedicated deep water wash cycle.

Cycles & Options: Neither of these models offer the more advanced dispensers that release fabric softener and oxygenated additives automatically at the right time during the cycle, but they do offer an option for pausing the cycle and adding fabric softener. They have a similar array of cycles. Maytag does not have a Quick Wash option or Presoak option. Despite being priced at the mid-end, they are lacking in convenient features we've found in similarly priced washers.

Energy Usage: According to their respective Energy Guides, the Maytag model is estimated to use 164 kWh of electricity per year while the Whirlpool model uses 290 kWh of electricity per year. Although Energy Guides don't reflect the costs of water, only the costs of heating the water and running the machine, both models are at the low end for energy usage among top load washers.

Warranty: Maytag wins here by offering a 10-year limited parts warranty on the wash basket and direct drive motor. Both offer a one-year limited warranty on parts and labor.
So, which model should you choose? There are still a lot of fans out there for agitator washers, but they do tend to be rougher on fabrics--which might be fine for washing canvas and denim, but can mean thinner and more stretchy fabrics on lighter cloths. The Whirlpool impeller washer will definitely save you on energy usage while still giving you options that use more water for those times you need to handle heavy soils or stains. In the end, it's up to you - both models are highly rated and popular among consumers!
For more product options, check out our reviews of the GE top load washer lineup of agitator and impeller washers, which has similarly priced models and with a few extra features. There's also our reviews of the 7 Best Top Load Washers of the Year if you want to compare many different brands, and the 3 Largest Agitator Washers of the Year if you have a lot of laundry to wash.
Which one do you prefer? Do you think there's too much hype around agitator vs impeller washers, or not enough? Leave us a comment below - We'd love to hear from you!
Editor's Note: This blog was originally written in April of 2019 and has been completely revamped and updated for accuracy as of the publication date noted above.