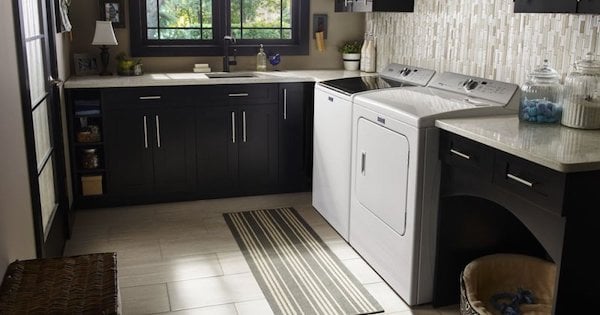 Many of the new highest capacity and most energy efficient washers have impellers in the bottom of the wash tub that perform the wash action and clean the clothes. These washers look enormous because they have no obstructions in the tub, but they have to be loaded properly to avoid tangling and to allow the clothes to be cleaned properly.
If you are not sold on the performance of these new designs, GE and Maytag still make agitator models that are very energy efficient, have big tub capacity and have agitators in the tub to perform the wash action. These are just a few of the factors to consider when researching a new washing machine (check out our washing machine buying guide for more info). Most of the new washing machines are very different in design with direct drive motors and load sensors to control water usage, but GE and Maytag have packed most of this new technology into these models and still incorporated the proven performance of the agitator.
Let's try to determine the best top loading washer for you by comparing two of their best agitator washer models.

The GE GTW685BSLWS - 4.5 cu ft - $849
First up, the GE GTW685BSLWS is a 4.5 cubic foot capacity washer with a dual-action agitator that turns in two directions to provide more customized fabric care and better cleaning performance. Its stainless steel wash basket offers more durability than plastic wash tubs or painted steel tubs. At a price of about $849, this washer is loaded with features and quality for the money.
The Deep Fill option allows you to add water to the cycle as desired or to fill the tub to capacity, if needed, for better cleaning performance. The dial controls let you choose the soil level, wash temperature, rinse and spin options, and stain pretreat options. You have 14 cycles to choose from as well! With a spin speed of up to 800 RPM, the clothes will be ready to go into the dryer and minimize drying time. It features a soft-close glass lid and a digital time remaining display for modern aesthetic appeal.
This washer is made in the USA with most of its components coming from the US. The warranty is one year parts and labor plus a 10-year warranty on the motor - see written warranty for complete details. Take a look at this one when you go shopping and it just might be the perfect choice for your family.
Features:
14 Cycles: Colors/Normal, Casuals, Delicates, Active Wear, Cold Wash, Speed Wash, Drain & Spin, Basket Clean, Sanitize with Oxi, Jeans, Heavy Duty, Bulky Items, Towels/Sheets, Whites

7 Wash Options: Deep Fill, Warm Rinse, Auto Soak, Deep Rinse (for fabric softener), My Cycle, Delay Wash, Extra Rinse

Stain PreTreat Options: Off, Tomato, Wine, Blood, Grass Dirt

Energy Star rated
Click here to read over 200 real customer reviews of this product!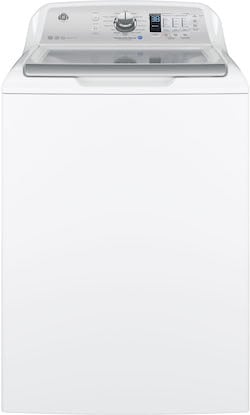 The Maytag MVWB765FW - 4.7 cu ft - $899
Next up is the Maytag MVWB765FW, a 4.7 cubic foot capacity washer with a direct drive motor and an agitator to provide great cleaning performance. With this machine, you can choose your water level by using the Deep Fill option, which can be used with any cycle to make sure that the clothes will come out clean. Selling for about $899, it offers a lot of great features and plenty of capacity for most families.
Customize the 11 wash cycles with temperature, soil level, and spin speed options, plus three deep fill choices and additional options for adding oxygenated additives, an extra rinse, or deep cleaning. Maytag claims that the PowerWash cycle offers the best cleaning in its class thanks to using hot water and the PowerWash Agitator - It looks like a great cycle for tough stains and soils. The touch controls, digital display with estimated cycle time remaining, and tinted glass lid add aesthetic appeal to this model as well!
The direct drive motor and the stainless steel tub are both covered by a 10 year limited warranty and it also has a one year parts and labor warranty. See the manufacturer's warranty for complete details. The washer is assembled in Clyde, Ohio and it is designed and engineered in the USA.
Features:
11 Cycles: PowerWash, Normal, Cold Wash, Wrinkle Control, Delicates, Rapid Wash, Clean Washer with Affresh, Drain & Spin, Sanitize with Oxi, Bedding, Colors

5 Wash Options: Delay Start, Oxi, Extra Rinse, Deep Clean, Deep Fill (Low, Medium, High)
Click here to read over 1,350 real customer reviews of this product!

Features Comparison
Cycles & Options: Both have a similar array of useful cycles for quick washes, bulky items, and towels. The GE model has more specific cycles for items like Active Wear, while the Maytag model offers the PowerWash cycle. GE offers soak options as well as the Stain PreTreat options, but Maytag offers three Deep Fill settings compared to GE's one.

Look & Feel: Both models have some style upgrades compared to traditional top load washers with glass lids and digital time remaining readouts. GE's soft close lid is a nice touch if you've ever let a washer lid drop shut on your head or hand!

Warranty: Maytag wins again with a 10-year limited warranty on the stainless steel tub and direct drive motor (GE is close behind with a 10-year warranty on the motor alone), while both have a one-year parts and labor warranty. If you're looking for an agitator washer with a better warranty, you'll want to check out Speed Queen (click the link to read about their washers).
Both models offer very comprehensive washing capabilities. If you are a bit more price conscious and don't need to maximize your load capacity, the GE might be the way to go. On the other hand, with the Maytag model you get an extra .2 cubic feet of capacity. The GE model has a lot of nice cycles for the average household, while Maytag focuses more on tough soils with the PowerWash and Sanitize with Oxi cycles.
Ultimately, the choice is yours. Check them out in person to get a feel for each of them! Or read about more great washers in our review of the best top load washers of the year. We hope you've enjoyed this comparison of top loading washer models. Please leave us a comment below. We'd love to hear from you!
Editor's Note: This blog was originally written in May of 2017 and has been completely revamped and updated for accuracy as of the publication date noted above.