Researching a new dryer can be an involved process. There are many factors to consider, and size is one of the most important ones. Dryer sizes are wide-ranging, but if you have a large family or heavy laundry needs for some other reason, you may be looking for the manufacturer with the largest dryer capacity on the market. Look no further! (Or, if you want to look further: check out our dryer buying guide for more info on choosing a new dryer!)
We've analyzed large capacity dryer options across manufacturers and found two behemoths that may be just what you are looking for. The overall largest dryer on the market right now comes from LG with a 9.0 cubic foot front load style model. Whirlpool is a close second with a 8.8 cubic foot top load style model (learn more about front load vs top load style dryers here). All dryers load from the front, but "front load style" dryers are designed to match a front load washer, usually with controls on the front of the machine and a windowed door, while "top load style" dryers have controls at the back of the machine and can't be stacked.
Let's explore these highly rated top-of-the-line models! Pay special attention to the dimensions if you're buying extra large washers and dryers because they can be a few inches larger in width and depth than standard size models. Make sure they will fit through your doorways and in your laundry space!
1. The Largest Dryer on the Market - LG DLEX8900B - $1,649
At a staggering 9.0 cubic feet, the LG DLEX8900B leads the market with a large capacity dryer that's hard to beat. This model is a front load style dryer with steam technology and some neat smart features. Quiet operation makes this dryer a good option for open floor plans or laundry rooms near bedrooms.
How does LG use steam in this dryer? The SteamFresh cycle gives a quick 20-minute refresh to wrinkled or slightly smelly clothes that you'd like to wear again before washing. The Steam Sanitary cycle cleans non-washable items like throw pillows and toys with steam.
A duct clogging sensor will alert you to any issues with airflow so you can keep your dryer running in tip-top shape. If you run into any error codes or other issues, the Smart Diagnosis app makes it easier to troubleshoot problems. This model is stackable and can be paired with the LG WM8900HBA 5.2 cubic foot capacity washer.
Note that this model has larger exterior dimensions to match its huge capacity, so make sure to measure your doorways and the installation space before ordering this model!
Cycles & Options:
12 Drying Programs: Normal, Perm Press, Towels, Delicates, Heavy Duty, SteamFresh™, SteamSanitary™, Bedding, Small Load, Speed Dry (Manual Dry), Air Dry (Manual Dry), Downloaded

12 Options: TurboSteam, Damp Dry Signal, More Time, Less Time, Wrinkle Care, Energy Saver, Control Lock, Reduce Static, Signal, Drum Light, Wi-Fi, Remote Start
Dimensions:
Width: 29"

Depth: 32.125"

Height: 40.75"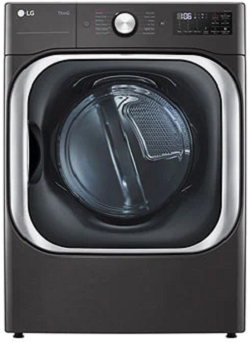 Need more information on choosing the best dryer for you? Check out our video below!
2. A Close Second for Large Capacity Dryers - Whirlpool WGD8120HW - $1,249
Right behind LG at 8.8 cubic feet is the Whirlpool WGD8120HW, a smart capable top load style gas dryer. This model features Advanced Moisture Sensing that prevents over-drying your clothes, finishing the drying cycle at the right time. With the use of tumbling and steam, the Wrinkle Shield Plus option with Steam can help reduce wrinkles in your clothes (you can check our blog post about steam dryers for more information).
If your concern is efficiency, you can try the EcoBoost option which uses less heat but still offers great drying. The Sanitize cycle helps eliminate 99.9% of common household bacteria from your clothes! There are also other cycles and options like Steam Refresh, Static Reduce, and Quick Dry to choose from. Since it's Wi-Fi enabled, it can do things like send alerts to your smartphone when your clothes are ready.
This model has Intuitive Controls that simplify the process of customizing your wash cycle - you can customize up to 35! It has a reversible side swing door and LED interior light. It is also Energy Star rated. The drum is powder-coated. Make sure to check out this model if you're looking for a leading large capacity dryer that costs $400 less than the LG model!
Cycles & Options:
What to Dry: Regular, Delicates, Bulky Items, Whites, Colors, Towels

How to Dry: Normal, Wrinkle Control, Heavy Duty, Sanitize, Timed Dry, Quick
8 Options: 5 temperature settings, 3 dryness levels, Drum Light, Steam Options, Steam Refresh, Less Time, More Time, EcoBoost
Dimensions:
Width: 29"

Depth: 32.75"

Height: 42.375"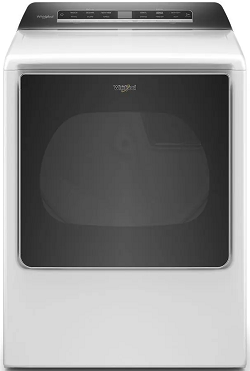 These models have extra-large dimensions to match their extra-large capacities, and they are also pricier than other, smaller options. Make sure to double-check the dimensions of the dryers you're considering with the widths of doorways and hallways in your home.
What features do you look for in a dryer besides XL capacity? Please feel free to leave a comment below. We'd love to hear from you!
Editor's Note: This blog was originally written in February of 2018 and has been completely revamped and updated for accuracy as of the publication date noted above.