Are you interested in upgrading your electric dryer for 2019? Electric dryers are a convenient option for homes and apartments that don't have easy access to a gas line and are the most widely sold type of dryer in the United States. Although electric dryers are generally less efficient to operate than gas dryers, new options on the market use sensors and other technology to help reduce their operating costs. You should consider an Energy Star rated electric dryer if you're worried about energy efficiency!
We've pulled together seven of the best electric dryer models from several different brands to help you explore some of the new offerings on the market. Some things to pay attention to are dryer dimensions compared to capacity to maximize available space, and to aim for a dryer with twice the capacity of your washing machine to hit that laundry sweet spot! (For more info on choosing a new dryer, check out our dryer buying guide.)
1. GE GFD45ESSMWW - 7.5 cu ft - $999
First up is an electric dryer from GE. GE offers the GFD45ESSMWW electric dryer in dashing diamond gray $1,099 and in classic white at $999. This front load style dryer has 7.5 cubic feet of capacity with a stainless steel drum and is Energy Star rated.
This dryer offers a few steam cycles to expand what you can do with one appliance (read more about steam cycles in our steam cycle dryers article). If you ever forget your items in the dryer for too long, just run them through the Steam Dewrinkle setting and they'll be ready to fold! The Steam Refresh setting is great for refreshing lightly worn clothes without springing for a full wash. This model also includes a Sanitize cycle that reduces bacteria on fabrics.
If you're looking for the best electric dryer to maximize energy efficiency, this Energy Star rated dryer offers HE Sensor Dry plus Steam settings that can help reduce water use from washing. It's made in the USA, too!
Features:
Energy Star rated

11 Cycles: Quick Dry, Perm Press, Bulky/Bedding, Delicates, Cottons, Mixed Loads, Towels/Sheets, Steam Dewrinkle, Warm Up, Air Fluff, Time Dry

9 Options: Steam Refresh, Sanitize, Delay Dry, Damp Alert, Extended Tumble/Wrinkle Care, eDry, 4 Temperature Settings, 4 Dryness Levels

Stainless steel drum

Sanitize cycle reduces certain types of bacteria by 99.8%
Dimensions:
Height: 39.4"

Width: 28"

Depth: 34.4"
Click here to read over 100 customer reviews of this product!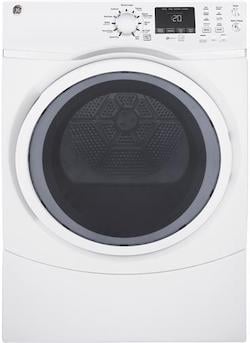 2. LG DLE7600WE - 7.3 cu ft - $1,049
Next up is a model from Korean manufacturer LG. LG is a JD Power Award winner for "Highest in customer satisfaction with dryers," and one of their best electric dryer offerings is the LG DLEX7600WE. If dryer capacity is important to you, this machine has that covered thanks to its large 7.3 cubic foot capacity. You can find it in white at $1,049 or black stainless steel at $1,249.
With TurboSteam Technology, this dryer can help reduce wrinkles and odors so you can do less ironing and re-washing. Another helpful feature is the Steam Sanitary Cycle, which can safely sanitize non-washable items like throw pillows or a child's toy. You can take advantage of LG's Smart ThinQ technology with the Smart Diagnosis app and wifi connectivity to control and check on your dryer remotely. Other great cycle options include Reduce Static and Wrinkle Care, plus a Damp Dry Signal option that will alert you when clothes are at the ideal dampness for ironing.
LG's LoDecibel Quiet Operation technology helps keep operation noise to a minimum, ideal for laundry rooms near living areas. The EasyLoad door can be opened two ways: swinging from the side or dropping down like a hamper. Load it with the door open to the side and unload it using the hamper door to catch any stray socks!
(Have 9 seconds to spare? Watch our demo of the EasyLoad door!)
Features:
SmartThinQ Technology

EasyLoad door opens hamper-style for transferring wet items and to the side for unloading dry items

Energy Star rated

14 Drying Programs: Normal, Heavy Duty, Bedding, Small Load, Anti-Bacterial, Steam Fresh, Steam Sanitary, Perm Press, Sportswear, Delicates, Towels, Speed Dry, Air Dry, Downloaded

6 Options: Reduce Static, Energy Saver, Custom Program, Wrinkle Care, Damp Dry Signal, TurboSteam

LoDecibel quiet operation
Dimensions:
Height: 45.4"

Width: 27"

Depth: 28.9"
Click here to read over 110 real customer reviews of this product!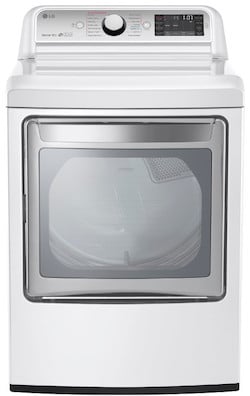 3. Electrolux EFME527UIW - 8.0 cu ft - $999
Next on our list is a great front load style dryer from Electrolux. Electrolux is a Swedish brand and the world's second-largest appliance maker, known for their quality designs. They really knock it out of the park with the EFME527UIW, an 8.0 cubic foot capacity front load electric dryer that has a notably large capacity for a standard 27" width, plus a height that makes it work well for under-counter installations. It comes in white at $999 or titanium at $1,099.
This Energy Star rated model comes with Electrolux's exclusive Platinum Star Limited Warranty with three years of coverage on parts and one year on labor. The LuxCare Dry System uses a precise moisture sensor to avoid over-drying or under-drying clothes and comes with great features like Perfect Steam for releasing wrinkles and refreshing items, and an 18-minute Fast Dry cycle for small loads. The Extended Tumble option helps prevent tangles when handling bulky sheets and towels.
This Electrolux dryer comes with a lot of options: stack it, put it on a pedestal, or install it under a counter--the choice is yours! If you have limited space for laundry appliances, this may be the best electric dryer for you that maxes out capacity with a narrow 27" width. Explore our Electrolux front load washer reviews if you want to get a matching washer for this great dryer!
Features:
8 Cycles: Heavy/Towels, Normal, Activewear, Mixed Load, 18-Minute Fast Dry, Delicates, Time Dry (Up to 75 Minutes), Instant Refresh

9 Options: 5 temperatures (including Sanitize), 5 dryness levels, Perfect Steam, Anti-Static, Eco, Wrinkle Release, Extended Tumble, Delay Time, Control Lock

Energy Star rated

Largest capacity dryer for a standard 27" platform

Luxury-Quiet Sound System

Reversible door, optional pedestals and stacking kit available
Dimensions:
Height: 38"

Width: 27"

Depth: 31.5"
Click here to read over 215 real customer reviews of this product!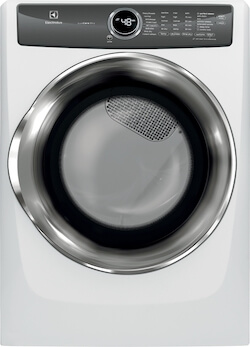 4. Whirlpool WED7500GW - 7.4 cu ft - $899
Looking for an electric dryer that's made in the USA? The Whirlpool WED7500GW at $899 in white or $999 in Chrome Shadow might be for you. It has a 7.4 cubic foot capacity and AccuDry sensors to keep track of moisture levels during the drying cycle to avoid over-drying.
The hamper-style door makes transferring wet clothes into the dryer easy by catching stray items and keeping them off the floor. An LED display shows the estimated time remaining. Touch controls let you choose from manual or automatic drying options based on fabric and more. Whirlpool's Intuitive Controls are split into two parts: "What to Dry" and "How to Dry," so you can customize the drying cycle based on the fabrics involved while making it easy to do so.
This Whirlpool electric dryer provides updated features and controls but doesn't go overboard, making it a great choice for people who want to keep things simple. Note that it isn't an Energy Star rated product, although sensor drying helps improve energy efficiency.
Features:
What to Wash: Cottons, Casuals, Jeans, Towels, Bedding/Bulky, Air Only

How to Wash: Normal, Quick, Delicate, Heavy Duty, Timed Dry

7 Options: Wrinkle Shield, 5 temperatures, 4 dryness levels, Sanitize, High/Low Signal Volume, Damp Dry Signal, Drum Light

Hamper-style door with window

LED display for estimated time remaining
Dimensions:
Height: 39.7"

Width: 27"

Depth: 30"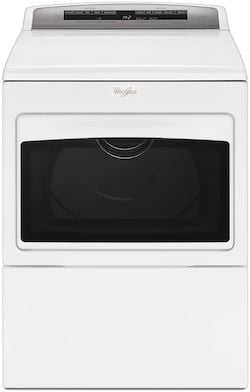 5. Frigidaire FFRE4120SW - 6.7 cu ft - $599
The Frigidaire FFRE4120SW, priced at $599, is a budget-friendly electric dryer that makes for a simple upgrade from an older model. Electronic controls and a digital readout help you select from 10 cycles like Bulky, Active Wear, and more, and cycle options like Wrinkle Release and Delay Start. The doors are reversible for ease of installation.
This dryer is on the smaller end with a 6.7 cubic foot capacity, so it may not be the best option for larger households. It would be compatible with a washer in the 3.5 cubic foot range, which is large enough to handle a queen size comforter and suits households of 2-3 people. You can save two "favorite cycles" that you use often. The stainless steel drum and moisture sensor make this a great buy for a budget, although it's not Energy Star rated.
If you don't need huge capacities or high aesthetic appeal and want to upgrade on a budget, you should check out this dryer. However, keep in mind that there are dryers of similar size with larger capacities, like the Electrolux model on our list!
Features:
10 Cycles: Normal, Delicates, Active Wear, Towels, Sanitize, Heavy Duty, Bulky, Quick Dry, Time Dry, Air Fluff

7 Options: Wrinkle Release, Delay Start, 5 dryness levels, 5 temperatures, Control Lock, Chime On/Off, Favorite Cycle

Reversible doors

Electronic controls with digital readout
Dimensions:
Height: 42.9"

Width: 27"

Depth: 30"
Click here to read over 55 real customer reviews of this product!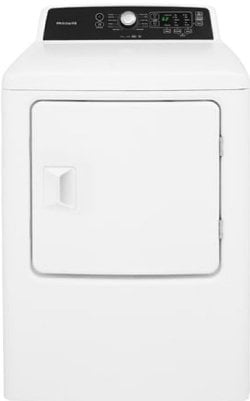 6. Maytag MEDX655DW - 7.0 cu ft - $799
Next on our list is a great electric dryer from Maytag. Maytag has made a name for itself in the appliance industry by putting durability at the forefront of everything it does. If durability is your biggest concern, a Maytag dryer like the MEDX655DW might be the best electric dryer for you! This dryer is available at $799 and has a 7.0 cubic foot capacity.
A heavy-duty motor provides fast and powerful drying action using Maytag Commercial Technology to ensure a long lifespan. The drive motor and dryer drum come with a limited 10-year parts warranty to back them up! The dial controls aren't as flashy as electronic displays and touch-button controls, but they are reliable and inexpensive to replace or repair.
Engineered and assembled in the USA, this Maytag dryer aims to be simple but effective, although it's not Energy Star rated. If you're concerned about repairs and longevity, check out this tough electric dryer from Maytag!
Features:
11 Cycles: Timed Dry up to 70 minutes, Sanitize, More Dry, Energy Preferred, Less Dry, Cool Down

3 Options: Wrinkle Control (Off, 60 min, 120 minutes), Signal Low/High, 5 temperatures


Maytag Commercial Technology with 10-year limited parts warranty

Turn-dial controls
Dimensions:
Height: 43"

Width: 29"

Depth: 28.25"
Click here to read over 3,450 real customer reviews of this product!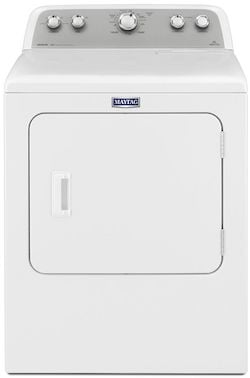 7. GE GTD65EBSJWS - 7.4 cu ft - $799
The final pick for our list of the best electric dryer models for 2019 is another dryer from GE, the GTD65EBSJWS. This front loading electric dryer is Energy Star qualified and has a 7.4 cubic foot capacity, pricing at $799 in white and $899 in diamond gray.
This GE electric dryer features an aluminized alloy drum. Aluminized steel is a little different from stainless steel - it tends to be less expensive and is better at conducting heat. However, stainless steel is more durable than aluminized steel. Like many newer dryers on the market, this model also comes with HE Sensor Dry, Extended Tumble to prevent wrinkles, and options for creating custom dry cycles. It also comes with a Damp Alert feature, which alerts you when your clothes are at the perfect level of dampness for ironing.
This 27" electric dryer is a simple upgrade designed with energy efficiency in mind. Check out Energy Star rated electric dryers if you want to lower your electricity bill.
Features:
12 Cycles: Mixed Load, Casuals, Delicates, Speed Dry, Jeans, Cottons, Towels/Sheets, Bulky Items, Sanitize, Timed Dry, Warm Up, Air Fluff

8 Options: eDry, 4 dryness levels, 4 temperatures, My Cycle, Delay Dry, Signal Volume, Damp Alert, Extended Tumble

Energy Star rated

My Cycle settings

Venting capability of up to 120 feet

Aluminized steel drum
Dimensions:
Height: 46"

Width: 27"

Depth: 30.5"
Click here to read over 870 real customer reviews of this product!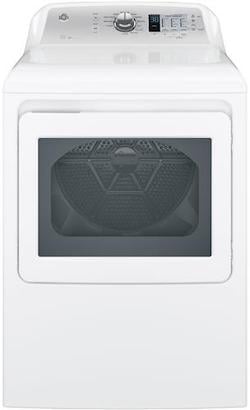 There are a wide range of electric dryers available, from smart WiFi-connected machines to more traditional and basic options. If you value durability and want repairs to be inexpensive, the Maytag MEDX655DW (#6 on our list) is a tough little dryer with a great warranty. Looking for a dryer with steam options? Take a closer look at the GE model (#1), LG model (#2), and Electrolux model (#3)! The models from Electrolux, LG, and GE on our list are Energy Star rated products that help keep energy usage down.
How fancy do you want your new dryer to be? Does a smart model like the LG model appeal to you, or do you like more traditional styles like the Maytag option? Leave us a comment below - We'd love to hear from you!
Editor's Note: This blog was originally written in January of 2018 and has been completely revamped and updated for accuracy as of the publication date noted above.