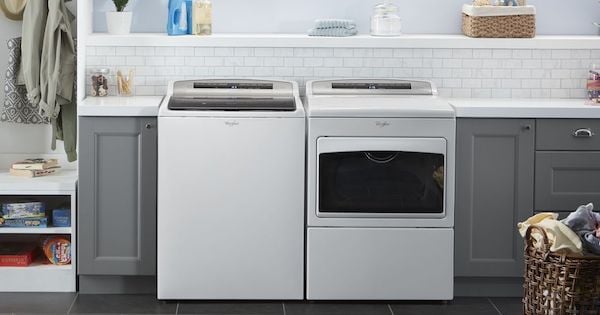 Are you interested in upgrading your electric dryer for 2023? Electric dryers are a convenient option for homes and apartments that don't have easy access to a gas line and are the most widely sold type of dryer in the United States. Although electric dryers are generally less efficient to operate than gas dryers, new options on the market use sensors and other technology to help reduce their operating costs. You should consider an Energy Star rated electric dryer if you want to save money on utilities!
We've pulled together seven of the best electric dryer models from several different brands to help you explore some of the new offerings on the market. Some things to pay attention to are dryer dimensions compared to capacity to maximize available space, and to aim for a dryer with twice the capacity of your washing machine to hit that laundry sweet spot! (For more info on choosing a new dryer, check out our dryer buying guide.)
Table of Contents
Models marked with a * are Energy Star rated.
3 Quick Tips for Buying a New Dryer
Cycles and options. Sanitize cycles are becoming more common on today's dryers and can come in handy when someone in your household is sick or if something unmentionable happened to some sheets or an item of clothing. Wrinkle reducing options are helpful if you don't usually get to your dryer right when the cycle finishes. Steam cycles and options can also be used to release wrinkles, refresh fabrics for another wear, and sanitize items. Having custom drying cycles for different fabrics ensures that you're giving those fabrics the best care possible, extending their lifespan!

Match the capacity to your washer. Remember that your new dryer should be 1.5-2 times the size of your washer. If you're only replacing your dryer right now but are planning on buying a larger washer in the future, buy a dryer that will match that future washer! Trying to dry loads that are too large in your dryer can reduce its lifespan, so matching the capacities is important. (PS: Don't forget to check the dimensions as well - larger capacity models have larger dimensions that may not work if your washer and dryer are in a closet.)

Consider an Energy Star rated model, or at least sensor drying. Electric dryers are one of the biggest energy hogs, second only to refrigerators. Considering that refrigerators run constantly while your dryer may run for a few hours a week at most, that's pretty crazy! Choosing a model that is Energy Star rated is easy to do when your budget allows for a mid-range to high-end model (and of course, remember that the retail price can be reduced by 20% or more during sales and promotions). The next best thing is to choose a model with HE sensor drying since it's good for your clothes and your energy bills. Sensor drying monitors the humidity in the dryer drum and will stop automatically when your clothes are dry. The best type of sensor drying places humidity sensors in the drum - ask a salesperson to point them out to you if you're curious!
Learn more about buying a new dryer in just 6 minutes!
1. GE GFD55ESSNWW - 7.8 cu ft - $1,048
First up is an electric dryer from GE. The GE GFD55ESSNWW electric dryer is available in classic white at $1,048. This front load style dryer has 7.8 cubic feet of capacity with a stainless steel drum and is Energy Star rated. Although it has a larger capacity than its predecessor, GE shaved 2" off of the depth of this model for truly closet depth installs, and the door is easily reversible. Another premium touch: an efficient and bright LED drum light inside.
This dryer matches with GE's award-winning new Ultra Fresh Vent front load washer. It has built-in Wi-Fi connectivity, so you can get damp dry alerts on your phone for ironing or receive an alert when the dry cycle is done so you can avoid wrinkles. This model also includes a Sanitize cycle that reduces bacteria on fabrics.
If you're looking for the best electric dryer to maximize energy efficiency, this Energy Star rated dryer offers HE Sensor Dry plus smart features that can help reduce energy spent on extended tumbling or delay drying outside of peak demand for electricity.
Features:
Energy Star rated

10 Cycles: Bulky/Bedding, Cottons, Delicates, Dewrinkle, Mixed Loads, Perm Press, Quick Dry, Sanitize, Timed Dry, Towels

9 Options: Delay Dry (Up to 24H), EcoDry, My Settings, Sanitize, Small Load, Damp Alert, Wrinkle Care

Alcosta aluminized drum

Sanitize cycle reduces certain types of bacteria by 99.8%

Smart Wi-Fi connectivity to remotely control and receive laundry updates
Dimensions:
Height: 39.75"

Width: 28"

Depth: 32"
Click here to read over 2,005 real customer reviews of this product!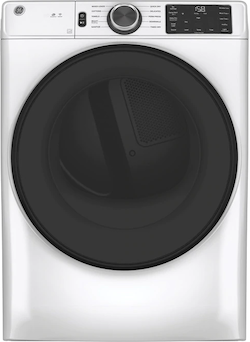 2. LG DLE7150W - 7.3 cu ft - $949
LG is a JD Power Award Winner for "Highest in customer satisfaction with dryers," so of course one of their products made our list! The LG DLE7150W prices at $949 and has 7.3 cubic feet capacity, plus it's Energy Star rated to save you money on utilities.
Apart from being Energy Star rated, its Sensor Dry feature automatically adjusts drying time so it won't run longer than it should. This built-in sensor monitors moisture on clothes, which keeps them from under or over drying. Never worry about wrinkles even if you won't be able to take your clothes out soon after the cycle ends. With Wrinkle Care, this dryer will periodically tumble dry clothes for up to 3 hours that will avoid creases from forming.
With LoDecibel Quiet Operation, this dryer could be a great option if your laundry room is near your bedroom or other living area. This richly featured dryer is a must-see!
Features:
Energy Star rated

8 Programs: Normal, Perm Press, Heavy Duty, Bedding, Delicates, Speed Dry (Manual Dry), Air Dry (Manual Dry), Freshen Up (Manual Dry)

7 Options: Wrinkle Care, Control Lock, More Time, Less Time, Damp Dry Signal, Energy Saver, Signal

Aluminized alloy steel drum

SmartDiagnosis troubleshooting feature helps solve issues quickly

LoDecibel quiet operation

FlowSense™ Duct Clogging and Clean Filter Indicators
Dimensions:
Height: 44.5"

Width: 27"

Depth: 29.5"
Click here to read over 220 real customer reviews of this product!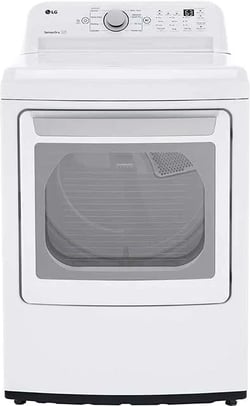 CLICK HERE TO READ OUR REVIEWS OF THE BEST TOP LOAD WASHERS!
3. Electrolux ELFE7537AW - 8.0 cu ft - $1,149
Next on our list is a great front load style dryer from Electrolux. Electrolux is a Swedish brand and the world's second-largest appliance maker, known for their quality designs. They really knock it out of the park with the Electrolux ELFE7537AW, the 8.0 cubic feet capacity front load electric dryer that has a notably large capacity for a standard 27" width, plus a height that makes it work well for under-counter installations. It comes in white at $1,149 or in titanium at $1,249.
This Energy Star rated model comes with Electrolux's exclusive Platinum Star Limited Warranty with two years of coverage on parts and one year on labor. The LuxCare Dry System uses a precise moisture sensor to avoid over-drying or under-drying clothes and comes with great features like Perfect Steam for releasing wrinkles and refreshing items, and a 15-minute Fast Dry cycle for small loads. The Extended Tumble option helps prevent tangles when handling bulky sheets and towels.
This Electrolux dryer comes with a lot of options: stack it, put it on a pedestal, or install it under a counter - the choice is yours! If you have limited space for laundry appliances, this may be the best electric dryer for you that maxes out capacity with a narrow 27" width. Explore our Electrolux front load washer reviews if you want to get a matching washer for this great dryer!
Features:
10 Cycles: Activewear, Allergen, Delicates, Fast Dry, Heavy Duty, Instant Refresh, Mixed Load, Normal, Timed Dry Time, Towels

7 Options: Anti-Static, Perfect Steam, Wrinkle Release, Extended Tumble, Drum Light, 1-12 Hours Delay Time, Control Lock

Energy Star rated

Largest capacity dryer for a standard 27" platform

Reversible door

Optional pedestals and stacking kit available
Dimensions:
Height: 38"

Width: 27"

Depth: 32"
Click here to read over 280 real customer reviews of this product!
Electrolux ELFE7537AW - $1,149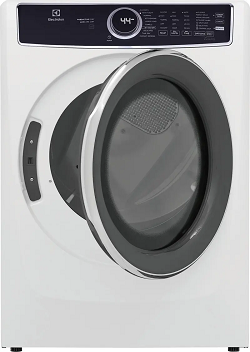 4. Whirlpool WED6120HW - 7.4 cu ft - $1,049
Looking for an electric dryer that's made in the USA? The Whirlpool WED6120HW at $1,049 in white or $1,149 in Chrome Shadow might be for you. It has a 7.4 cubic feet capacity powder coat drum and AccuDry sensors to keep track of moisture levels during the drying cycle to avoid over-drying.
The hamper-style door makes transferring wet clothes into the dryer easy by catching stray items and keeping them off the floor. An LED display shows the estimated time remaining. Touch controls let you choose from manual or automatic drying options based on fabric and more. Whirlpool's Intuitive Controls are split into two parts: "What to Dry" and "How to Dry," so you can customize the drying cycle based on the fabrics involved while making it easy to do so.
This Whirlpool electric dryer provides updated features and controls but doesn't go overboard, making it a great choice for people who want to keep things simple. You also have the option of smart Wi-Fi connectivity, so you can receive notifications on your smartphone when your clothes are dried. Note that it isn't an Energy Star rated product, although sensor drying helps improve energy efficiency.
Features:
6 What to Dry: Regular, Delicates, Bulky Items, Towels, Whites, Colors

6 How to Dry: Normal, Quick, Wrinkle Control, Sanitize, Heavy Duty, Timed Dry
3 Options: Wrinkle Shield, EcoBoost, Damp Dry Signal

Hamper-style door with window

LED display for estimated time remaining
Dimensions:
Height: 40.875"

Width: 27"

Depth: 30"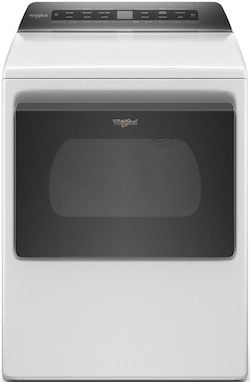 5. Frigidaire FFRE4120SW - 6.7 cu ft - $849
Looking for the best electric dryer under $900? The Frigidaire FFRE4120SW, priced at $849, is a budget-friendly electric dryer that makes for a simple upgrade from an older model. Electronic controls and a digital readout help you select from 10 cycles like Bulky, Active Wear, and more, and cycle options like Wrinkle Release and Delay Start. The doors are reversible for ease of installation.
This dryer is on the smaller side with 6.7 cubic feet capacity, so it may not be the best option for larger households. It would be compatible with a washer in the 3.0-3.5 cubic feet range, which is large enough to handle a queen size comforter and suits households of 2-3 people. You can save two "favorite cycles" that you use often. The stainless steel drum and moisture sensor make this a great buy for a budget, although it's not Energy Star rated.
If you don't need huge capacities or high aesthetic appeal and want to upgrade on a budget, you should check out this dryer. However, keep in mind that there are dryers of similar dimensions with larger capacities, like the Electrolux model on our list! We prefer dryers that have sensor drying because they help you save money over the life of the appliance.
Features:
10 Cycles: Normal, Delicates, Active Wear, Towels, Sanitize, Heavy Duty, Bulky, Quick Dry, Time Dry, Air Fluff

5 Options: Wrinkle Release, Delay Start, Control Lock, Chime On/Off, Favorite Cycle

Reversible doors

Electronic controls with digital readout
Dimensions:
Height: 42.9"

Width: 27"

Depth: 30"
Click here to read over 1,260 real customer reviews of this product!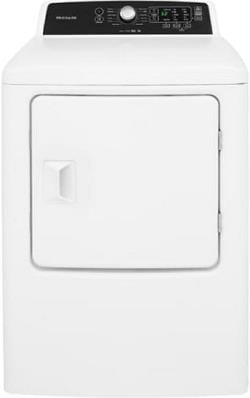 6. Maytag MED6230HW - 7.4 cu ft - $1,049
Next on our list is a great electric dryer from Maytag. If durability is your biggest concern, a Maytag dryer like the Maytag MED6230HW might be the best electric dryer for you! This dryer is available at $1,049 in white and $1,149 in metallic slate, and has a 7.4 cubic feet capacity powder coat drum. The hamper-style door with heavy-duty hinges makes it easy to load and unload without spilling clean clothes on the floor. This new for 2020 model also comes with smart features - Wi-Fi connectivity allows you to remotely start or stop the dryer and get end-of-cycle notifications.
A heavy-duty motor provides fast and powerful drying action using Maytag Commercial Technology to ensure a long lifespan. The drive motor and dryer drum come with a limited 10-year parts warranty to back them up! The brushed metal controls have an upgraded design that feels more high-end than dial controls, and the estimated cycle time remaining readout is handy as well.
Engineered and assembled in the USA, this Maytag dryer aims to be simple but effective, although it's not Energy Star rated. If you're concerned about repairs and longevity, check out this tough electric dryer from Maytag!
Features:
11 Cycles: Regular, Heavy Duty, Whites, Towels, Bulky Items, Custom Cycle, Quick Dry, Delicates, Wrinkle Control, Sanitize, Timed Dry

3 Options: Wrinkle Prevent, Damp Dry Signal, Extra Power


Maytag Commercial Technology with 10-year limited parts warranty

Brushed metal smooth touch controls with time remaining readout

Wi-Fi connectivity/smart features
Dimensions:
Height: 41.25"

Width: 27"

Depth: 30"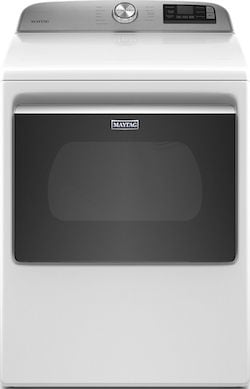 7. Speed Queen DC5003WE - 7.0 cu ft - $1,329
The final pick for our list of the best electric dryer models for 2023 is a dryer from Speed Queen, the Speed Queen DC5003WE. This top loading electric dryer has 7.0 cubic feet capacity, pricing at $1,329 in white.
Speed Queen is considered as one of the most reliable brands for many decades when it comes to laundry items. Aside from being durable, they are also offering longer warranty period coverage for parts and labor that really makes a bang in your buck!
This electric dryer from Speed Queen has a sanitizing feature for killing bacteria, which is especially helpful during the pandemic. This model can also prevent wrinkles on your clothes - you don't need to worry about ending up with wrinkled clothes in the dryer with the Extended Tumble feature. Its reversible door will allow you to decide how to position the dryer in your laundry area.
Features:
Cycle Selections: Automatic Perm Press/Knits, Automatic Regular/Delicate, Extended Tumble, Automatic Wrinkle Out, Timed Dry

Fabric Selectors: No Heat, Delicate, Perm Press, Regular

Extended Tumble option

Reversible Door

5 Year Warranty
Dimensions:
Height: 42.75"

Width: 26.875"

Depth: 28"
Click here to read over 1,190 real customer reviews of this product!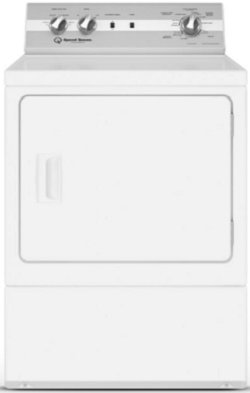 There are a wide range of electric dryers available, from smart Wi-Fi connected machines to more traditional and basic options. If you're looking for a simple dryer that will get the job done, the Frigidaire model (#5) is worth a look. Looking for a dryer with steam options? Take a closer look at the Electrolux model (#3)! The models from Electrolux, LG, and GE on our list are Energy Star rated products that help keep energy usage down.
How fancy do you want your new dryer to be? Does a smart model like the LG model appeal to you, or do you like more traditional styles like the Maytag option? Leave us a comment below - We'd love to hear from you!
Editor's Note: This blog was originally written in January of 2018 and has been completely revamped and updated for accuracy as of the publication date noted above.