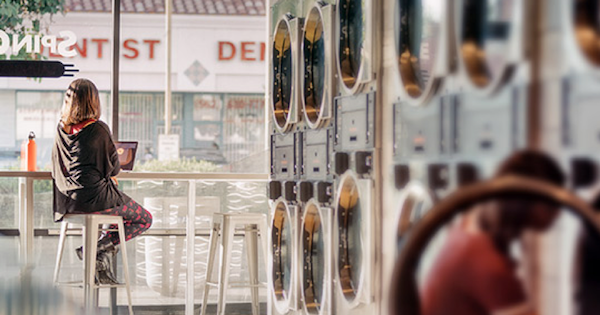 Are you in need of a coin operated washer and dryer for your apartment or other commercial location? Are you wondering where to begin in the process of researching new models? Installing coin operated washers and dryers can be a great way for landlords to increase their monthly income on apartment rentals, and if you're an entrepreneur in the laundry business, you may be looking for new machines for your laundromat. There are several coin operated dryer models on the market, but they aren't as widely advertised as traditional dyers.
In this article, we'll profile top-selling commercial washers and dryers from manufacturers Whirlpool and Speed Queen. Whether this is your first purchase of a coin operated dryer or you're replacing an existing model, taking a close look at the features of these models will help you compare and contrast with other models you are considering.
Choosing a coin operated washer and dryer can be a big deal - they can be a major expenditure if you are buying multiple units for an apartment building or coin-operated laundry location. A coin operated machine will generally be more expensive than a comparable non-coin op machine. For this venture to be a success, you'll want solid, dependable machines with good warranties.
We're not subtle about our appreciation for USA-made laundry brand Speed Queen - and although they offer well-made commercial washers and dryers, they aren't the only option out there. We'll review a washer dryer pair from the world's largest home appliance manufacturer and the largest commercial laundry manufacturer - it's Whirlpool vs Speed Queen, head to head!
Table of Contents
Whirlpool Coin Operated Washer and Dryer - Review
First up: Whirlpool. The Whirlpool coin operated washer model CAE2745FQ, pricing at $1,049, and coin operated dryer model CEM2745FQ (electric) are top-selling models. The dryer starts at $999 (or $1,049 in gas, model CGM2745FQ). Let's start with the washer:
The Whirlpool Commercial CAE2745FQ is a 27" agitator washer with a 1/2 HP motor and a 3.3 cubic foot capacity porcelain drum. The flex-vane agitator uses four wash profiles to accommodate a range of fabric care needs, and the Deep-Water Wash System ensures effective cleaning for each load. At the same time, auto load sensing technology ensures the machine uses only as much water as needed. The extra-large lid and tub opening make it easy for your residents or customers to load and unload their laundry, and a max spin speed of 700 RPM reduces drying time.
To stand up to heavy use, commercial quality is a must: this washer features a commercial-grade motor, premium sealed bearings, a galvanized heavy-gauge steel cabinet, and a full-wrap metal console. Users will have four cycles (Heavy Duty, Delicates, Mixed, Normal Eco) and five temperature settings (Tap Cold, Cold, Cool, Warm, Hot) to choose form. This washer uses an average of 24.65 gallons per cycle. The warranty covers 2 years parts and 90 days parts and labor.
Whirlpool Commercial CAE2745FQ - $1,049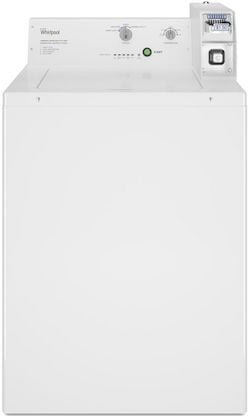 The matching dryer Whirlpool Commercial model CEM2745FQ comes with a similar body design, including a galvanized heavy-gauge steel cabinet, full-wrap metal console, and a factory-installed coin slide and coin box with keys. This model features a 1/3 HP motor, four heavy-duty rollers in the suspension, and 7.4 cubic feet of capacity with a powder-coat drum. The 180-degree wide-opening side-swing door is flexible for a range of different installation spaces and will stand up to heavy use.
The electric heating element is 5,600 watts (in the gas version, the BTU per hour is 22,000). The High Velocity Air Flow system ensures great drying performance. The three dry cycles keep it simple - Normal, Delicates, and Heavy Duty - with no manual time or temperature options to fiddle with.
It comes with the same 2-year limited/90-day parts and labor warranty as the washing machine.
Whirlpool Commercial CEM2745FQ - $999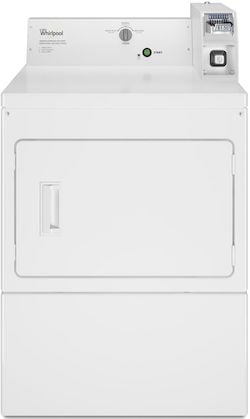 Speed Queen Coin Operated Washer and Dryer - Review
Now let's take a look at the most popular models from Speed Queen: the Speed Queen SFNNCASP115TW01, a front load commercial washer with front controls priced starting at $2,349, and the Speed Queen SDENCAGS173TW01 commercial dryer (electric) with rear controls, priced starting at $1,249. Is it worth it to pay double for this washer than you would for the Whirlpool model? Let's take a look at the features to find out.
The Speed Queen SFNNCASP115TW01 front load washer is a serious upgrade to more basic coin operated machines. The front load style offers a larger wash tub at 3.42 cubic feet with a four-compartment soap dispenser for pre-wash, detergent, bleach, and fabric softener (not available on the Whirlpool washer). It also offers almost double the final spin speed at 1,200 RPM, so clothes require less time in the dryer. The motor is also more powerful at 0.9 HP.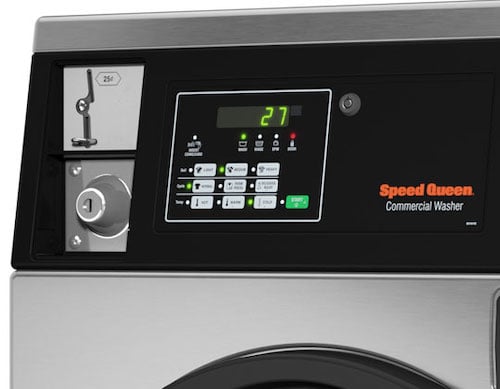 Where these Speed Queen models really shine is the Quantum Platinum Controls. They incorporate a display screen on the control panel area designed to up-sell - with no effort on your part - by offering cycle modifiers as well as on-screen advertising and time-of-day pricing. Cloud-based control helps you monitor business data and machine performance, so you can quickly pinpoint what revenue generation methods are effective.
Other features that Speed Queen integrated into this model include a quieter design (2.5x less noise), improved dispenser flushing and efficiency, and a 30% larger coin box. The commercial technology includes a rugged suspension system, stainless steel wash tub and outer drain, patent-pending baffles, and revolutionary balancing technology. It uses 13.68 gallons per load on average - that's 55% less per load than the Whirlpool model.
The Speed Queen SFNNCRSP115TW02 front load commercial washer has rear controls at a slightly lower starting price of $2,259.
Speed Queen SNNCASP115TW01 - $2,349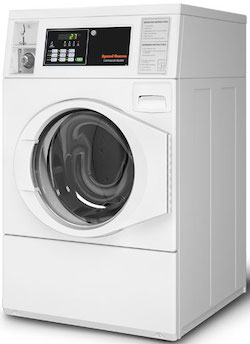 Next up: the dryer, model SDENCAGS173TW01. This model also features a Quantum Gold control system with front controls. It has a 7.0 cubic foot capacity while maintaining a 27" cabinet width and powerful blower system yet quiet operation. The Quantum Gold system also includes features and options to help increase revenue and lower costs. The door is reversible and has the industry's largest door opening.
With fewer moving parts, you'll deal with less wear and tear and less maintenance. The durable galvanized steel cylinder, large-capacity meter case, and secured upfront lint filter are all great features. This model is also 100% serviceable from the front, reducing the hassle of maintenance or repairs. Gas models offer about 25,000 BTU and the electric models use about 5,350 watts. This model is ADA compliant with "prep for card" available.
Speed Queen also offers support for card payment and smartphone app payments as well for various models. The gas dryer model is the SDGNCAGS113TW01.
Speed Queen SDENCAGS173TW01 - $1,249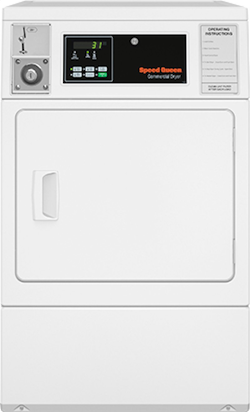 Features Comparison - Which Should You Choose?
The Speed Queen models are top-tier commercial laundry equipment. They are a good choice for large, established laundromats or large apartment complexes. The Whirlpool coin operated washer and dryer models are a good option for smaller multi-family homes and apartments.
Warranty: Speed Queen covers the entire coin operated washer and dryer for 3 years (parts only), and other core parts like the wash tub, bearings, and cabinet (depending on the model and commercial application) for 5 years. Whirlpool Commercial offers a 2 year warranty for parts only plus 90 days parts and labor on their coin operated models.

Price: Obviously, Whirlpool wins here. However, Speed Queen's washer will cost less per load due to the lower water consumption, and the Quantum controls may help you earn more revenue. The longer warranty and seriously durable build design also mean fewer costly repairs down the road. If you have the usage volume to support the higher price, Speed Queen may be the better option.

Capacity: Speed Queen's models have the edge in this category with about 10% more capacity in both the washer and dryer, all in about the same footprint as the Whirlpool models. Speed Queen's front load styles with front controls are ADA compliant. Both sets of products offer large, side-swing doors.

Features & Options: Learn more about top load vs front load washers in our article. Front load models are more expensive but offer gentler washing action and more capacity while using less water. Both sets have simple cycle and option selections, but Speed Queen's offer more flexibility.
We hope this comparison of coin operated washer and dryer pairs from Speed Queen and Whirlpool helped you discover options that might work for your needs! Maytag Commercial is another brand to consider that is very popular as well. Whirlpool also makes front load commercial washers, and Speed Queen also offers top load commercial washers.
What do you look for in coin operated laundry equipment? Is this your first time buying coin operated models? Leave us a comment below - We'd love to hear from you!
Editor's Note: This blog was originally published in November of 2016 and has been completely revamped and updated for accuracy as of the publication date noted above.