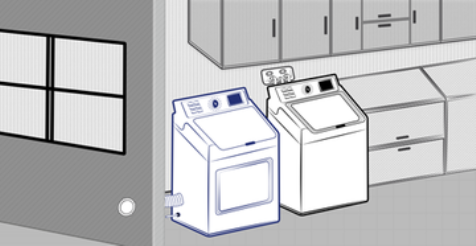 There are several important questions to consider when doing your research on a new dryer. How it will vent is one of them. Depending on the configuration of your laundry room or closet, you may find that you need a good side venting option.
Standard dryer installation calls for rear venting, but due to space limitations or configuration, you may need to look for a model that allows side venting. Not all models do! It's important to bring this up with your local appliance salesperson because different brands and models have different restrictions for the options to install side venting. For example, you may only be able to side vent on one side of the dryer - most gas dryers can only be side vented to the left because of the burner housing. Dryers with "four-way venting" usually will allow you to install a side vent on either side.
Table of Contents:
What to Check Before you Buy a Side Venting Dryer
There are two ways that most manufacturers allow for side venting a dryer:
Knockout areas in the sides of the dryer for ductwork, where the venting direction is changed inside of the dryer body
A single cutout on the rear that allows the use of a "90 degree quick turn" elbow to achieve side venting without requiring additional installation depth
Depending on the location of your existing ductwork, you may prefer the method where the ductwork emerges directly from the left/right side of the dryer, or the "quick turn" method where the ductwork runs along the rear of the dryer to one side or the other.
If you have a gas dryer that needs to be side vented, be aware that you usually can't vent towards the burner housing. Many gas dryers can only be side vented to the right (when looking at it from the front). If you need left side venting for a gas dryer, LG and GE may have some options.
(Another option to consider if you have limited room for venting is a ventless condensation dryer. These models are the majority of dryers in Europe and don't require ventilation at all!)
Internal Side Venting with Knockouts Example
Here's an example from a GE manual that uses the knockouts/internal duct turn method: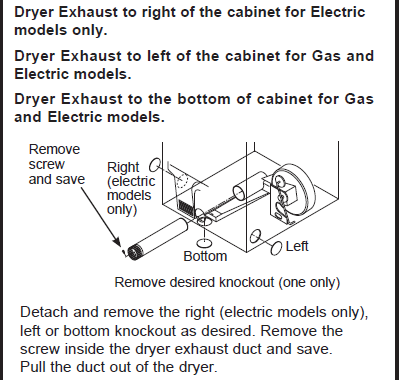 After you cut the duct to length and reconnect the shortened duct, you add the elbow inside of the dryer like so: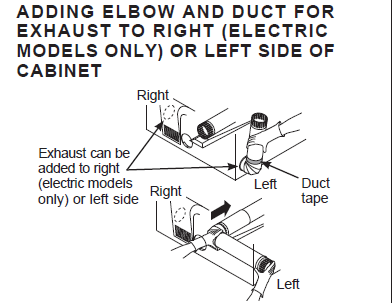 Quick Turn Elbow Method Example
Here's an example from an Electrolux manual that uses the quick turn elbow method: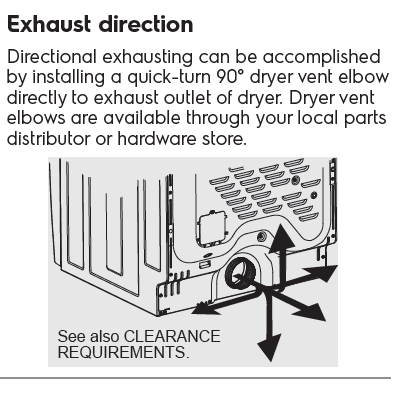 You can see below how the rear of the dryer has a recessed area along the bottom that provides space for this duct to run to the left or right without requiring extra installation depth.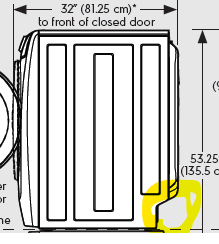 Should You DIY This?
Should you DIY a side vent or try to install a side vent kit yourself? That depends on how "handy" you are and how experienced you are with dryers specifically. The average person should probably consider hiring a professional because installing a side kit can sometimes mean disassembling the entire dryer! For short runs of ductwork with minimal to no turns, you might be able to install it yourself relatively easily - YouTube can be a great resource. Make sure to secure the joins between the ducts with dryer vent installation tape/aluminum foil tape (NOT duct tape).

Side venting kits can start at under $50. Check out the Whirlpool Universal 4 Way Vent Kit.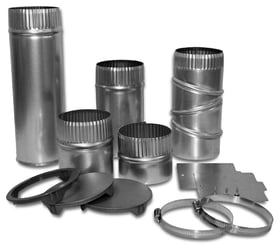 Side Note: Extra Help for Narrow Spaces
Whirlpool also offers a telescoping duct for narrow spaces, requiring just 2.5" of clearance.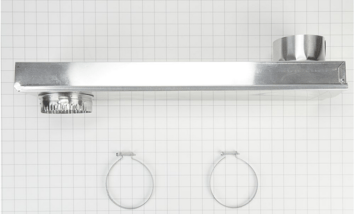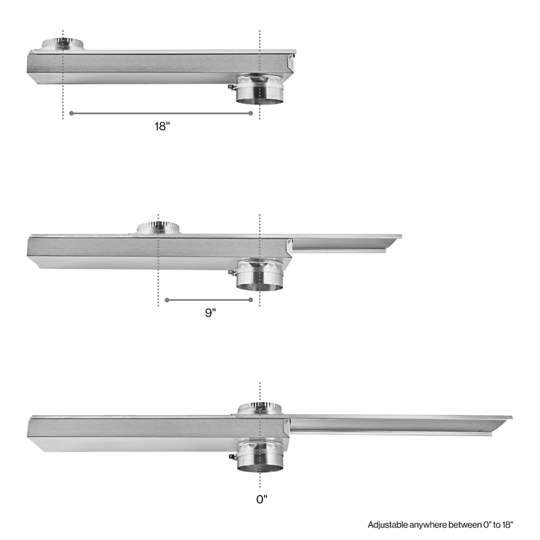 (Quick tip: check out our dryer buying guide for more help with choosing a new dryer!)
Speed Queen Side Vent Dryer Review
The Speed Queen DR3003WE is a 7.0 cubic foot capacity commercial-grade side venting dryer with many great features, including commercial-grade components like a 220 CFM heavy-duty fan system, steel cabinet, and galvanized drum. The door is reversible, and it comes with an interior light so you won't leave behind a stray sock.
This model is ADA compliant and has a 1/3 HP motor. If you're looking for a model with a moisture sensor for optimal drying performance, check out their top-of-the-line model, the Speed Queen DR7003WE. The DR7 is also Energy Star rated and comes with great extras like steam cycles and cycles for handling pet hair!

The DR3 comes with three preset cycles, two automatic drying cycles, and three temperature selections. From delicates to permanent press, you can customize this dryer's simple settings using the two rotary dials. The new-for-2021 DR3 model also now features a Sanitize option, which kills 99.9% of bacteria. You can sanitize your laundry by choosing the Timed Dry - Max Dry cycle and a temperature of Perm Press/Regular. The up-front lint filter is easy to access for regular cleaning. Every component has been designed, built, and tested to deliver 25 years of commercial-grade performance. To back that up, a robust 3-year manufacturer's warranty covers all parts and labor with a lifetime warranty on the interior cylinder.
There is also a gas model, the DR3003WG, priced starting at $999. Learn more about gas vs electric dryers in our article! The electric model uses 5,350 watts for heating, and the gas model uses 22,500 BTU. They can be side vented with Directional Exhaust Kit 528P3. The electric dryer can be vented out to the left or right, while the gas model can only be vented to the left due to the location of the burner housing.
Our Speed Queen dryer reviews explore the full Speed Queen dryer lineup if you want more options!
Dimensions:
Width: 26.9"

Depth: 28"

Height: 42.75"

Work Surface Height: 36"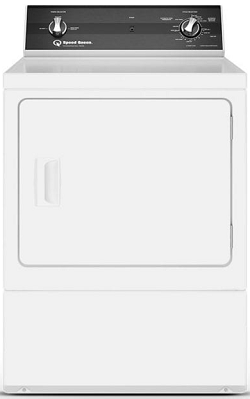 For more information about side venting dryer options and the entire dryer buying process, download our FREE Dryer Buyer's Guide. It is packed with information to help educate you so you can make a great purchase. We hope you enjoyed this article and will explore the variety of other blogs we've published on related topics. Also, please feel free to leave a comment below. We'd love to hear from you!
Editor's Note: This blog was originally written in March of 2018 and has been completely revamped and updated for accuracy as of the publication date noted above.