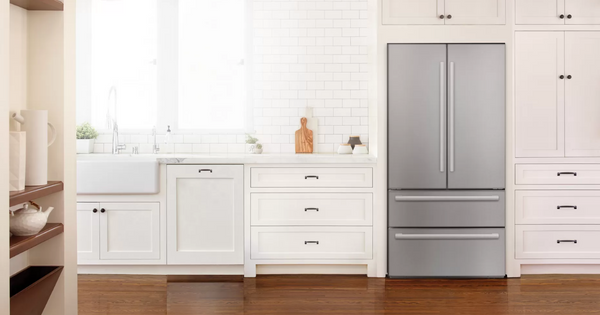 NOTE: Since we no longer sell the Fisher & Paykel brand, we will not be updating the Fisher & Paykel product reviewed here as of November 2021. You can view Fisher Paykel's current lineup of dishwashers by clicking here.
If you are designing a new kitchen and want to achieve a modern and professional style, you may want to consider a panel ready dishwasher, also known as an overlay dishwasher. This style allows you to have your cabinetmaker design a panel for the front of your dishwasher which will match the doors on your kitchen cabinets and install a matching handle. These models are designed to hold the custom panel's weight and add a nice look to the kitchen. They may pair well with a panel ready refrigerator and help you achieve that integrated high-end look you desire.
There are many other factors to consider when researching a dishwasher, but if looks are a top concern, a panel ready model may be what you need. For more information to help you choose a new dishwasher, check out our dishwasher buying guide!
Table of Contents
Who Makes Them? How Much Do They Cost?
These dishwashers are generally more expensive than regular dishwashers, but they may be worth it if a unified kitchen style is important for you. Many top manufacturers, including Bosch, GE Profile, KitchenAid, and Fisher & Paykel have panel ready models. Another high-end alternative is the integrated appliance style: similar to panel-ready models, these appliances are designed to sit flush with your cabinetry. Fisher & Paykel refrigerators are an example of this seamless look.
We can assume that if you're considering a panel ready dishwasher, price is not as much of a concern. You can expect prices in the $1,000+ range, not including the cost of creating and installing the custom panel itself. When comparing models, you'll likely see that the panel ready models incur a small up-charge of about $100 compared to stainless steel or other colors. The great part about these high-end dishwashers is you'll get lots of great features, like third racks, ultra-quiet operation, built-in water softeners, and more. Additionally, these models have hidden top controls rather than front controls.
A panel ready dishwasher will blend right in with the rest of your cabinetry. One problem consumers typically run into is that the panel may stick out from the surrounding cabinetry. You can avoid this by paying careful attention to the depths of the panel ready dishwasher models you are considering, or consider a European brand like Bosch, whose EuroTub models have a shallower depth to accommodate the 3/4 of an inch or so required for the panel.
Panel Ready vs Stainless Steel
If you're deciding between a traditional built-in dishwasher (perhaps in classic stainless steel, new black stainless steel, or other new appliance colors) vs a panel ready model, you'll want to think about how you're going to clean the front of the appliance. Especially since the dishwasher is often adjacent to the sink, it's a prime target for drips and water spots. Some people find stainless steel or other metals just as easy to clean as a cabinet, while others can be frustrated by how easy it is to leave streaks or smudges behind rather than getting the polished mirror finish they desire. A panel can hide water spots and drips better than stainless steel, and won't require special cleaners to wipe down properly.
Although stainless steel is considered a classic appliance finish and a go-to for high-end kitchens, appliance manufacturers have started offering more colors and styles to the market. Stainless steel may not be timeless forever! Panels can be updated as your tastes change, and can provide a softer look as opposed to the industrial aesthetic of stainless steel.
The other benefit of panels is that you don't have to match appliance hardware and finishes across your entire kitchen appliance suite to get a seamless look. Different brands and models will have different hardware (namely the handles), and even the same colors may not be done exactly the same way between brands. One brand's stainless steel might have a more defined grain, another might have more silver tones than gray, and so on. Panels guarantee that your appliances will match!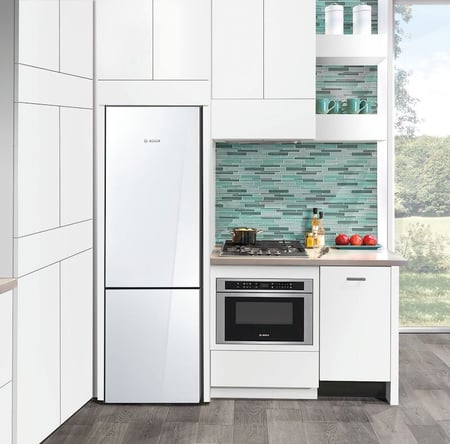 Panel Ready Dishwasher Brands
High-end brands like Miele and Thermador are one option for panel ready dishwashers. When it comes to larger appliances like refrigerators, higher-end brands are more likely to have hidden hardware and hinges so that the appliance will sit flush with the surrounding cabinetry. However, when it comes to dishwashers, you have a few great options from easily recognizable brands in both the full-size 24-inch wide models and the narrower 18-inch models. Here are a few examples of what different brands have to offer.
Bosch
Bosch offers custom panel ready dishwasher models in both their 800 series and 300 series - the 800 series is their highest level series besides the Benchmark series, while the 300 series is a more mid-range offering. The panel ready model lineup includes 18-inch dishwashers. As we mentioned above, Bosch is a great option for panel ready dishwashers because the shallower-depth European Tub design ensures a seamless fit. And, of course, their dishwashers are quiet, reliable, and fully featured, too!
One of their top-selling panel ready models is the Bosch SHVM63W53N. This 300-series model operates at 44 dBA (learn more about dishwasher decibel levels in our article), has an adjustable RackMatic upper rack, and a third rack that gives you 30% more loading area than Bosch dishwashers with just 2 racks. This Energy Star rated model also has a stainless steel interior and AquaStop 24/7 leak protection. Programs include the 1-hour wash for quick results when you need it! This model has a depth of 23 and 1/16 inches to ensure you have plenty of space for the custom panel.
Choosing a model from the 500 series or 800 series will give you features like advanced drying (800 series models come with a cool new drying system - read more about it in our Bosch dishwasher reviews) and even quieter operation.
Click here to read over 75 real customer reviews of this product!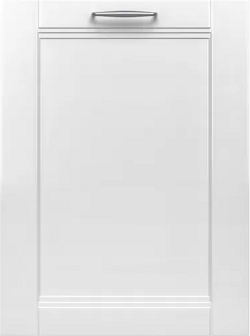 KitchenAid
KitchenAid offers a more limited range of panel ready models - as of this writing, only two of their dishwasher models are panel ready. These are standard depth models, around 24 and 3/4 inches deep, so keep that in mind if you are aiming for the integrated look. The KitchenAid KDTE304LPA is $1,299 while the KitchenAid KDTM704LPA is $1,849. Check out our KitchenAid panel ready dishwasher reviews for more info.
Ball-bearing glides on the upper and third racks, a third rack for flatware, and whisper-quiet 39 dBA operation (44 dBA for the more expensive model) are all expected higher-end features found in the cheaper model. The ProWash cycle allows for automatically sensing the soil level and makes adjustments accordingly throughout the wash cycle. The higher-end model has the ProScrub® option, with 40 targeted spray jets instead of soaking and pre-scrubbing stubborn baked-on foods by hand, which has even been expanded - there are also two concentrated spray zones in the upper rack for cleaning deep or oddly shaped items.
KitchenAid KDTE304LPA - $1,299
Fisher & Paykel
An interesting option among panel ready dishwashers comes from Fisher & Paykel: their double drawer dishwashers will fill the same space as a typical 24-inch dishwasher and offer the same overall capacity, but you can do a half-load easily by running only one drawer. They updated their model lineup in 2018 to offer even more great features, like an option to knock to pause the cycle on certain models.
Fisher & Paykel DD24DI9N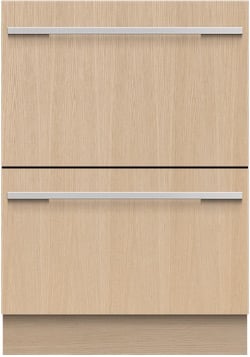 We hope this helped you discover more information about panel ready dishwashers. Are you thinking of an entire matching kitchen suite or just a panel ready dishwasher? Tell us about your struggles and triumphs! Please leave us a comment below. We'd love to hear from you!
Editor's Note: This blog was originally written in August of 2017 and has been completely revamped and updated for accuracy as of the publication date noted above.