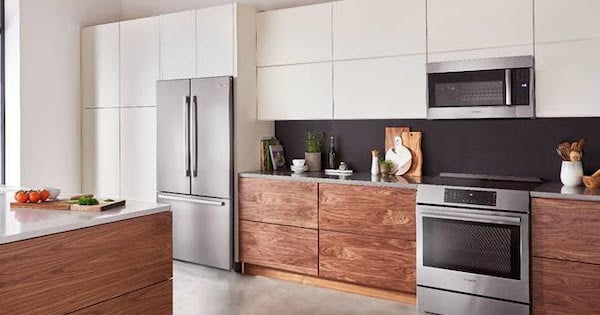 NOTE: Since we no longer sell the Fisher & Paykel brand, we will not be updating the Fisher Paykel products reviewed here as of September 2021. You can view Fisher Paykel's current lineup of refrigerators by clicking here.
If you are shopping for a new refrigerator, you want to be sure to look at all of the top refrigerator brands. There are so many brands to choose from that sometimes it's hard to differentiate one from the other. Maybe you're accustomed to the mainstay US brands that you grew up with like GE, Whirlpool, and Frigidaire - which are all great options. Or maybe you've been hearing lots about the recently popular Korean brands, LG and Samsung.
We want to take a look at two top refrigerator brands that you may not have considered: Bosch and Fisher & Paykel. These lesser-known boutique brands have lots to offer. In this article, we'll give you some great background on their products and delve into some specific models.
Table of Contents
Fisher & Paykel Refrigerator Reviews
New Zealand-based Fisher & Paykel has become a popular household name in the kitchen appliance industry, although they're not as widely known as brands like Whirlpool or GE. They offer true counter depth refrigerator models with sleek premium designs inside and out. They cover their models with a 2-year parts and labor warranty - double the industry standard - plus 5 years parts only on the sealed system.
Fisher & Paykel RF170WDRUX5N Bottom Freezer Refrigerator - $2,599
Cutting edge technology and unique refrigerator sizing can fit the bill if you have a smaller than average opening. The 17.1 cubic foot bottom freezer refrigerator model RF170WDRUX5N offers a 31.1" width, which is unusual among refrigerators (most are close to 30", 33", or 36" wide). Many refrigerators today are 70" tall or more, but this model is 67.5". If you have a refrigerator cutout that's shorter than 70", this model could be a great option. Plus, it's counter depth at only 27.4" deep.
If you're looking for a bottom freezer refrigerator with a water dispenser, you've probably been disappointed up until now - Fisher & Paykel is one of the only brands offering a water dispenser in their bottom freezers! If you'd prefer a model without a dispenser, check out model RF170WDRX5N.
Other features include ActiveSmart food care, providing optimal air flow for even temperatures. The EZKleen stainless steel is easy to clean, and inside, you'll find glass shelves with stainless steel trim. There are four full-width adjustable shelves in the refrigerator section plus four full-width adjustable door shelves. Inside the freezer drawer, you'll find three tiers of drawers plus an automatic icemaker.
Fisher & Paykel also offers a no handle model RF170BRPX6N without an external dispenser for a completely seamless look. The warranty covers parts and labor for 2 years - double the industry standard - and parts for the sealed system for 5 years.
Dimensions:
Width: 31.1"

Depth: 27.375"

Height: 67.5"
Fisher & Paykel RF170WDRUX5N - $2,599
Fisher & Paykel RF201ADX5N French Door Refrigerator - $2,599
For a larger, more robust unit, they offer a 20.1 cubic foot model RF201ADX5N that measures 35.5" wide and towers at 70.5" tall. Like the previous model, it's also counter depth, and similar models are available with mounted mounted door water dispensers. Ice makers are available on select units and will only be found mounted in the freezer compartment, which keeps the interior fresh food doors spacious. This model has an ice tray but no dedicated icemaker.
The clean square door and body edges appear almost commercial, yet the handles tell a softer designer tale and tie together nicely if you have products from multiple brands in your kitchen. The EZKleen smudge-proof stainless steel is another thoughtful touch to make upkeep of your refrigerator easier.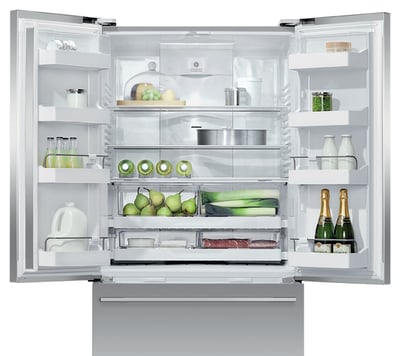 The interior design department at Fisher & Paykel should certainly get two thumbs up for slimming down bulky shelves and door bins. Each fresh food Spill Safe glass shelf is streamlined, and when you lay your hands on them, you'll realize that they have created a durable and high-quality shelf and bin system. The sliding freezer drawers feature separated compartments and bins to help you organize your items. ActiveSmart food care keeps air circulating so temperatures are even throughout the refrigerator.
This model is covered for two years parts and labor, plus five years parts only on the sealed system. If you are looking for something unique, look no further than Fisher & Paykel refrigerators.
Dimensions:
Width: 35.5"

Depth: 27.375"

Height: 70.5"
Fisher & Paykel RF201ADX5N - $2,599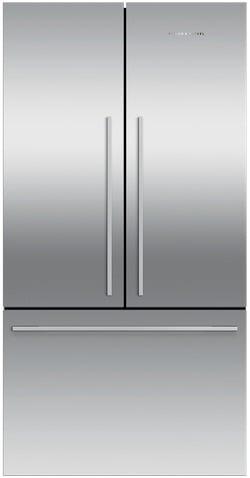 Bosch Refrigerator Reviews
Bosch refrigeration has always been considered an upper end appliance product, but you might not associate them with top refrigerator brands. Originating in Germany and well known for quality, their refrigerators are available in two capacities as full depth and counter depth body sizes. Bosch just may have what you're looking for to compliment your remaining kitchen products.
The Bosch B36CL80ENS 4-Door French Door Refrigerator - $3,399
Let's start with model B36CL80ENS, a 36" counter-depth 20.5 cubic foot French door refrigerator with a VitaFresh Pro drawer between the fridge and freezer sections that can be adjusted from 28 to 40 degrees (read more about four door refrigerators here), and you can even adjust the humidity as well to suit different products. The pocket handles allow it to blend in seamlessly with your kitchen. It comes with a premium dual evaporator and dual compressor system as well, which is usually only available for high-end built-in models.
This marvelous model features LED lighting and plenty of interior storage, including a full-width Chiller Drawer, perfect for extra-cold storage of raw meats and other chilled items. It also has a filtered internal water dispenser. A new storage feature is the FlexBar, which takes advantage of space at the rear of the fresh food section that usually goes unused. You can attach a variety of hanging bins and accessories to the FlexBar to boost your storage capacity even further! The glass shelves and transparent door bins have stainless steel trim, and in the freezer section, you'll find three tiers of drawers to boost organization and storage options.
See these new features in action!
This model also has smart connectivity so you can remotely monitor your refrigerator from your smartphone. Phew! That's a lot of great features!
Dimensions:
Width: 36"

Depth: 28.75"

Height: 72"
Click here to read over 12 real customer reviews of this product!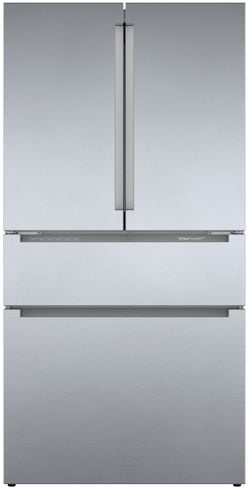 The Bosch B36CT80SNS Counter Depth French Door Refrigerator - $3,099
Another counter depth model is the Bosch B36CT80SNS, a true counter depth French door model with some useful new storage features and a 20.8 cubic foot capacity. It has dual compressors and dual evaporators for improved cooling performance and humidity management while minimizing odor transfer between the refrigerator and freezer cavities. Like the previous model, it comes with adjustable shelving, LED lighting, and the FlexBar to utilize storage space on the rear wall of the fresh food section. It also has a full-width chiller drawer to provide extra cold storage, ideal for meat and fish. This model also features Bosch's FarmFresh System that uses four innovative freshness technologies to help keep food stay fresher.
Not all counter depth refrigerators are created equal. This model sits flush with the countertop, thanks to a perfect case depth. The hidden hinges and tucked away feet help add to the built-in look.
If you're looking for a nicely featured French door refrigerator with sleek modern styling, check out this model!
Dimensions:
Width: 35.625"

Depth: 31.125"

Height: 72"
Click here to read over 12 real customer reviews of this product!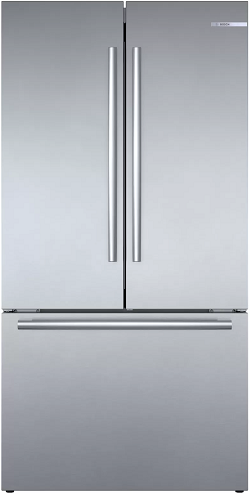 Bosch vs Fisher & Paykel Refrigerators - How to Choose?
How do you choose between these top refrigerator brands? We chose models with similar capacities and pricing to help you easily compare the two brands. Some things to consider include...
Styling: All of the models are premium refrigerators, and the counter depth options are truly counter depth for an integrated look - the refrigerator body will be completely recessed behind cabinetry while only the doors will stick out. Both brands offer fingerprint-resistant stainless steel and black stainless steel models as well.

Capacity & Dimensions: Even the largest counter depth refrigerators usually top out at about 23-24 cubic feet, so keep that in mind if you're interested in a counter-depth model. Both brands offer 36" wide counter depth models around 21 cubic feet, while Fisher & Paykel offers a narrow bottom freezer option as well.

Energy Efficiency: Energy Star appliances are a good option if you want to save money on utility expenses over the lifetime of the appliance. All models in this blog post are Energy Star rated.

Warranty: Fisher & Paykel offers a two-year warranty on parts and labor, and a limited five-year warranty on the sealed system. Bosch refrigerators come with one year parts and labor, two years limited on the non-electronic components, and five years limited on the electronic components.

Bonus Features: The Bosch refrigerators include features like SuperCool and SuperFreeze, which you can turn on to boost the cooling power of your fridge or freezer compartment in anticipation of, for example, loading in groceries after your trip to the store. The Fisher & Paykel refrigerators take a more minimalist approach to extra options.
We hope you enjoyed our Fisher & Paykel vs Bosch refrigerator reviews. As you can see, these high-end models have a lot to offer, and one of them may be perfect for your unique needs. Now, you can head out shopping and check out these brands in person. Don't be afraid to head off the beaten path a bit and take a look at these two top refrigerator brands!
Please leave us a comment below. We'd love to hear from you!
CLICK HERE TO EXPLORE BOSCH REFRIGERATORS
Editor's Note: This blog was originally published in November of 2016 and has been completely revamped and updated for accuracy as of the publication date noted above.