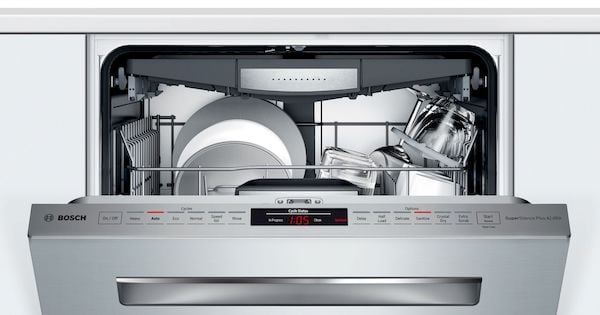 There are many important features to consider when searching for a new dishwasher, like dependability, looks, interior layout, number of settings, and so on (read our dishwasher buying guide for more information). While all of those are important, there is usually one attribute that we find stands out as the single most important to most consumers: Noise!
Our customers always want to know how quiet their new dishwasher will be, and many are in search of the quietest model they can find. If quietness is your number-one decision factor, then this article is for you. Of course, if you're not sure what decibels mean, you should also check out our article explaining dishwasher decibel levels.
Table of Contents
Which Brands Make the Quietest Dishwashers?
As it turns out, the absolute quietest dishwashers... come from brands that we don't sell! Luxury brands JennAir and Miele offer 38-decibel dishwashers, as does the Bosch Benchmark series. These models retail at around $1,399-$3,099. That being said, take a tiny step up to 39- to 40-decibel models, and you're in luck! You probably wouldn't be able to hear the difference between a 38-, 39-, and 40-decibel dishwasher, unless you have extremely keen hearing.
Here are what a few brands are offering:
KitchenAid: KitchenAid, known for their quiet models, has the KDFE204KPS new for late 2020 operating at 39 decibels and priced at an affordable $949 before sales and rebates. Their other models are 44-46 decibels.

Bosch: The 800 series has models from 40-42 dBA starting at around $1,149 MSRP. Bosch doesn't really "do" sales like many other brands Americans are familiar with. Rebates are occasionally available, but you won't see 20% or 30% drops from the MSRP during sale periods like with other brands.

GE: Look to the GE Profile lineup for whisper-quiet 39-decibel dishwashers starting at $1,399 MSRP!

Samsung: Samsung is also in the running with one of the cheapest 39-decibel dishwashers we've seen, retailing at $1,149 but with occasional sale pricing under $900.
Below, we'll review two Bosch dishwashers, a KitchenAid model, and the super-quiet Samsung model.
Product Review: Bosch SHPM88Z75N & SHXM88Z75N - 40 dBA - $1,399 MSRP
(Why both? They're functionally the same on the inside, but the SHP model has a pocket handle, while the SHX model has a bar handle. Oh, and keep in mind that Bosch dishwashers have tighter tine spacing than other brands commonly sold in the US, so if you have thick earthenware plates and bowls, you should probably go for a different brand.)
Bosch offers a pretty simple array of cycles and options in the Bosch SHPM88Z75N. We really love the Crystal Dry option. This option boosts the dishwasher's drying ability without guzzling electricity - it uses a special mineral that releases heat when exposed to moisture to help dry your dishes. This lab-created mineral never needs to be replaced!
The MyWay third rack stands out from the rest by offering space for more than just flatware. This rack has extra silverware space as well as room for ramekins and small cups. Within the lower racks, you'll find FlexSpace folding tines to make room for larger pots and pans and a RackMatic adjustable middle rack. If you use detergent pods, the upper rack has a tray that allows the pod to dissolve throughout the cycle (you still put it in the dispenser in the door to start with).
Bosch dishwashers install perfectly flush with your cabinetry, so they're a great way to get an integrated look in your kitchen. They pioneered the quiet dishwasher and are known for being reliable - just a few reasons why they're so popular today!
Features & Options:
6 Wash Cycles: Auto, Heavy, Normal, Rinse/Rinse & Hold, Eco, Speed60 (1-Hour Wash)

6 Options: 24 Hour Delay Start, Half Load, Delicate, Sanitize, Eco, CrystalDry

CrystalDry technology - 60% drier dishes without increasing energy usage

EasyGlide rack system and MyWay third rack with large loading capacity

AquaStop leak protection
Click here to read over 12 real customer reviews of this product!
Bosch SHPM88Z75N - $1,399 MSRP - CLICK HERE FOR CURRENT PRICING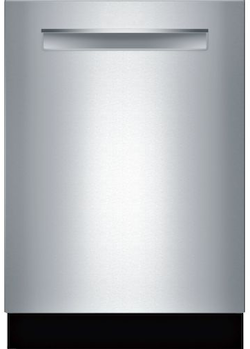 Product Review: KitchenAid KDFE204KPS - 39 dBA - $949 MSRP
KitchenAid often has great promotions during the major holiday sale periods like Black Friday and Memorial Day, so you might be able to snag this quiet dishwasher at an even lower price! The KitchenAid KDFE204KPS comes in two styles: sleek front controls with a pocket handle or the classic KitchenAid towel bar handle with top controls.
Inside, you'll find a third level utensil rack and SatinGlide ball bearing rails for a smooth in and out movement. The middle rack is adjustable, so you can make room for tall items. It comes with a Heat Dry option that can help thoroughly dry plastics (although it uses more energy as a result).
This model is KitchenAid's quietest dishwasher, but it's not the most fully featured. Other models come with the FreeFlex third rack, which offers enough space for cups and bowls, as well as a maintenance-free filter and more.
Features & Options:
5 Wash Cycles: ProWash, Tough, Normal, Express, Rinse Only

6 Options: 4 Hour Delay Start, Hi Temp Wash, Sani Rinse, Heat Dry, Extended Heat Dry, Control Lock

Heated dry option

Third rack for utensils and flatware
KitchenAid KDFE204KPS - $949 MSRP - CLICK HERE FOR CURRENT PRICING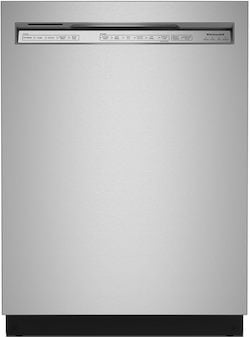 Product Review: Samsung DW80R9950US - 39 dBA - $1,149 MSRP
It's hard to find an affordable quiet dishwasher, but if quietness and price are your main concerns, then the Samsung DW80R9950US is a great option. It's available in fingerprint resistant stainless steel, fingerprint resistant black stainless steel, and Tuscan stainless steel (click the links to learn more about these colors).
This model has a recessed pocket handle and hidden top controls. However, you'll also find a digital time remaining display integrated into the handle, so you can check on the cycle progress with a glance. The third rack definitely seems similar to Bosch's Flexible third rack design. You'll find some interesting additional cycles and options, including a self clean cycle and a Zone Booster option for the left area of the lower rack for blasting pots and pans. There's also a Speed Booster option you can add to most cycles, although it's hard to say how much it reduces wash time. Wi-Fi connectivity is another cool option if you'd like to receive notifications when a cycle is complete and more.
If you're looking for a sleek, modern dishwasher with plenty of features at a great price, check out this Samsung model.
Features & Options:
7 Wash Cycles: Auto, Heavy, Normal, Rinse Only, Delicate, Express 60 (1-Hour Wash), Self Clean

7 Options: Half Load, Zone Booster, Sanitize, Speed Booster, Hi-Temp Wash, 24 Hour Delay Start, Control Lock

Linear wash system with AutoRelease Door for improved drying

Flexible third rack

Optional Wi-Fi connectivity
Click here to read over 180 real customer reviews of this product!
Samsung DW80R9950US - $1,149 MSRP - CLICK HERE FOR CURRENT PRICING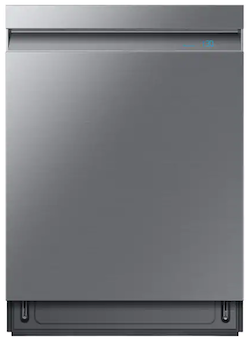 Comparison
Bosch and KitchenAid have been competing in dishwashers for years, and they both offer great products with different feature focuses. When it comes to Bosch vs Samsung, Bosch has years of reliability on their side, while public opinion is mixed on Samsung. We haven't found that Samsung products are less reliable, but as Samsung's products are growing more and more popular, their warranty service is struggling to keep up. We recommend purchasing from a local appliance store with in-house service (like us) so you can easily avoid any hassle should your appliance need service. That being said, let's compare the features and options of these dishwashers.
Cycles & Options: Samsung offers more cycles and options, so if you like lots of options, you may prefer the Samsung model. Samsung's WaterWall cleaning system is fun to look at but isn't necessarily better at cleaning your dishes than a traditional spray arm system! KitchenAid keeps the cycles and options simple while offering a heat dry for tough-to-dry items like plastics.

Look & Feel: Samsung gets points for a time remaining display on the pocket handle, but Bosch's InfoLight beam shines on the floor to let you know when the dishwasher is running. Bosch dishwashers can all be installed flush with your countertops, and come with bar handles or pocket handles. Neither the Bosch nor Samsung options has a visible brand badge on the front, so they'll blend in with the rest of your appliances. KitchenAid's brand badge is subtle and indicator lights will tell you whether the dishwasher is washing, drying, or done. The pocket handle is sleek and matches with anything, but there's also a towel bar option if you prefer a commercial look.

Warranty: Bosch and KitchenAid have had a strong presence in the US for a longer period, so they tend to have a broader service network if you don't have access to a retailer like us that offers in-house warranty service.

Bosch offers a one year full parts and labor warranty, plus five years parts only on the electronics and racks as well as a lifetime warranty against stainless steel rust through (parts only).
Samsung covers their dishwasher with a one year parts and labor warranty, plus five years parts only on select aspects of the linear motion system, the printed circuit board, racking, and stainless steel door liner and tub for leakage.

KitchenAid also offers the standard one year parts and labor warranty with five years parts only on the nylon dish racks and electronic controls, plus a lifetime parts only on the stainless steel tub and inner door liner.
We hope we've answered the common question of "what is the quietest dishwasher on the market." Any one of these models may be an excellent choice for you, but if you want to compare it to some other models, we can help - read our reviews of the Top 10 Quietest Dishwashers of the Year!
If you found this post helpful, please leave us a comment below. We'd love to hear from you!
Editor's Note: This blog was originally published in March of 2016 and has been completely revamped and updated for accuracy as of the publication date noted above.