The exterior design looks gorgeous with a professionally-inspired bar handle that you might want to keep around once you choose the paneling! Of course, the controls are in the hidden top control style so the appliance will totally blend in with the surrounding cabinetry.
Now let's dig into the wash options and features. The ProWash cycle is the automatic cycle option that senses the soil level and makes adjustments accordingly throughout the wash cycle. Other cycles and options include Extended ProDry™, Express Wash, Sani-Rinse, and Heat Dry. Heated dry dishwashers are becoming less common, and that feature is a favorite feature among some consumers.
KitchenAid KDTE304LPA - $1,149
2. The KitchenAid KDTM704LPA - 44 dB - $1,699
The other KitchenAid panel ready dishwasher currently available is the KitchenAid KDTM704LPA, priced at $1,699. This model operates at a quiet 44 dBA. Like the previous model, it is Energy Star rated with a stainless steel tub and top controls. It also includes a third-level rack and a height-adjustable middle rack, but has some additional features that put it at the very top of KitchenAid's dishwasher offerings.
First up, it boasts the FreeFlex Third Rack which features rotating wash jets to clean items in the rack, a drying bar with tabs that help wick moisture off glasses, and a removable utensil tray for cooking tools. Another feature is the Advanced Clean Water Wash System that uses microfiltration to remove food particles throughout the wash and rinse cycles and circulates clean water to dishes in all of the racks. The SatinGlide® Max Rails are on the third and middle racks. This model also includes 6 stemware holders in the middle rack and the Culinary Caddy Utensil Basket for utensils like whisks and spatulas.
These additional features mean your loading options are even more flexible, and the cleaning power is truly impressive. This powerful but quiet dishwasher would be a great choice for your home!
KitchenAid KDTM704LPA - $1,699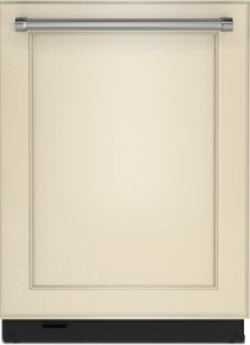 That sums up the available KitchenAid panel ready dishwasher models. We've written about panel ready refrigerators as well! Do these KitchenAid models come with everything you're looking for? Leave us a comment below - We'd love to hear from you!
Editor's Note: This blog was originally written in December of 2018 and has been completely revamped and updated for accuracy as of the publication date noted above.