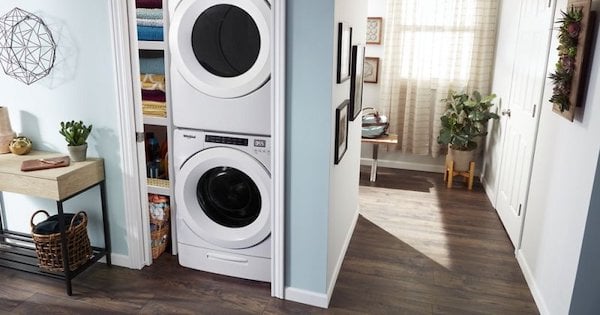 Choosing a new washer is a big decision, especially if you haven't shopped for a washer in several years. There are many new washer designs that you will have to choose from that may be very different from what you might be accustomed to. There is also a larger selection of brands in addition to the old standards of Whirlpool, Maytag and GE.
Have you heard about LG's JD Power awards or their good reputation over at Consumer Reports? Both LG and Whirlpool make reliable laundry equipment with great features. We'll compare two of the best front load washer models from tech powerhouse LG and tried-and-true standby Whirlpool, both pricing at around $899, to help you decide which brand offers the best features for your needs.

The LG WM3500CW - 4.5 cu ft - $899
The LG WM3500CW is a well-designed front load washer with great features selling for $899. It has an ultra-large 4.5 cubic foot capacity tub, allowing you to do more laundry in fewer loads. LG's 6Motion technology uses specialized washing motions to clean clothes gently and effectively. All in all, this washer has 10 wash programs and 11 cycle options.
With a 1,300 RPM max spin speed your clothes can spend less time in the dryer. The four-tray dispenser provides sections for prewash, main wash, bleach, and fabric softener. Connect with your washer through the LG Smart ThinQ app to start or stop the wash and get a notification when your laundry is done, or use voice commands with Google Assistant and Amazon Alexa.
This LG front load washer has a Tier 2 Energy Star rating and is one of the best in its class for energy efficiency. The direct drive motor has a 10-year manufacturer's limited warranty. For small loads, you might be interested in the optional SideKick Pedestal Washer base as well!
Cycles & Options:
10 Cycles: Normal, Perm. Press, Heavy Duty, Delicates, Towels, Speed Wash, Bedding, Tub Clean, Whites, Downloaded

11 Options: Fresh Care, Prewash, Remote Start, Delay Wash, wi-fi, Add Garments, ColdWash, Water Plus, Extra Rinse, Rinse+Spin, Child Lock
Click here to read over 95 real customer reviews of this product!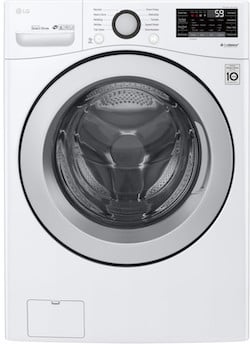 The Whirlpool WFW5620HW - 4.5 cu ft - $899
The Whirlpool WFW5620HW is a 4.5 cubic foot front load washer with many desirable features selling for $899. It offers a Steam Clean wash option to help remove stains, odors and wrinkles. Its large capacity allows you to wash larger loads and bulky items. The Load & Go Dispenser allows you to "bulk load" detergent for several loads ahead of time, and the washer dispenses it automatically. There's also a single load dispenser if you want to wash a single load with a different detergent.
Whirlpool upgraded their front load washer lineup for 2019 with Intuitive Controls that simplify the process of starting a cycle. First select from the "What to Wash" options, then choose from the "How to Wash" menu. This is an interesting way of setting up washer controls - check it out in person and see if you like it!
This washer has a lot to offer at a great price! Whirlpool offers a one year warranty on this model.
Cycles & Options:
What to Wash: Regular, Delicates, Bulky Items, Whites, Colors, Towels

How to Wash: Normal, Wrinkle Control, Heavy Duty, Sanitize with Oxi, Cold Wash, Quick

6 Options: Clean Washer, Drain & Spin, Steam Clean, Extra Rinse, Pre Soak, Load & Go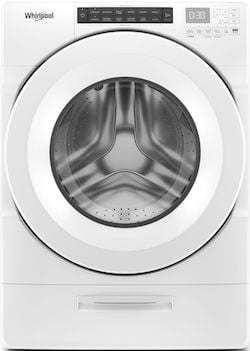 Features Comparison
Cycles & Options: If you're comfortable with typical front load washer controls then you'll get a lot out of LG's 10 cycles and 11 options. The Whirlpool model offers a different control setup and fewer additional options while giving you a new way to customize your wash. You'll also prefer the Whirlpool model if you're looking for a steam cycle washer with a Sanitize cycle to boost stain removal and wrinkle release.

Additional Features: The Whirlpool Load & Go system is a cool new convenience, and the steam option is nice as well. LG has the inverter direct drive motor, which is generally quieter and more reliable than traditional washer motors. The LG model also has a Prewash dispenser and wash option that can be helpful for handling heavily soiled fabrics.

Warranty: LG wins here with a 10-year warranty on the motor. Both models have a one-year parts and labor warranty as well, which is typical for the industry.
We hope you enjoyed this quick comparison of best front load washer models from LG and Whirlpool. The LG model is relatively "basic" as far as front load washers go, while the Whirlpool model offers some extra fun features and options that might make laundry day go a little more smoothly. Both are 4.5 cubic feet in capacity and price at around $899. For more models to compare, check out our reviews of the best front load washers of the year! For XL front loaders, check out the largest front load washers of the year!
What do you think? Which one do you prefer? Please leave us a comment below. We'd love to hear from you!
Editor's Note: This blog was originally written in October of 2014 and has been completely revamped and updated for accuracy as of the publication date noted above.