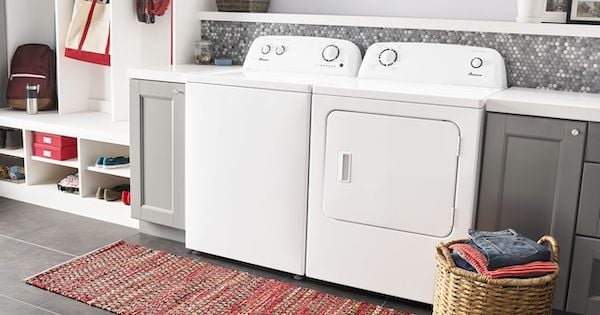 Looking to learn more about Amana dryer models? You've come to the right place. We'll go over the full Amana dryer lineup in both gas and electric models - learn more about gas vs electric dryers in our article!
If you are in the process of researching your options for a new dryer, Amana is certainly a good place to look. Amana products are made by Whirlpool. Amana is a trusted manufacturer of quality home appliances with a focus on value. They offer a small range of products in each appliance category that have basic features and are easy to use.
In the full size dryer market, they offer a very popular traditional dryer (as opposed to a front load style) in both gas and electric. They also offer two compact 3.4 cubic foot models, but we'll focus on the full size models here. Let's take a closer look at this well-priced Amana dryer model. And feel free to check out our dryer buying guide for more info on choosing a new dryer!

Table of Contents
Amana Dryer Review
The Amana NED4655EW is a 6.5 cubic foot capacity electric top load dryer with Auto Dry and timed dry cycles. Selling for around $499, this dryer offers a lot of value. The Amana gas dryer model NGD4655EW offers identical drying options and retails for about $599. The cool-down cycle and wrinkle prevent option help to decrease wrinkling even if you can't take the clothes out of the dryer right away when the cycle finishes. The Auto Dry feature uses temperature sensors to end the cycle, which aren't as accurate as the moisture sensors in other sensor dry options but is still a step up from relying on timed drying.
The lint filter is located on the top of the dryer, keeping the lint away from the clothes when you are removing them from the drum. The dryer door is reversible to accommodate various installation positions, and it is rated to vent up to 64 feet from the rear when properly installed. The interior of the drum is powder-coated for durability and years of trouble-free use. It comes with a one year parts and labor warranty. This top load style dryer is styled to match with a traditional top load washer and is not stackable. Check out our review of Amana's top load washer for more info.
However, if you just want a standard-size, basic machine to dry your clothes, you should check it out. It's not for everyone, but if you are looking for value, this Amana dryer definitely fits the bill.
Dryer Cycles:
Automatic Dry (High Heat or Low Heat): More Dry, Energy Preferred, Less Dry, Cool Down, Wrinkle Prevent

Air Dry (No Heat): 10 Minutes, 20 Minutes

Timed Dry (High Heat): Cool Down, 20 Minutes, 40 Minutes, 60 Minutes
Dimensions:
Width: 29"

Depth: 28.2"

Height: 44"
Click here to read over 3,245 real customer reviews of the electric model!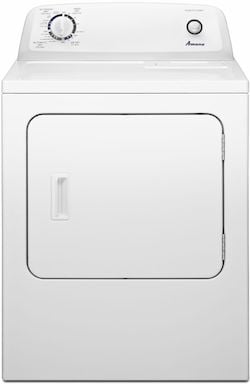 Amana Dryer Pros & Cons - Should You Buy It?
If you're looking for a dryer with an extra large capacity, a stainless steel tub, a wide variety of drying temperatures and options for every fabric and load imaginable, electronic controls, etc... this Amana dryer is definitely not for you! It literally doesn't have bells and whistles since it lacks an end of cycle signal. In addition, its high drying temperatures can increase wear and tear on your fabrics. It's also not going to be very energy efficient, so it will cost you more in electricity or gas over the life of the dryer than an Energy Star rated model or a model with sensor drying.
If you need a dryer to fit through narrow doorways or into a small closet, measure your space and compare them to the dimensions of this model. You may want to consider a Hotpoint dryer for narrow spaces - Hotpoint's value-priced dryer is 27" wide and 26.75" deep.
Parts for this dryer can be relatively cheap, and because it's such a simple machine it's a good candidate for DIY repairs. Due to its low cost, paying for a technician to repair it (outside of warranty, of course) will likely not be worth the money due to the labor costs.
If your biggest decision making factors are price and ease of use - this machine will probably make you very happy!
Don't overlook this Amana dryer when you're out shopping! If you're concerned about energy efficiency, there are many more options today for Energy Star rated dryers at lower costs than a few years ago. Depending on how often you use your dryer each week and the cost of electricity or gas in your area, the savings could add up quickly. However, if you are replacing an older model, just about any new dryer will be more efficient.
If you want to explore more value brand dryers, check out this article: Best Dryer for the Money - Low Cost Gas Models from Amana and Hotpoint.
We hope you enjoyed this Amana dryer review. Please leave us a comment below - We'd love to hear from you!
Editor's Note: This blog was originally written in February of 2018 and has been completely revamped and updated for accuracy as of the publication date noted above.