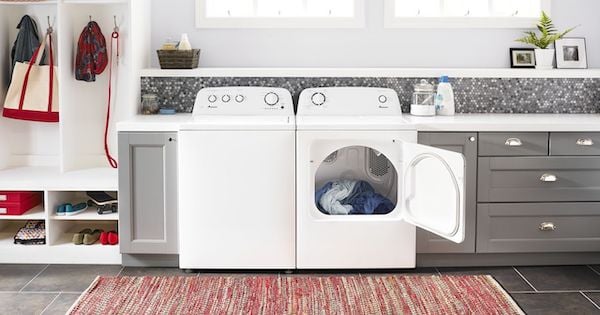 Every consumer shopping for a new gas dryer is searching for the best dryer for the money. Gas dryers are available in all brands and styles and with new features and sizes, and they have become more expensive than their matching washers. If you are looking for a good basic gas dryer, there are two companies that you can turn to that can fill the need for great products at the right price: Amana and Hotpoint.
Amana, a Whirlpool brand, and Hotpoint, a General Electric brand, both offer gas dryers that are well-featured for their price range and can handle the workload for most families. They make quality products with the basic features that are just what many consumers need, saving sometimes hundreds of dollars in the family budget. Check out these two companies when you go shopping. In this article we'll compare two of their best low cost offerings. For more information on buying a new dryer, check out our dryer buying guide!
1. The Amana NGD4655EW - 6.5 cu ft - $599
First up is the Amana option: the Amana NGD4655EW is a 6.5 cubic foot capacity gas dryer with Auto Dry and timed dry cycles. Selling for around $599, this Amana gas dryer offers a lot of value. It has two Auto Dry heat setting options and a no-heat cycle. The cool-down cycle and wrinkle prevent option help to lessen wrinkling of the clothes even if you are not there when the dryer shuts off to take the clothes out.
The lint filter is located on the top of the dryer, keeping the lint away from the clothes when you are removing them from the drum. The dryer door is reversible to accommodate various installation positions and it is rated to vent up to 64 feet when properly installed. The interior of the drum is powder-coated for durability and years of trouble-free use.
The automatic dry option in this model uses temperature sensors to determine when your clothes are dry. This is not as accurate as moisture sensors such as those in LG sensor dry, but it's still an improvement over manual drying. It's not for everyone, but if you are looking for value be sure to take a look at this Amana gas dryer.
Dryer Cycles:
Automatic Dry (High Heat or Low Heat): More Dry, Energy Preferred, Less Dry, Cool Down, Wrinkle Prevent

Air Dry (No Heat): 10 Minutes, 20 Minutes

Timed Dry (High Heat): Cool Down, 20 Minutes, 40 Minutes, 60 Minutes
Dimensions:
Width: 29"

Depth: 28.2"

Height: 44"
Click here to read over 600 real customer reviews of this product!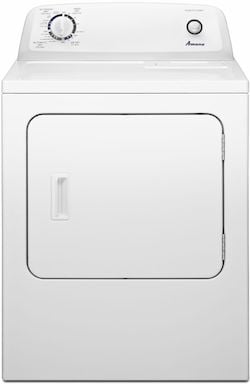 2. The Hotpoint HTX24GASKWS - 6.2 cu ft - $699
Next up in our comparison of the best dryer options for the money is the Hotpoint HTX24GASKWS, a 6.2 cubic foot capacity gas dryer selling for $699. The Auto Dry monitors the temperature and sets dry times, similar to the Amana model. It offers three-way venting (bottom, rear, and left) for easy placement in any home. The door is reversible to swing to the left or the right.
It has four drying cycles and three heat selections and it is front serviceable, making any needed repairs or cleaning easier. This dryer is designed for quiet operation which is important if the laundry room is located in or close to the living area. The lint filter is located up front in the door area for convenient, easy cleaning. The aluminized alloy drum offers similar durability than a powder coat drum. It can be vented up to 120 feet when properly installed.
This gas dryer offers the basic features that many customers are looking for and will do the job very well. If it is a good basic gas dryer that you are looking for, take a closer look at this Hotpoint model!
Dryer Cycles:
Cottons: More Dry, Optimum Dry, Less Dry, Cool Down

Casuals: More Dry, Less Dry, Cool Down

Delicates: More Dry, Less Dry

Time Dry: 10-80 Minutes

3 Temperatures: Cottons (Regular), Casuals (Medium), Delicates (Low)
Dimensions:
Width: 27"

Depth: 26.75"

Height: 44"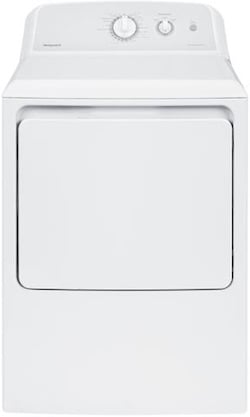 Features Comparison
Cycles: If you're looking for more control over the drying temperatures, Hotpoint is the winner here since it allows you to customize your cycles more fully with different temperatures. It also has slightly longer timed drying options, up to 80 minutes vs 60 minutes for the Amana dryer. However, Amana has a Wrinkle Prevent cycle, while the Hotpoint model does not.

Materials & Design Features: The Hotpoint model offers 3-way venting (rear, left, bottom) for more complex installation needs and has more advanced controls. Both have reversible doors. Amana has lint filter access on top of the machine, while the Hotpoint model has an up front lint filter. Hotpoint has an end of cycle signal while the Amana model does not. You can expect similar durability from the drum materials - powder coat vs aluminized steel.

Capacity & Footprint: The Amana model is on the high end for overall footprint at 29" wide and 28.2" deep. The Hotpoint model's 5% smaller drum size is more than made up for by its footprint, which is over 10% smaller than the Amana model. So if you are looking for a space efficient model, Hotpoint is a great option that won't seriously impact the load size you can dry.
Overall, Hotpoint's slightly higher price seems worth it when you see the extended cycles, installation options, and smaller footprint. If you want the most basic option available at the lowest cost, Amana is a great choice. Make sure to check on what promotions are available to make sure you get the best price! Whichever model you choose, both have good customer reviews overall.
Amana and Hotpoint are two quality brand names selling value-priced appliances that have been around for decades. They offer well-featured and reliable products for their price points and provide a good option for many customers. Take a look at these two brands and choose the best dryer for the money for your needs.
Looking for a matching washing machine at an equally low price? Check out our Hotpoint washer reviews and Amana washer reviews!
Please leave us a comment below. We'd love to hear from you!
Editor's Note: This blog was originally published in December of 2015 and has been completely revamped and updated for accuracy as of the publication date noted above.