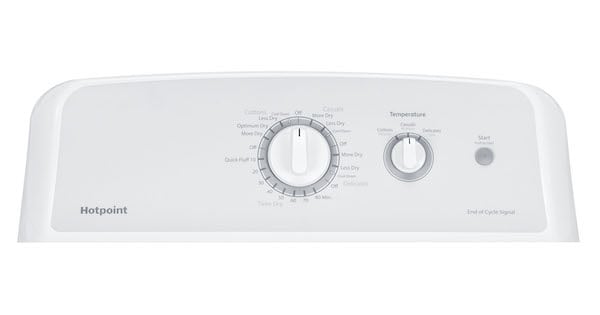 Looking to learn more about Hotpoint dryer models? You've come to the right place. If you're in the process of researching your options for a new dryer, Hotpoint is a good place to look (check out our dryer buying guide for more info). This trusted manufacturer of quality home appliances is now a subsidiary of GE Appliances, which is owned by Chinese manufacturer Haier.
Hotpoint has a long-standing reputation for low-cost quality products that remains intact under the new ownership. Whether you need a gas or electric model, a Hotpoint dryer may be the way to go.

The Hotpoint HTX24GASKWS dryer model in gas can be fueled by either natural gas or propane. A conversion kit is needed for propane (LP) fueling and is priced at $579. The electric model, the Hotpoint HTX24EASKWS, comes with the same features we discuss below and is priced at $479.
Hotpoint gas dryer model HTX24GASKWS is a 6.2 cubic foot capacity traditional-style gas dryer with an aluminized alloy drum. It is priced at $579 and offers quite a few nice features, including up to 120 foot venting capability and an aluminized alloy drum. This drum material is an alloy finish on steel, so in terms of durability, it's slightly better than painted steel drums, but not as good as stainless steel.
This front serviceable dryer also has an easy-to-access upfront lint filter, and the door is reversible to meet your laundry area's layout needs. The three-way exhaust option allows you to vent from the rear, left, or bottom. Rotary electromechanical dial controls and an end-of-cycle signal complete this package. Many consumers love the electromechanical controls. No need to fiddle with a touch screen or keypad: just turn the dial to the selected setting and engage! Some people also prefer the mechanical controls for their reliability and low repair costs compared to higher-tech options.
It comes with four cycles (Cottons, Casuals, Delicates, and Time Dry), three heat selections, and the choice of timed dry or Auto Dry, which monitors the air temperature to determine when your clothes are ready to go. The Auto Dry feature performs okay, but it's not nearly as good as a dryer with sensor dry. Sensors in the dryer drum monitor the humidity to determine when the clothes are dry, so you don't waste electricity drying clothes that don't need it or have to run the cycle again due to damp clothes. If you'd like to save energy, running a longer cycle with a lower heat setting, rather than a shorter cycle at a high heat setting, uses less energy overall AND is much better for your clothes.
Dimensions:
Width: 27"

Depth: 26.75"

Height: 44"
Should You Buy a Hotpoint Dryer?
One of the advantages of this Hotpoint dryer in addition to its rock-bottom price is its dimensions. It is a standard width at 27", and it's shallower-than-average 26.75" depth means it can fit through the narrow doorways found in some older homes.
It is relatively quiet despite its low price, although the buzzer is obnoxious and can't be turned off or adjusted. However, you're missing out on some useful cycles and features available at slightly higher prices, like a "wrinkle prevent" intermittent tumble option, and moisture sensing for improved drying performance. Overall, if you are able to afford a $600-800 dryer, it will save energy and reduce wear and tear on your fabrics. However, we know that's not always an option.
Additional options for tight budgets include your local appliance dealer's clearance section, where you can find floor models, customer returns, and "scratch and dent" models marked down way below retail prices.
Hotpoint is a quality brand name selling value-priced appliances, and has been around for decades. Don't overlook these Hotpoint dryer models when you are out shopping. If you want to learn more about the entire line of Hotpoint appliances, click here to read all of our Hotpoint appliance reviews. Another great value brand is Amana - take a look at our Amana dryer reviews or compare Amana vs Hotpoint dryers.
Check out our Hotpoint washer review, too, and decide if a Hotpoint laundry pair is for you!
We hope you enjoyed this review - Please leave us a comment below. We'd love to hear from you!
Editor's Note: This blog was originally written in December of 2017 and has been completely revamped and updated for accuracy as of the publication date noted above.