If you are looking to compare two awesome washing machine options that won't break the bank, you're in luck. We've singled out two great top loading agitator models from two niche brands that may be just what you are looking for when shopping for a new machine. Unfortunately, Fisher & Paykel has discontinued their popular agitator washer as of late 2019, so this article is now "in memoriam." Don't worry - we'll give you other agitator washer brands to consider!
Speed Queen and Fisher & Paykel are not quite as well known as some of the other juggernaut appliance brands like Whirlpool, Frigidaire and GE, but that doesn't mean they don't deliver great products. Speed Queen is a specialty laundry manufacturer headquartered in Wisconsin that has been making great laundry products for both the commercial and domestic markets in the US for over 100 years. Fisher & Paykel is based in New Zealand and has been in operation since 1934. They have gained wide exposure in the US in the past 20 years and introduced many innovative products to the market, including a one-of-a-kind dish drawer dishwasher that made them famous with US consumers. Their agitator washer was a surprising hit when it came out a few years ago.
We'll introduce you to the Speed Queen TR3 and compare it to the discontinued Fisher Paykel model, then offer up some alternative agitator washing machines from other brands.
Table of Contents
The Speed Queen TR3000WN - $899
If you're looking for a true commercial grade washer for home use, the Speed Queen TR3003WN is Speed Queen's entry-level top load washer that's truly built to last. It prices at around $899 and is American-built with premium heavy-duty materials that have withstood the test of time - and the brand's own durability tests! The 3.2 cubic foot stainless steel wash tub is adequate for most wash loads and uses electronic rotary dial controls.
With an expected life of 10,400 cycles, their machines are made with the same durable, long-lasting design as their commercial washers that are used in laundromats and other commercial locations. Speed Queen washers feature a one-of-a-kind wash system that not only gives users the best wash available, but also takes care of your clothes! The tub and agitator work together to create a gentle wash action that moves the maximum amount of water through the clothes.
One example of that commercial technology at work can be seen in the solid mount suspension system. The full steel base and heavy-duty springs help reduce vibration and out-of-balance issues for a longer lifespan and noise reduction.
This Speed Queen commercial washer has the industry's best warranty: three years to cover all parts and in-home labor plus a lifetime warranty covering the outer drain tub and the stainless steel wash basket. Other Speed Queen washers have even longer warranties, as long as seven years.
Cycles & Options:

4 Cycles: Heavy Duty, Normal Eco, Perm Press, Delicates

Heavy Soil Option

3 Wash Temperatures

4 Load Sizes: Small, Large, Auto Fill, Auto Fill + Extra Rinse

Maximum Spin Speed: 820 RPM
Dimensions:
Width: 25.625"

Depth: 28"

Height: 42.75"
The Fisher Paykel WA3927G1 - $1,199 (Discontinued)
The Fisher & Paykel WA3927G1 priced at $1,199 and had six wash cycles, including Regular, Heavy, Delicate, Easy Iron, and Allergy. It had a 3.9 cubic foot stainless steel wash tub and Flexible Finned Agitator driven by their "Smart Drive" direct drive motor with a powerful 1,100 RPM final spin speed to extract more water and shorten the drying time. This is particularly impressive among agitator top load washers, since they usually can't reach such high spin speeds.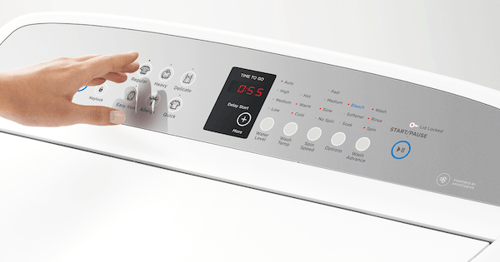 Three rinse options and five temperature settings allowed you to adjust for any fabric. An on-screen estimated time remaining was another handy feature. Simple touches like the soft closing lid that will not slam closed when let go add to the appeal of this well-engineered machine. The balance control system kept the washer stable even with heavy loads.
The product warranty was two years parts and labor with an eight-year parts warranty on the direct drive motor.
Cycles & Options:

6 Cycles: Regular, Heavy, Delicate, Easy Iron, Allergy, Quick

3 Options: Soak, Bleach, Fabric Softener

5 Wash Temperature Controls

Maximum Spin Speed: 1,100 RPM
Dimensions:
Width: 27"

Depth: 28"

Height: 43"
Fisher & Paykel WA3927G1 - $1,199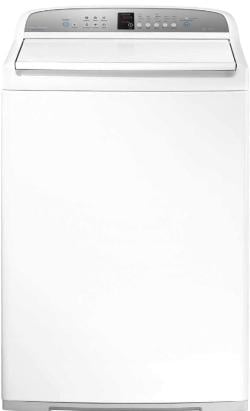 Features Comparison
Cycles & Options: Speed Queen's cycles are basic, but it's hard to beat Speed Queen if you want to be able to choose your water level. The Fisher Paykel model offered more wash options, and its 25% faster maximum spin speed reduced drying times.

Other Design Features: Fisher & Paykel's control panel had a more premium feel, and the time remaining estimate was helpful. However, if you're looking for serious durability, you should probably go for Speed Queen's tried-and-true dial controls. Other models in the Speed Queen lineup offer digital control features as well.

Price & Warranty: The Fisher & Paykel model was a bit pricier but had a pretty good warranty for the industry at two full years of coverage plus eight years on the motor. Speed Queen leads with a lower upfront price and a longer three-year full warranty. Check out the rest of the Speed Queen model lineup for longer warranties and more advanced features!
Alternatives to the WA3927G1
We're sorry to see the Fisher & Paykel top load washer go, but there are still some great options on the market! Speed Queen is a great choice when it comes to quality and durability, as well as repairability should the need arise. If you're looking for a larger agitator model, check out our reviews of the largest agitator washers of the year.
We hope you enjoyed these top load washer reviews. Please leave us a comment below. We'd love to hear from you!
Editor's Note: This blog was originally published in June of 2016 and has been completely revamped and updated for accuracy as of the publication date noted above.