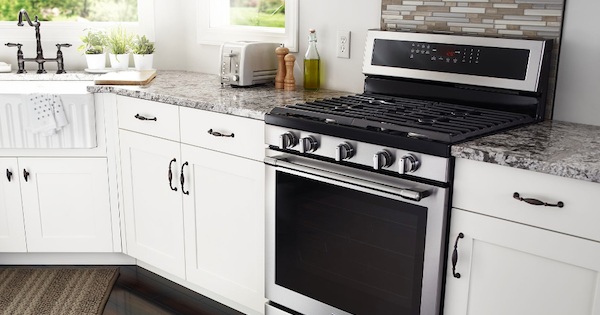 When you are looking for a new gas range, Maytag is a brand you should consider. When people think of Maytag, they often think of laundry products. We see Maytag washers and dryers still in use after 30 or more years of continuous service - that's quality! Now owned by Whirlpool Corporation, Maytag products are still made to stand the test of time and to deliver high quality appliances in all categories with state of the art features. Their gas and electric ranges are great products with innovative features to help save time and make the job of cooking for the family easier and more enjoyable for the cook.
When you hear the name Maytag, Whirlpool wants you to associate it with quality and longevity and they continue to produce that type of product under the Maytag name. If you want your new range to be made in the USA, you should definitely be taking a look at what Maytag has to offer.
In this article, we'll provide in-depth reviews of Maytag's two main freestanding gas range models, plus their double oven and slide in models. All Maytag gas ranges come with hidden bake elements, continuous burner grates, and an impressive 10-year warranty on the cooktop burners, oven burners, cast iron grates, and the oven cavity.
1. The Lower-End Model - Maytag MGR6600FZ - $949
Maytag gas range model MGR6600FZ offers all of the power and features that will make the job of cooking those special meals easier and more fun. The styling is appealing with a commercial flair thanks to the towel bar handle and continuous burner grates.
The 5.0 cubic foot self-cleaning oven features a precision cooking system with sensor heating to ensure even cooking. Electronic touch controls allow you to set variable broil temperatures for better broiling results, and also offer a Keep Warm setting and a Delay Start setting. The hidden bake element makes cleanup easier as well.
The top of the range has five sealed burners, including an 18,000 BTU power burner, an 800 to 5,000 BTU simmer burner, and an 8,000 BTU oval burner in the center. The continuous burner grates are matte finish porcelain-coated cast iron and are dishwasher safe. They're designed in two pieces so they're easy to remove for cleaning the stovetop surface.
Pricing at about $949 in stainless steel, it is also available in white or black at about $899. Maytag's 10-year limited warranty covering the cooktop burners, oven burners, cast iron burner grates and the oven cavity is among the best in the industry. See the manufacturer's written warranty for complete details.
Click here to read real customer reviews of this product!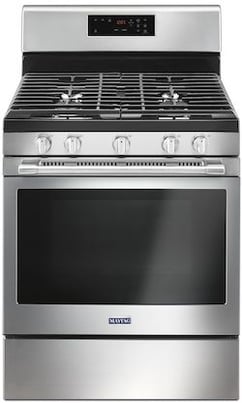 2. The Upper-End Model - Maytag MGR8800FZ - $1,149
Maytag gas range model MGR8800FZ is the step-up model with the ultimate feature package and improved styling. If you want the best for your home, this is the one to buy. It's priced pretty well for a top-of-the-line range at about $1,149 in fingerprint-resistant stainless steel. It's also available in white or black at about $1,049.
The oven features true convection with a third element to superheat the air and circulate it evenly in the oven to seal in the juices, crisp the outside, cook your food faster at lower temperatures and give you perfectly delicious results every time. Learn more about convection and convection ranges here! Three oven racks give you more flexibility and allow you to maximize the use of the space in this 5.8 cubic foot self-cleaning oven. This model uses AquaLift steam cleaning rather than traditional high heat self cleaning.
The cooktop has five burners, including an 18,000 BTU sealed burner in the left front, a 15,000 sealed burner in the right front, an 8,000 oval burner in the center rear, a 9,500 BTU in the left rear and a 5,000 BTU simmer burner in the right rear. It also comes with a griddle to use on the top of the range.
The look of this Maytag range is enhanced by the full-width glass control panel and the large oven window. All of its great features combined with Maytag's strong warranty make it an excellent choice for any home. It shares the same strong 10-year limited warranty as the prior model.
Click here to read over 100 real customer reviews of this product!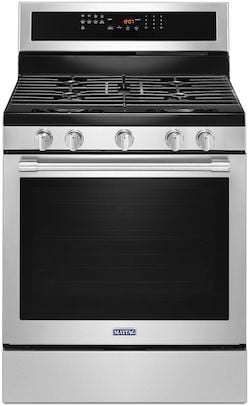 3. The Double Oven Model - Maytag MGT8800FZ - $1,999
Are you considering a double oven range? The Maytag MGT8800FZ retails at around $1,999 and could be perfect for your kitchen. It features a 2.1 cubic foot 13,000 BTU upper oven and a 3.9 cubic foot 17,000 BTU lower oven for a total capacity of 6.0 cubic feet. The lower oven includes True Convection for faster baking and roasting.
Other neat features built into the ovens include Auto Convect Conversion, so you don't have to worry about adjusting cook times and temperatures when you use the convection feature. Power Preheat takes advantage of the convection technology to preheat your oven in just 8 minutes. You also have a Keep Warm setting, Delay bake setting, Convect Roast, Convect Bake, and Variable Broil. The Precision Cooking system uses sensor heating as well to help keep temperatures stable.
The stovetop includes a Power Burner up to 18,000 BTU and an oval-shaped 7,350 BTU fifth burner. The three-piece continuous grates are easy to clean and look great, too.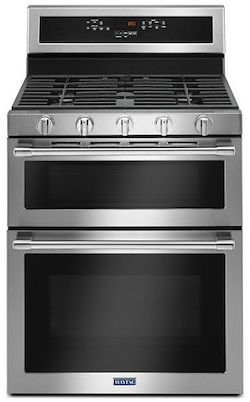 4. The Slide-In Model - Maytag MGS8800FZ - $2,099
Last but not least, if you're looking for an ultra premium look, you might be considering slide in vs freestanding ranges. Maytag's slide in model MGS8800FZ is similarly designed to the other 8800 models with True Convection with Auto Convect Conversion and Power Preheat plus a five burner stovetop.
It features a warming drawer instead of a storage drawer, and the oven racks include two standard racks and one Max Capacity rack with seven rack glides (the freestanding models have five rack glides). The FIT System ensures that this range will fit into your 30" kitchen cabinet cutout. Like the MGR8800FZ, it offers AquaLift steam cleaning.
If you need an ADA compliant range or prefer the premium look of a slide in model, this is a great option in fingerprint resistant stainless steel!
Click here to read over 30 real customer reviews of this product!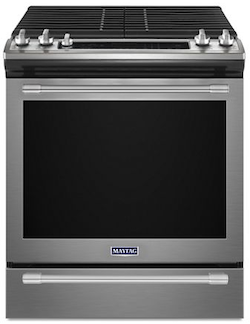 As you can see, there are some great Maytag gas range options available. Even the most basic freestanding model is nicely featured, and that warranty is hard to beat! If you're buying a new Maytag kitchen suite, make sure to read up on appliance packages. Check them out when you are shopping for a new range. Please leave us a comment below. We'd love to hear from you!
Editor's Note: This blog was originally written in June of 2017 and has been completely revamped and updated for accuracy as of the publication date noted above.