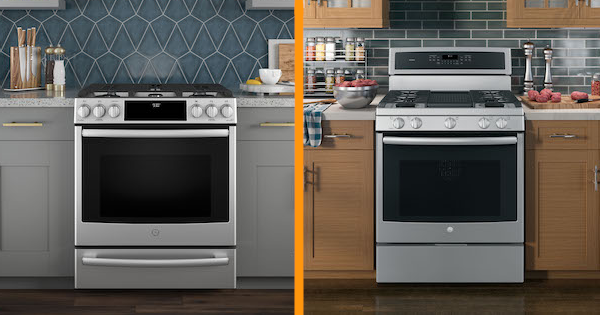 When remodeling your kitchen or designing a new home, you will have many choices to make pertaining to the type and style of appliances that you will buy. A lot will depend on how you or your kitchen designer lays out the cabinet design and where each appliance is located in the plan. Your main cooking appliance is also the centerpiece of your kitchen: the range.
And even if you're just buying a new range and not changing your kitchen's design too much, you might be wondering which type you should choose. There are many styles you can consider, including slide-in ranges, freestanding ranges, and larger professional ranges. If you want to learn more about the differences between slide in and freestanding ranges, you're in the right place! We'll go over what you can expect from these range styles in terms of design, features, and pricing. (And if you're looking for more information on choosing a new gas or electric range, check out our range buying guide!
Table of Contents
The Freestanding Range - Overview, Pros & Cons
Freestanding ranges are designed to fit anywhere in your kitchen. They have finished sides, so they don't have to be surrounded by cabinets. They can be installed as an "end cap" to a line of cabinets or on their own with both sides open. The controls are located at the rear on a backguard. Some models place the burner controls on the front of the cooktop surface or above the oven handle while keeping the oven controls on the backguard, while others place all of the control options on the backguard. The freestanding range style tends to have a lower purchase price than slide in models.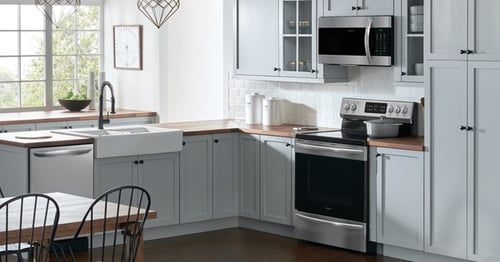 There are many different feature packages available for both gas and electric free standing ranges. Electric freestanding models start at around $400 for the most basic feature packages (and are usually coil top models), with mid-range models starting at around $700. Gas freestanding models also start at around $400 and mid-range models start at around $800.
The rear control panel present on most free standing ranges is usually 7-9 inches tall. This will break up any backsplash tile design behind the range, and won't allow you to install the range into a kitchen island or peninsula. The design also means that you will have to reach over pans and hot burners to adjust temperatures and control other features of the range.
Freestanding Range Pros:
Available in a wide variety of feature packages and prices to suit different budgets and cooking needs

Finished sides mean they don't have to be sandwiched between cabinetry

Controls on the backguard are out of reach of children

Lower price than comparable slide in ranges

More common than slide in ranges, so more options to choose from
Freestanding Range Cons:
Don't blend in as much as models without backguards

Have to reach over hot burners/cookware to adjust controls

Gap between stove and cabinet is hard to clean
Click the links below for a full list of freestanding ranges available from top brands like Frigidaire, Electrolux, KitchenAid, LG, Samsung, GE and others in electric or gas options.
CLICK FOR COMPLETE LIST OF FREESTANDING ELECTRIC RANGES
CLICK FOR COMPLETE LIST OF FREESTANDING GAS RANGES
The Slide-In Range - Overview, Pros & Cons
Slide-in ranges are designed to fit in an opening between cabinets in the kitchen for a high-end, built-in design. They are usually slightly higher in price due to their built-in design, but they give a different look that is very desirable. The controls are conveniently located in the front, eliminating the need to reach over hot burners to set or adjust the controls in the rear. There is no control panel in the rear, making the top completely flat. The top is usually designed to slightly overlap the countertop, so there's no gap for drips or crumbs to fall into.
Slide-in ranges can be installed in islands and peninsulas in your kitchen, giving you more flexibility in your design. They also work well with custom countertop materials and designer backsplashes. These ranges are available with all of the latest features, such as dual fuel, but the ovens are usually slightly smaller than the ovens in free standing ranges.
When this article was initially written in 2016, many slide in ranges required filler pieces set behind the range, about 1-2 inches wide, that either matched your countertop or the stove's finish. Today, the vast majority of slide in ranges are full-depth models that don't require adjustments like filler pieces, and they have finished sides as well. The only issue is the height of the countertops for slide-ins that overlap the counter on either side. The premium look and installation options alone may make you consider purchasing a slide-in for your home.
Since many slide-ins now have finished sides and are full-depth, designed to seamlessly replace freestanding ranges, they are often referred to as front control ranges.
Electric slide in ranges start at around $1,100 MSRP, while gas models start at around $1,300. Sale prices on select models can be much lower, however. In general, you can expect to pay at least $100-200 extra for a slide in model versus a comparable freestanding model, but it can be $500 or more.
Slide-In Range Pros:
More flexible installation options

Premium, built-in look

In some models the cooktop overlaps with countertop so nothing can spill down the sides of the range (see brands like Samsung for this feature; others offer trim kits)

More premium features available
Slide-In Range Cons:
More expensive than freestanding ranges and not a good choice for tight budgets

Front controls can be accessed by curious children

Slightly smaller ovens than freestanding models
Click the links below for a full list of slide in ranges available from top brands like Frigidaire, Electrolux, KitchenAid, LG, Samsung, GE and others in electric or gas options.
CLICK FOR COMPLETE LIST OF SLIDE-IN ELECTRIC RANGES
CLICK FOR COMPLETE LIST OF SLIDE-IN GAS RANGES
Which Should You Choose?
When considering replacing one type of range for another, you no longer need to consider the filler piece for slide-in models as a factor. If you are replacing an old slide-in model, you may need to have any filler area behind the range removed to accommodate a full-depth model. A front control "hybrid" freestanding range may be a good option, and some manufacturers offer trim kits so the sides of the range will overlap your countertops like a slide-in model. And if you're considering a pro range, all professional ranges have front controls.
| | |
| --- | --- |
| Slide In Range | Freestanding Range |
| MSRP starts at $1,100-1,300 | Mid-range models are typically around $700-900 MSRP |
| Overlapping cooktops and trim pieces are available to keep spills from falling between cooktop and countertop | A good choice for non-standard counter heights |
| Doesn't block kitchen backsplash area; looks very stylish; can be installed in a kitchen island/peninsula | Looks more traditional/less stylish; doesn't work for kitchen islands/peninsulas |
| Fewer models available overall, but most come with premium features like convection ovens | A wide variety of models with different feature packages are available |
When it comes to kitchen renovation, a slide-in range offers a premium built-in look and design flexibility, especially if you want to install a range into a kitchen island or peninsula. The front controls are modern and stylish.
Most appliance manufacturers offer a variety of models in both slide-in and free standing ranges. There is one in each category to fit any budget and you should look at both categories to find what is right for you. Keep in mind that appliance packages and holiday sales can cut the retail price by 20% or even up to 40%!
We hope this answered your questions about slide in vs freestanding ranges! Did we miss something? Want to share your experience with these range styles? Leave us a comment below - We'd love to hear from you!
Editor's Note: This blog was originally written in February of 2016 and has been completely revamped and updated for accuracy as of the publication date noted above.