In designing or updating your kitchen, picking the right slide-in electric range may be one of the most important choices you'll make. The perfect slide in range will help give your kitchen the clean, modern, professional look that you are seeking, and at the same time ensure that the food prepared in your kitchen turns out to be a culinary masterpiece.
Beyond that, you want to pick a range that is both convenient to use and convenient to clean and care for that will be dependable and serve you for many years until your next kitchen overhaul. To help you make this big decision, we've narrowed the field to the Top 5 Models of 2019 and will help you pick the one that suits you best. They are numbered for your convenience but are listed in no particular order. Let's dive into our slide in electric range reviews!
Slide-In Electric Range Reviews
1. Frigidaire Professional FPEH3077RF - 6.1 cu ft - $2,499
The Frigidaire Professional FPEH3077RF front control freestanding electric range has been totally re-designed with many new and improved user-friendly features. At first glance, most would assume that this is a slide in range rather than a typical freestanding unit. The answer is - it's both! Along with the all-new design is its ability to be installed outside of cabinets due to its full-depth side body panels and top. If it were to be installed at the end of a countertop, the sides are factory finished as opposed to the older unfinished look. In the past, many manufacturers also needed filler strips or a 2" countertop strip behind the range in order for it to fit properly. This is no longer needed as the range now reaches the rear wall much like a rear-controlled range.
The 6.1 cubic foot capacity oven with PowerPlus Convection option makes for easy convection baking or roasting with restaurant-quality results. Easy-set controls offer simple turn-style knobs for selecting oven modes and temperatures. Oven heating is supplied via the two 8-pass bake and 8-pass broil elements that heat evenly, which give you superb cooking results. Plus, an included temperature probe will display the food's interior temperature so it won't be over- or under-cooked. Get the perfect roasting results every time! This interior is well-lit by two wall-mounted halogen lights.
When it comes to the cooking surface, this Professional model is fully loaded. The black glass, stainless steel trimmed top has two left side 7" 1,800 watt burners that bridge together, transforming into the perfect heating arrangement for any oblong-styled cookware or a griddle. The right rear 6" 1,200 watt element is a nice feature for additional heating and the expandable 9" to 12" 1,800/3,000 watt front right element provides intense heat for quick boiling or even pan searing. And finally, there's the center rear mounted 100 watt warming zone.
Available in stainless steel, this range is priced at $2,499.
Click here to read over 130 real customer reviews of this product!
Frigidaire Professional FPEH3077RF - $2,499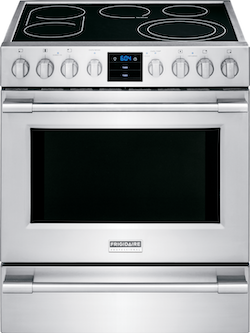 Watch our video to learn more about buying a new range!
2. KitchenAid SEG700ESS - 6.4 cu ft - $2,199
The next model on our list of slide in electric range reviews is the KitchenAid KSEG700ESS, which is another "hybrid" model that can either be installed as a slide-in or freestanding range. Full side panels allow the range to be placed at the end of a counter without appearing unfinished. This model offers a large 6.4 cubic foot oven cavity with convection bake, broil and roasting options. Automatic convection conversion simplifies any necessary time and temperature adjustments taking the need out of recipe research and calculations.Heating of this oven is handled by their 3,600 watt bake, 4,000 watt broil and 3,200 watt convection elements. Learn more about convection here!
This model features steam cleaning with KitchenAid's Aqua Lift Self Clean. Steam cleaning ovens are becoming more common and are more user friendly than self-cleaning, as they operate at much lower temperatures with less time and less odor. Two incandescent lights illuminate the oven's cavity and three oven racks allow for multi-level cooking.
The radiant heat full-width glass edged cooking surface configuration is made up of the left front 3,000 / 1,950 / 1,050 watt triple element, right front 3,200 watt power burner, left rear 1,300 watt and right rear 1,200 watt elements along with a center rear 100 watt warming zone. A commercially designed oven door towel bar handle showcases KitchenAid's styling, which is used throughout all of their kitchen appliances. Priced at $2,199 in stainless steel and $2,299 in black stainless steel, this range offers many features and great styling for your dollar.
Click here to read over 220 real customer reviews of this product!
KitchenAid KSEG700ESS - $2,199
3. GE Profile S960SLSS - Double Oven, 6.6 cu ft - $2,899
GE is also in the game with their most popular double oven slide-in version. The GE Profile PS960SLSS features a full-width glass cooking surface with a left side bridge burner assembly that can be operated as singular controlled front 8"/ 5" and rear 8" burners or linked together forming the 2,000 watt bridge. The right side front element consists of a triple 12"/9"/6" burner for optional pan sizing and the right rear 6" element along with a center rear 6" warming zone completes the main top.
The upper oven sizes at 2.2 cubic feet and operates as a traditional oven would, just formatted smaller for quicker preheating and cooking smaller items and meals. The lower 4.4 cubic foot oven is large enough to take on the Thanksgiving Day turkey and larger meals. True European Convection is also included in the lower oven along with an oven meat probe for accurate food interior temperature readings. This eliminates the need to open the door (which loses heat) and check your meal with an external thermometer.
A programmable cook timer, kitchen timer, fast preheat option with audible signal and digital temperature display are all included from GE on this model. One roller rack with two positions in the upper oven, two self cleaning racks and six height positions in the lower makes ease of adjustments for all meals. What could be better than baking a chocolate souffle in the upper oven at a precise 338 degrees and a family size roast in the lower oven at 450 degrees, all within a standard 30" range footprint? It's hard to beat that. GE pricing is at $2,899 and is one of the most fully featured models on the market. It also comes in GE slate and black slate as well as black stainless steel.
Click here to read over 120 real customer reviews of this product!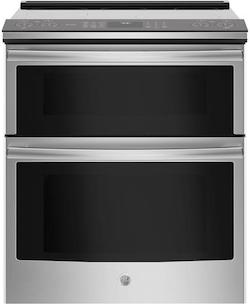 4. LG LSE4613ST - 6.3 cu ft - $1,899
LG also produces a great competitor worthy of our Top 5 list. The LG LSE4613ST is also a model that can be installed as a slide-in or freestanding range with full-depth dimensions which eliminate the need for rear filler strips or additional countertop in the rear. A stainless steel trim surrounds the main glass top cooking surface that carries two 6" 1,200 watt rear burners, a double ringed front 9"/ 6" 3,200 / 1,400 watt burner and front right 12" / 9" 2,700 / 1,700 watt burner. Sitting between the two rears you will find a convenient 7" 100 watt warming zone for keeping any foods warm or simply heating up a dinner plate. LG includes a hot surface indicator to warn users that one or more of the top elements are hot.
The large 6.3 cubic foot Cobalt Blue oven is loaded with cooking modes such as bake, broil, convection bake, programmable favorites, delay bake, proofing, keep warm, pizza and speed roast. A 6-pass, 4,200 watt broil and a 2,500 watt convection element handle your baking and broiling needs and help shorten preheating times.
LG uses a glass touch control panel rather than some traditional Mylar-coated panels found with many brands. This type of control does not require stabbing at the panel. A light touch with your finger is all that's needed. This model is available in stainless steel at $1,899 and black stainless steel at $1,999.
Click here to read over 50 real customer reviews of this product!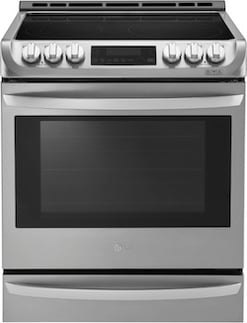 5. Samsung NE58F9710WS - 5.8 cu ft - $2,299
Last, but certainly not least, is the Samsung NE58F9710WS, which has leaped into the crowd with an appropriately named Flex Duo Dual Convection Slide-in Range that allows the user to split the cavity into two independently controlled ovens by simply sliding in a divider. An upper and lower convection fan assembly provide baking, convection baking and convection roasting within these cavities or remove the supplied liner for an overall 5.8 cubic foot oven within a 30" wide body. Two 40 watt incandescent lights illuminate the ovens and a temperature probe is also included for precise internal cooking. Self-clean and Steam clean are standard options that are handy when the cavity needs attention.
Glass touch controls light up in sleek Ice Blue and easily set with the touch of a fingertip, plus the chrome weighted burner knobs give it a commercial feel. This range has an overall cooking surface width of 31" for a neat, clean built-in appearance or freestanding option, but keep in mind that this unit has a 1/2" glass overhang on the left and right sides. Within this top you will find a multitude of options, such as two left side mounted 7" 1,800 watt elements that can bridge together for griddle cooking. The right front is a triple burner made up of 6", 9" and 12" 3,000 watt combination elements, the right rear is a 6" 1,200 watt burner and lastly, there is a center rear mounted 100 watt warming zone..
Beneath this range is a warming drawer which also has a hidden oven liner storage area. Available in stainless steel at $2,299, this range might just fulfill all of your cooking needs.
Samsung Model NE58F9710WS - $2,299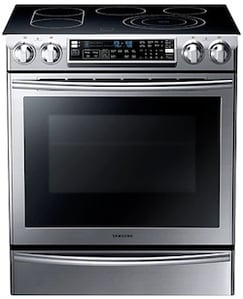 We hope you enjoyed our slide in electric range reviews. There are lots of choices out there but now you have five excellent models to pick from offering some of the best new technology and styling available on the market today. If you want a sleek industrial look, check out #1 from Frigidaire Professional and #2 from KitchenAid for a commercial-style kitchen. The least expensive models come from LG (#4), followed by KitchenAid and Samsung (#5). Samsung offers an interesting option if you like the idea of a double oven range but also want the space of a full-size oven. Overall, you have a lot of fully-featured options at your fingertips with serious aesthetic appeal with any of these models!
Let us know which one you buy for your kitchen. Leave us a comment below. We'd love to hear from you!
Editor's Note: This blog was originally written in July of 2016 and has been completely revamped and updated for accuracy as of the publication date noted above.