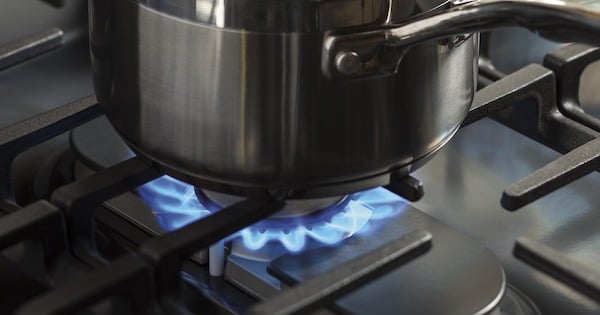 If you are looking to replace an older gas range with open burners, you may want to consider a new model with sealed burners. Sealed burners have become more and more common for household ranges, but there are still a few reasons why people prefer open burners. If you're wondering about the difference between an open burner vs a sealed burner, we'll explore this in-depth below to help you decide on the right option for your needs.
(And if you're looking for more information on buying a new gas range, check out our range buying guide!)
In the past, many range burners were exposed to the open air with a drip tray underneath. Open burners allow for food particles and cooking splatter to fall down through the burners and can make cleaning your range top more difficult. If you are looking to save money and don't mind the extra cleaning, open burners are fine. However, once you check out sealed burner models, you may be swayed towards this alternate option!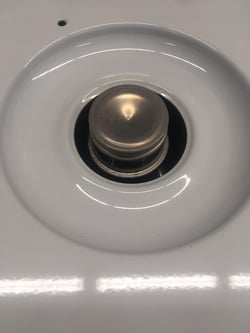 Although professional chefs and commercial kitchens still prefer open burners because the burner is more exposed to the air, so it can burn more efficiently, many of today's gas stoves come with sealed burners. As you can see from the picture below, a sealed burner is easier to clean - no drip tray required! You'll find them on many gas ranges and all gas cooktops.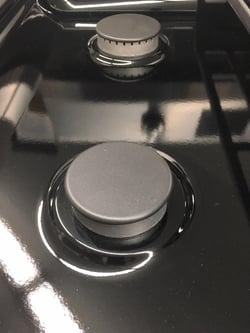 Oddly enough, open burners are featured on two extreme ends of the spectrum: on budget ranges (generally below $500) and also on high-end professional gas ranges that are commercially-inspired but designed for home use. If you're looking for a cheap gas range, a model with open burners will likely be cheaper than a sealed burner model. At the same time, if you are looking for a premium gas range from a niche brand, you are likely to find that they offer a range of open burner models for people that want to reproduce the commercial cooking experience at home.
Among commercially-inspired ranges from more mainstream brands, some manufacturers have started offering ranges that have a "dual stack" burner that produces two rings of flame. This is not a true open burner but is an interesting innovation. Pictured below is an example of a stacked burner from a Samsung slide-in dual fuel range. KitchenAid, GE, and Fisher & Paykel are other manufacturers producing this type of burner on select models.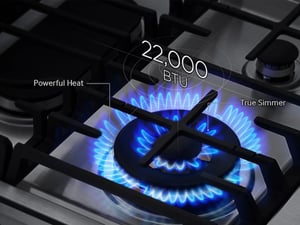 There are still many open burner models available, like the Premier SFK100OP. At a price of just $409 for a 30" freestanding gas range, you can see that open burner models offer great value. This model has four 9,100 BTU burners covered by an exclusive lifetime warranty. The 3.91 cubic foot oven is fully insulated with baffled oven burners for even heat distribution and a roll-out, drop-down broiler with a two-piece porcelain pan and tray. Premier offers a range of open burner gas stoves at low prices, and they're made in the USA, too. This model is a good option for tight budgets, apartments, and more.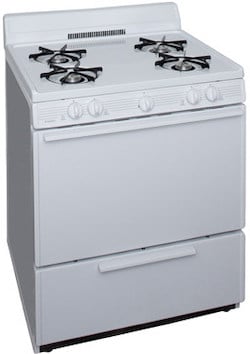 The up-charge for sealed burner ranges can be pretty minimal. A similarly priced gas range with sealed burners would be this GE JGBS30DEKWW. This range is priced at just $479 and comes with easy to clean sealed burners. This is also a 30" free standing model. It has a larger oven at 4.8 cubic feet and an oven window. There are two 9,500 BTU burners, one 5,000 BTU Precise Simmer burner, and a 13,000 BTU power burner.
Click here to read over 70 real customer reviews of this product!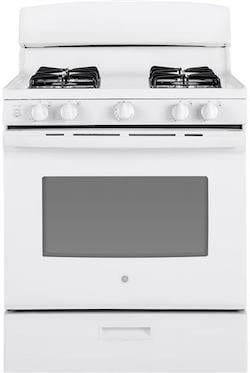 Another resource for budget gas ranges with sealed burners is value brand Hotpoint - read our Hotpoint range reviews here! People rate these simple stoves highly - they are usually looking for something with no frills that is easy to repair and maintain, and these stoves definitely fit the bill!
It will be up to you to decide if sealed burners are the way to go or not. We'd typically vote for sealed burner models. However, if you are in the professional range market and need extremely high BTU output burners to meet your cooking needs, you may look at this issue differently. At the very high end of the BTU spectrum, open burners rule. Open burners have more oxygen flow and allow for higher BTU output. If you are looking for a pro range with burners in the 20,000+ BTU range you may reconsider open burners from brands like Bertazzoni, Viking, Bluestar, and other niche brands.
We hope you enjoyed this discussion of sealed burners. Let us know what kind of range you end up purchasing. We'd love to hear from you!
Editor's Note: This blog was originally written in March of 2018 and has been completely revamped and updated for accuracy as of the publication date noted above.