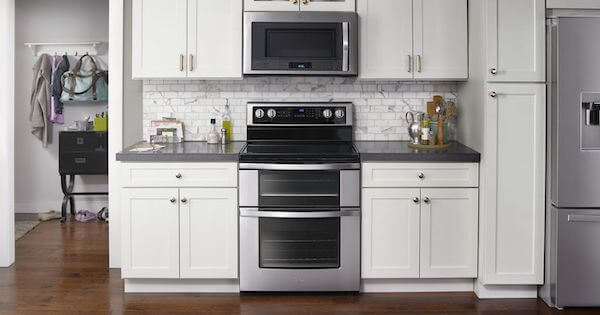 If you love to cook and often find yourself cooking multi-course meals that require cooking two or more dishes at the same time, double oven ranges should be on your shopping list (for more tips, check out our range buying guide). Double oven ranges allow you to cook two different dishes simultaneously at different temperature settings, or use just one oven for faster preheating than if you had to preheat a full-size oven cavity.
There are many different double oven ranges on the market today in both slide-in and freestanding styles, so you'll have a great selection to choose from. Beyond just the exterior style, you can also choose from all major fuel types: electric, gas, induction, and dual fuel ranges. These ranges start at around $1,499 and premium models can be $4,000 or more.
Jump To:
What You Should Know About Double Ovens
Most double oven ranges have a smaller oven on the top and a larger oven on the bottom. Some models have two ovens that are more equal in size. In most cases, the ovens take up the entire range case, so many double oven ranges do not have storage drawers. This is their one drawback, but it's not a big one for most consumers. If you cook a lot and have other storage in your kitchen, it can certainly be worth giving up the storage drawer.
Some people also wonder if you can fit a Thanksgiving turkey in one of the ovens. You could always try taking your roasting pan into the store and see if it will fit inside of a double oven, but in general, you should be able to fit up to a 20-pound turkey in the larger oven. Most American manufacturers know that this is a concern for people and tend to design their ovens with this in mind, from what we've seen. For example, here is some information from GE stating that their double oven ranges will hold a turkey that is about 20 pounds.
The advantage of the double oven is obvious: think of how convenient it would be to be able to cook two dishes simultaneously for different lengths of time at different temperatures! This makes preparing a multi-course meal so much easier, and when it comes to weeknight dinners, the smaller upper oven is the perfect size for a smaller meal, and preheats quickly.
In general, when you're buying this type of range, you'll want to get a feel for the controls and the space within each oven while you're at the store. Many double oven ranges come with convection cooking options, usually in the lower oven but sometimes in both.
As for price: MSRPs start at around $1,499 and go up from there. Slide-in models are usually at least $2,000. During holiday sales, these premium ranges may go on sale for 20-30% off, so you can save money if you're able to time your purchase!
So, remember to keep the following in mind when you go shopping:
The sizes of the two ovens

Whether there is a storage drawer

How the controls look and feel for each of the ovens

Whether there is convection in one or both ovens
Brands That Make Double Oven Ranges
All major appliance manufacturers make double oven ranges, including...
GE Appliances

Whirlpool, KitchenAid, and Maytag (Whirlpool owns KitchenAid and Maytag)

LG

Samsung - Samsung's Flex Duo is a unique take on the double oven
Many of these brands make both freestanding and slide-in models. Freestanding models have a backguard that sticks up behind the cooktop surface, while slide-in models do not. Freestanding ranges are typically cheaper than slide-ins by several hundred dollars.
There are a few exceptions, as of this writing. Frigidaire does not make a double oven range at this time. Neither does Bosch.
*
There are so many different double oven ranges on the market that we can't cover them all in this review, but we chose two different models that illustrate some of the unique differences.
GE's Popular Double Oven Range - $1,498 MSRP
The GE JBS86SPSS is a 30" free-standing double oven electric smoothtop range with two ovens totaling 6.6 cubic feet. It has a 2.2 cubic foot upper oven and a 4.4 cubic foot lower oven with convection. These ovens also have a steam clean option that runs for about 30 minutes.
The stovetop features two adjustable burners and five burners in total to give you plenty of versatility. The oven controls keep it simple: on one side are all the upper oven settings, and the other side has all of the lower oven settings.
Click here to learn more about this range and read over 1,065 real customer reviews!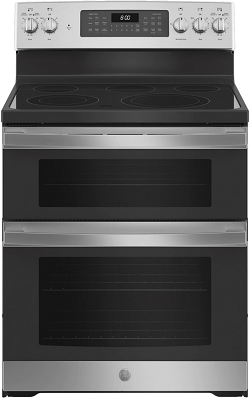 Samsung Flex Duo - A Convertible Oven - $1,499 MSRP
A unique model you might also want to look at is the Samsung Flex Duo double oven electric convection range model NE63A6751SS. This 30" freestanding range has one large 6.3 cubic foot oven, but thanks to the Flex Duo divider, you can divide it into two ovens: a 3.4 cubic foot upper and a 2.7 cubic foot lower. Convection+ ensures that both sections receive even heating and faster cooking. Talk about flexibility!
Pictured below: the Flex Duo divider.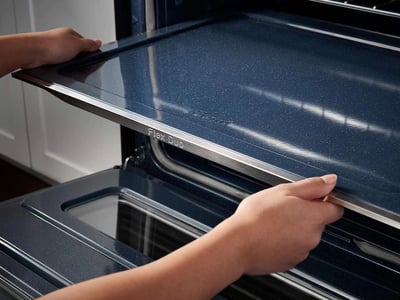 The Dual Door on this range is also flexible, allowing you to open just the top oven or the entire oven to conserve heat (pictured below on a slide in electric model).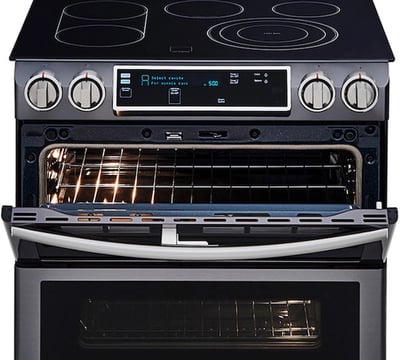 The line of Flex Duo ranges includes slide-in models, gas and electric models, and even models with Wi-Fi connectivity. The only limitation on the Flex Duo system is that there are constraints on the temperature range when it is in "Twin Cooking mode," so that's one possible issue if you want to cook two dishes on high heat at the same time. The controls on this oven style are a little more complex than the ones featured on the GE model, so play with them in the store if you can to see if you like them!
This model comes in stainless steel at $1,499 or black stainless steel at $1,599 (click the link to learn about black stainless steel appliances). A similar gas version, model NX60A6751SS, is available at $1,699.

Click here to learn more about this range and read real customer reviews!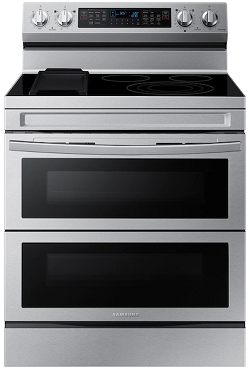 Double oven ranges are certainly not for everyone. You can create some amazing culinary masterpieces using a good old-fashioned oven, and some people prefer not to bend over to access the lower oven. However, if you want the added flexibility of being able to cook two separate dishes at once, they can be a great option. Double oven ranges are always more expensive than their single oven counterparts by $300-$500. A dual fuel double oven range (the best of both worlds) will usually run at least $2,500.
Let us know what kind of range you end up purchasing. We'd love to hear from you!
Editor's Note: This blog was originally written in February of 2018 and has been completely revamped and updated for accuracy as of the publication date noted above.