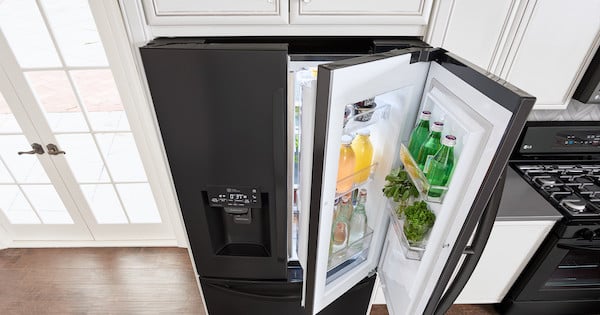 A few years ago, LG was the only appliance brand with door-in-door refrigerators. Today, they're offering new versions of this innovative design, including dual door in door and the InstaView door in door. Other brands like Samsung and GE have started to offer their own styles of door in door refrigerators as well.
After exploring the benefits of the door in door design, we'll be taking a look at the InstaView door in door as well as checking out what other brands have done in this area. One thing's for sure: LG has some competition!
Table of Contents
We use retail pricing in our reviews, but holiday promotions and package deals can save you 20-40% on the MSRP.
What is a Door in Door Refrigerator?
How many times do you find kids or even an adult family member standing in front of the refrigerator with the door wide open rummaging through the entire fresh food compartment looking for one of their favorite items? This can be frustrating for them and extra frustrating for you as you watch the frosty cold air waft out of the fresh food compartment into your kitchen! The door-in-door refrigerator is designed to help you keep your most-used items in easy reach, so you can access them without wasting so much cold air from the refrigerator's interior. (For other great features to look for in a new refrigerator, check out our refrigerator buying guide.)
See the LG Door in Door Model in Action - Watch Our Video!
Luckily, the name is pretty self-explanatory: a door-in-door refrigerator has the righthand door split into two sections: the inner section that we're all familiar with, and an outer section that you can access without opening up the entire fridge. This outer section is usually relatively narrow, so you usually won't be able to fit gallons of milk into it, but it's perfect for bottled water, beverages, yogurt cups, and other snacks. There is usually a divider between the inner and outer shelves to keep cold air from leaking out of the interior.
Although CNet wasn't impressed by the door in door feature in 2016, Consumer Reports has been testing them since 2012 and found that they offer the same performance as non-door-in-door models.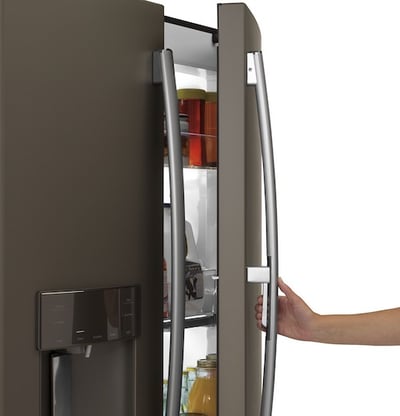 In addition to their original style of door in door refrigerators, LG has come out with the InstaView Door in Door refrigerator. However, they're no longer alone in this section of the market: Samsung and GE have come out with their own versions of the door in door that we'll take a look at below. Whirlpool offered door in door refrigerators when this article was initially written, but as of early 2020 they've backed out of this niche.
The retail pricing can easily be over $4,000 for high end models, but many are priced around $3,299-$3,799. The lowest are about $3,000. Like many appliances, promotional deals and package pricing can knock 20-30% off of the retail price.
Click the links to skip to the review you're interested in:
1. The LG LSXS26366S - Basic Side by Side Door in Door - $1,799 MSRP
A great example of LG's earlier door in door innovation is the 26 cubic foot capacity LG LSXS26366S pricing at $1,799 MSRP. It's built with LG linear compressor technology - this type of compressor has fewer moving parts and is more efficient, so it requires fewer repairs. With extra door bins and shelf space as well as the door in door, you have tons of room in this 36" wide refrigerator!
This model features a basic door in door design with shelves on both sides of the compartment ideal for holding beverages and cans of soda. The ColdSaver panel keeps the interior of the refrigerator cool while you use the door in door section. Some newer options have adjusted the door in door style for more shelf space or have it set up to back the inner door shelving rather than being an entirely separate compartment.
LoDecibel quiet operation keeps this fridge from disturbing the peace. Smart Cooling with Multi-Air Flow Cooling and five temperature sensors ensure that the interior remains at a consistent temperature. If you're looking for a cheap LG door in door refrigerator, this side by side model is a great option since the French door models start at around $3,000 and go up from there.
There is also a smart counter depth InstaView version of this model that offers 22 cubic feet of capacity and prices at around $2,299, model LSXC22396S.
Features:
Door in Door with ColdSaver panel

External ice and water dispenser

Smart Cooling system with linear compressor

SpacePlus Ice System on the inside door frees up shelving

LoDecibel Quiet Operation
Dimensions:
Width: 35.77"

Depth: 36.31"

Height: 70.25"
Click here to read over 300 real customer reviews of this product!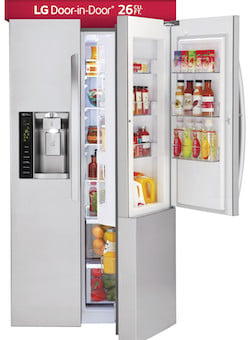 2. The LG LMXC23796S - InstaView French Door in Door - $4,299 MSRP
Next up, let's check out LG's new InstaView door in door refrigerator. This 22.5 cubic foot refrigerator starts at $4,299 MSRP in stainless steel. It also comes in black stainless steel at $4,499 and matte black stainless steel at $4,549 - Learn more about black stainless steel and matte black stainless steel here! The counter-depth design is perfect for getting that premium built-in look. It's also a four door refrigerator design featuring a CustomChill Drawer.
The InstaView design with ColdSaver panel uses a glass panel that is tinted when not in use. Just knock on that panel and it will light up to reveal the contents of the door-in-door section and the main refrigerator section behind it as well. It's a great way to browse your refrigerator without wasting cool air! This model is also equipped with LG SmartThinQ technology, helping you communicate with your refrigerator and troubleshoot problems with your smartphone.
The Slim SpacePlus ice system takes up minimal space while storing three pounds of ice. The Integrated Tall Ice & Water Dispenser looks sleek and offers extra vertical space for filling tall items like water bottles with ease. If you're looking for a premium refrigerator with all of the latest features, this model is a must-see!
Check Out the InstaView Feature!
Features:
Energy Star rated

SmartThinQ Technology

Smart Cooling Plus with Linear Compressor and Dual Evaporators

Counter-depth design

External ice and water dispenser with LED display

CustomChill Drawer lets you chill meats and other items
Dimensions:
Width: 35.75"

Depth: 32.125"

Height: 70.25"
Click here to read over 125 real customer reviews of this product!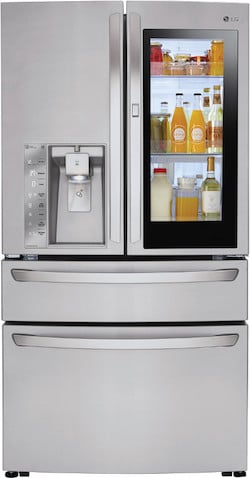 3. The Samsung RF28R7351SG - Dual Door Food ShowCase 4-Door French Door - $3,499 MSRP
Samsung was offering a variety of side by side models with door in door, but they have recently discontinued some of them. So in the meantime we'll focus on one of their most popular door in door options. Hold onto your hat - lots of feature lingo ahead! The full-depth Samsung RF28R7351SG retails at $3,499 and comes in black stainless steel, stainless, or new Tuscan stainless steel.
Samsung's Dual Door Food ShowCase design uses a stainless steel panel called Metal Cooling to help keep the door areas cool. The ShowCase section offers flip-open bins as well as traditional trays so you're not limited to storing small snack packages and condiments.
This wifi connected refrigerator has dual evaporators to keep the fresh and frozen temperatures at consistent temperatures and humidity levels. Inside the fresh food section you'll find adjustable shelving and an AutoFill water pitcher in the door. The FlexZone drawer offers custom temperatures down to a soft freeze. This refrigerator has a ton of great features and is a mammoth 28 cubic feet in capacity!
Explore our reviews of the largest counter depth refrigerators and largest Samsung refrigerators for more great products!
Demo of Samsung Food ShowCase Dual Doors
Features:
Energy Star rated

Food ShowCase door-in-door with Metal Cooling

External ice and water dispenser with LED display

AutoFill water pitcher

Automatic ice maker

FlexZone drawer

Wifi-enabled

Twin Cooling Plus dual evaporators

ADA compliant
Dimensions:
Width: 35.75"

Depth: 28.25"

Height: 69.75"
Click here to read over 45 real customer reviews of this product!
Samsung RF28R7351SG - $3,499 MSRP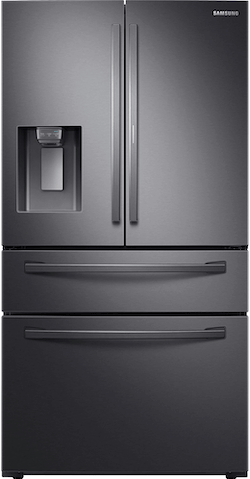 4. The GE GFD28GYNFS - Basic French Door in Door - $3,229 MSRP
While Samsung has released a number of door-in-door refrigerators featuring its Food ShowCase design, GE has been slower to enter this niche market. One of their door in door models is the GE GFD28GYNFS, a 27.7 cubic foot French door model available in four colors. These options include fingerprint resistant stainless steel, black stainless steel, slate, and black slate. (Find out more in our New Appliance Color Reviews!)
GE aimed to make the door in door model more flexible with swing-out bins, space for taller items, and even room for a gallon jug of milk. This door in door offers three larger main compartments for these items rather than the smaller, narrower stacked shelves and bins you'll find in the LG and Samsung models. Check it out in person to see if you prefer this style of door in door refrigerator.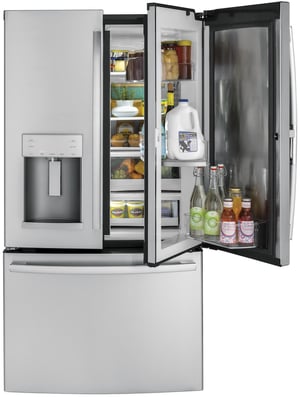 This higher-end model includes dual evaporators for improved cooling performance, advanced water filtration, an external ice and water dispenser, and Showcase LED lighting. It's at the lower end of pricing for door-in-door French door models and comes in four premium finishes to boot!
Features:
Optional second icemaker

TwinChill dual evaporators

Turbo Cool and Turbo Freeze settings

Space-saving icemaker

External ice and water dispenser

External temperature controls with actual temperature display
Dimensions:
Width: 35.75"

Depth: 36.25"

Height: 69.875"
Click here to read over 215 real customer reviews of this product!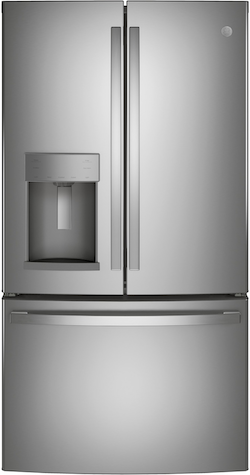 5. The GE Profile PVD28BYNFS - Premium French Door in Door - $3,799 MSRP
Our last door in door refrigerator review is a high end model from GE Profile, model PVD28BYNFS. This model comes in fingerprint resistant stainless steel and has a massive 27.9 cubic foot capacity. In addition to the door in door compartment, there's also a drawer between the fresh and frozen sections that you can adjust to different temperatures for storing beverages, platters, snacks, and more.
The door in door design includes a rotating bin that makes it easier to access tall items like wine bottles. The interior shelving has stainless steel trim and soft-close crisper drawers. An LED light wall across the entire rear wall of the fresh food section provides thorough lighting so you won't lose track of items hidden in the back of the fridge. The external dispenser includes a hands-free AutoFill option: set your glass on the dispenser ledge and it will fill automatically.
This smart refrigerator also includes wifi connectivity so it does things like alert you if you left the door open. This French door refrigerator has a crazy number of premium features!
Features:
TwinChill dual evaporators

External ice and water dispenser with Hands-Free AutoFill

LED light wall

Adjustable temperature drawer with removable liner for easy cleaning

Built-in wifi connectivity
Dimensions:
Width: 36.625"

Depth: 36.75"

Height: 69.875"
GE Profile PVD28BYNFS - $3,799 MSRP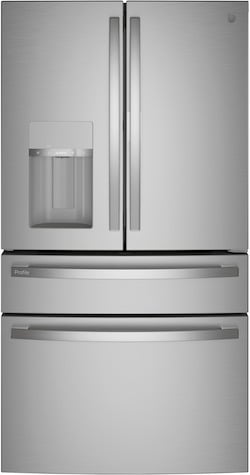 We hope these reviews gave you a broad look at the innovations in door in door refrigerators available today! LG still offers the most options for door in door refrigerators, but other brands are catching up. What do you think about the door in door design? Would you rather have more space for larger items and fewer shelves overall, or plenty of shelves for compact items?
Leave us a comment below - We'd love to hear from you!
Editor's Note: This blog was originally written in November of 2016 and has been completely updated and revamped for accuracy as of the publication date noted above.