A few years ago, LG was the only appliance brand with door-in-door refrigerators. Today, they're offering new versions of this innovative design, including dual door in door and the InstaView door in door. After exploring the benefits of the door in door design, we'll be taking a look at the InstaView door in door as well as checking out what other brands have done in this area. One thing's for sure: LG has some competition!

What is a Door in Door Refrigerator?
How many times do you find kids or even an adult family member standing in front of the refrigerator with the door wide open rummaging through the entire fresh food compartment looking for one of their favorite items? This can be frustrating for them and extra frustrating for you as you watch the frosty cold air waft out of the fresh food compartment into your kitchen! The door-in-door refrigerator is designed to help you keep your most-used items in easy reach, so you can access them without wasting so much cold air from the refrigerator's interior. (For other great features to look for in a new refrigerator, check out our refrigerator buying guide.)
See the LG Door in Door Model in Action - Watch Our Video!
Luckily, the name is pretty self-explanatory: a door-in-door refrigerator has the righthand door split into two sections: the inner section that we're all familiar with, and an outer section that you can access without opening up the entire fridge. This outer section is usually relatively narrow, so you usually won't be able to fit gallons of milk into it, but it's perfect for bottled water, beverages, yogurt cups, and other snacks. Some models include shelving on both sides of this outer section, while others only place shelving on the side backing the interior shelving.
In addition to their original style of door in door refrigerators, LG has come out with the InstaView Door in Door refrigerator. However, they're no longer alone in this section of the market: Samsung, GE, and Whirlpool have come out with their own versions of the door in door that we'll take a look at below.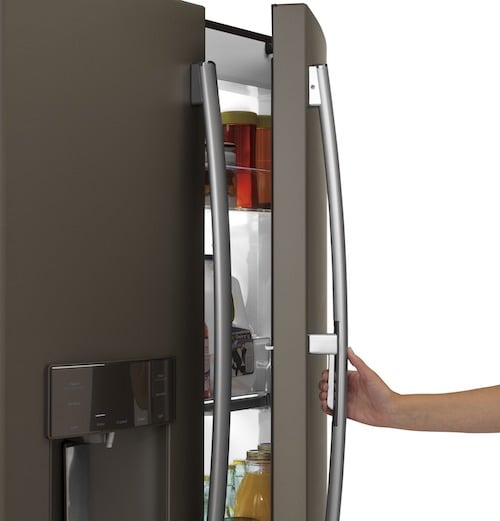 Door in Door Refrigerator Reviews
LG LFXS24663S - Basic Door in Door, French Door Style - $3,099
A great example of LG's earlier door in door innovation is the 24 cubic foot capacity LG LFXS24663S pricing at $3,099. It's built with LG linear compressor technology - this type of compressor has fewer moving parts and is more efficient, so it requires fewer repairs. It also comes with a 10-year limited warranty on the linear compressor! With extra door bins and shelf space as well as the door in door, you have tons of room in this 33" wide refrigerator!
This model features a basic door in door design with shelves on both sides of the compartment ideal for holding beverages and cans of soda. Some newer options have adjusted the door in door style for more shelf space or have it set up to back the inner door shelving rather than being an entirely separate compartment.
Features:
Capacity: 24.4 cu. ft.

Energy Star rated

External ice and water dispenser

Smart Cooling system with linear compressor

Slim SpacePlus Ice System gives you more door storage space
LG LMXC23796S - InstaView Door in Door, French Door style - $4,299
Next up, let's check out LG's new InstaView door in door refrigerator. This 22.5 cubic foot refrigerator starts at $4,299 in stainless steel. It also comes in black stainless steel at $4,499 and matte black stainless steel at $4,549 - Learn more about black stainless steel and matte black stainless steel here! The counter-depth design is perfect for getting that premium built-in look. It's also a four door refrigerator design featuring a CustomChill Drawer.
The InstaView design uses a glass panel that is tinted when not in use. Just knock on that panel and it will light up to reveal the contents of the door-in-door section and the main refrigerator section behind it as well. It's a great way to browse your refrigerator without wasting cool air! This model is also equipped with LG SmartThinQ technology, helping you communicate with your refrigerator and troubleshoot problems with your smartphone.
Features:
Capacity: 22.5 cu. ft.

Energy Star rated

SmartThinQ Technology

Smart Cooling Plus with Linear Compressor and Dual Evaporators

Counter-Depth design

External ice and water dispenser with LED display

CustomChill Drawer lets you chill meats and other items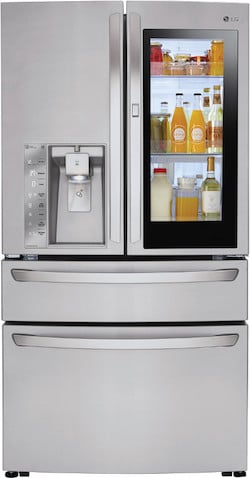 Samsung RH22H9010SR - Dual Door Food ShowCase Side by Side Refrigerator - $2,999
Many door in door refrigerators come in the French door style. Samsung offers door in door French door models as well, but we thought we'd shake things up with one of their side by side door in door models. This 21.5 cubic foot model is available in stainless steel at $2,999 or fingerprint resistant black stainless steel at $3,199.
Samsung's Dual Door Food ShowCase design is incorporated into the righthand door of this side by side refrigerator. The shelving and storage backs the interior of the door, while the outer side is backed with stainless steel paneling using Samsung's Metal Cooling technology to reduce cold air loss. Plus, it's counter-depth for a premium look - Explore our reviews of the largest counter depth refrigerators and largest Samsung refrigerators for more great products!
Features:
Capacity: 21.5 cu. ft.

Energy Star rated

Metal Cooling

External ice and water dispenser with LED display

Counter-Depth design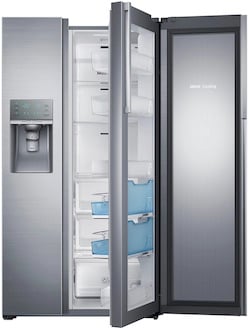 (Before we continue with our overview of door in door refrigerator brands, we'd like to invite you to download our free refrigerator buyer's guide - Click below to download!)

GE GFD28GSLSS - Door in Door French Door Refrigerator - $3,099
While Samsung has released a number of door-in-door refrigerators featuring its Food ShowCase design, GE has been slower to enter this niche market. One of their door in door models is the GFD28GSLSS, a 27.8 cubic foot French door model available in four colors. These options include stainless steel starting at $3,099, GE's proprietary slate and black slate at $3,099 and $3,199 respectively, and black stainless steel at $3,199. Learn about slate and black slate finishes here!
GE aimed to make the door in door model more flexible with swing-out bins, space for taller items, and even room for a gallon jug of milk. This door in door offers three larger main compartments for these items rather than the smaller, narrower stacked shelves and bins you'll find in the LG and Samsung models.
Features:
Capacity: 27.8 cu. ft.

Second icemaker option

TwinChill evaporators

Turbo Cool and Turbo Freeze settings

Space-saving icemaker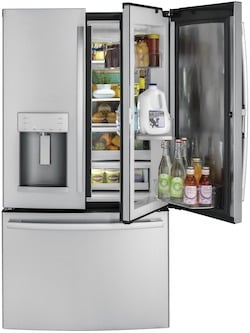 Whirlpool WRF974CIHZ - Door in Door French Door Refrigerator - $3,999
Our last door in door refrigerator review comes from Whirlpool. The Whirlpool WRF974CIHZ is a 23.6 cubic foot French door refrigerator with a door in door design, available for $3,999 in fingerprint resistant stainless steel or $4,099 in black stainless steel. The pantry-inspired layout gives you the ability to store up to 30% more items and plenty of customizable storage options.
Rather than splitting the door storage between the interior and the exterior door, Whirlpool's design basically gives you access to traditional door shelving from the other side. This may not offer as much insulation to the interior fresh food area as other designs with a fully separated door-in-door section, but it's still reducing the cold air loss from opening the door.
Features:
Capacity: 23.6 cu. ft.

Energy Star rated

Cold Space cold air delivery to gallon door bin

Platter Pocket for wide, flat items so they can be tucked away without stacking

In-Door-Ice Storage

Counter-Depth Design

Easy to access touch control panel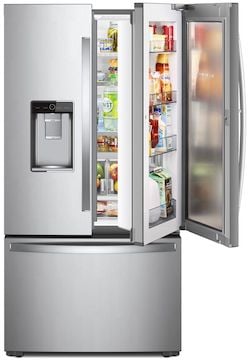 We hope these reviews gave you a broad look at the innovations in door in door refrigerators available today! LG still offers the most options for door in door refrigerators, but other brands are catching up. What do you think about the door in door design? Would you rather have more space for larger items and fewer shelves overall, or plenty of shelves for compact items?
Leave us a comment below - We'd love to hear from you!
Editor's Note: This blog was originally written in November of 2016 and has been completely updated and revamped for accuracy as of the publication date noted above.