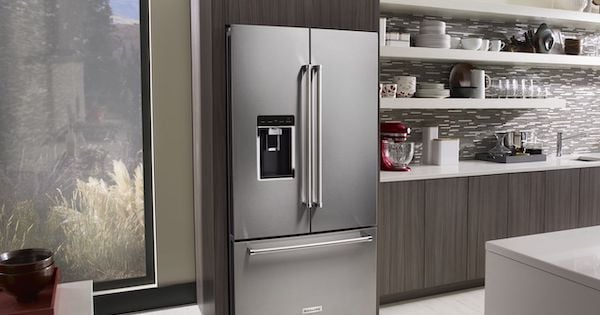 If you are doing research on new refrigerators, you'll be amazed to find all of the advanced new features that are offered in today's models. One of the features worth considering is a dual evaporator. There are many dual evaporator refrigerators available from brands like GE, LG, Samsung and others. We'll talk about the benefits of this technology and who offers it in detail below - and if you need more study material, check out our refrigerator buying guide!
Table of Contents
Why Two Evaporators Are Better than One
The evaporator is a coil located inside of your refrigerator that makes the interior cold. Usually there is a single evaporator located near or inside the freezer section, and fans and vents will disperse that cold air into the fresh and frozen sections. Typically, sensors in the refrigerator adjust how much cold air is coming into the refrigerator vs the freezer.
What's the issue with single evaporators? Well, let's say you've just loaded groceries into the refrigerator section. The temperature sensor in the refrigerator is going to register an increase in temperature and ask for more cold air. This is going to cool down the freezer as well as the fresh foods compartment since the evaporator is located in the freezer, so your ice cream might be extra-hard and other foods might get "over-frozen."
Warmer air holds more humidity, and that's good news for the fresh produce in your crisper bins - but it's bad news for your frozen items in the freezer, which can experience freezer burn if conditions are too damp. Keeping either section from getting too warm or too cold is easier with dual evaporators. Keeping the air from mixing ensures that humidity doesn't transfer to the freezer section, and that the refrigerator section doesn't get too dry.
To summarize, here are the advantages of dual evaporators:
Higher humidity levels in the fresh food section = good for fresh produce

Lower humidity levels in the frozen section = good for preventing freezer burn

Pungent smells like onion or fish won't travel between sections
Dual evaporator refrigerators are good news for keeping your food fresh for longer! They offer a lot of the benefits of a dual compressor refrigerator (with two fully separate cooling systems) but at a much lower cost.
Who Makes Dual Evaporator Refrigerators?
Some manufacturers are straightforward about calling a dual evaporator what it is - a dual evaporator! We appreciate LG and Samsung in particular for being specific about that. Other brands use less obvious terms, so we included the names of the dual evaporator systems along with the brands that make them:
Bosch - Dual AirCool system; all built-in Benchmark refrigeration feature dual evaporators and dual compressors, as well as new Fresh by Design line

Frigidaire - TwinTech

GE - TwinChill Evaporators

KitchenAid - Preserva Food Care System features a dual evaporator and compressor system

LG - Smart Cooling Plus technology includes this feature, which is on many LG French door models

Samsung - Twin Cooling, Twin Cooling Plus, Triple Cooling

Whirlpool - Dual Cooling
Dual compressors are a premium feature incorporating dual evaporators that is usually limited to ultra-premium brands like Thermador and Sub Zero, as well as in built-in refrigerators. You're more likely to find dual evaporators and other nice features on French door refrigerators in general.
Bosch's new Fresh by Design refrigeration line released in 2019 brings dual compressor refrigerators to the mainstream market, so this technology is becoming more accessible! These models start at around $3,099 and are even available in Bosch's black stainless steel.
We hope you enjoyed this brief discussion of dual evaporator refrigerators. If you're not sure what refrigerators come with what features, head over to your local appliance store and ask one of their knowledgeable salespeople!
Editor's Note: This blog was originally written in October of 2017 and has been completely revamped and updated for accuracy as of the publication date noted above.