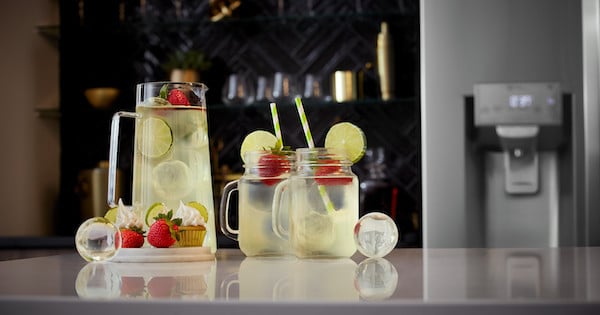 First, there was craft beer. Then, craft cocktails. Now, there's craft ice: the craze that's sweeping the nation! Or, well, it's sweeping fans of craft drinks, anyway.
Have you spent longer than you'd like to admit watching YouTube videos on how to make clear ice spheres? Do you like the idea of impressing your guests with the perfect sphere ice plopped into a glass of fine bourbon or a mojito? Or maybe you like to entertain and want an effortless way to impress your guests? Somehow, LG knew what you were thinking, and they created a refrigerator that can automatically make fancy ice for you.
Clear, spherical ice is ideal for serving your favorite liquors and mixed drinks because...
Spheres have less surface area than cubes, so sphere ice will melt more slowly

Clear ice is free of the trapped air that normally makes ice cloudy - again, this means slower melting times

It looks fancy
If you're DIYing this, your main option is to use an ice ball mold, or an ice ball press for the extra-premium touch. But if you happen to be in the market for a new premium refrigerator, LG's smart models with the craft ice feature might be a match made in heaven!
Watch our quick video on the LG craft ice refrigerator's features!
As of this writing, LG offers two models with craft ice: the LG LRFVS3006S full-depth model and LG LRFVC2406S counter-depth model, both available in stainless steel and premium black stainless steel. Both models are wifi-enabled and are priced starting at $3,999 - but during promotional periods they're closer to $3,000!
These refrigerators produce about three 2" diameter ice balls every 18-30 hours during normal operation. The first batch after you install your refrigerator will take longer, around 24-48 hours. The first 2-3 batches may look a little funky - they may be indented on either end or have some cloudiness. This will clear up after a few days and soon you'll have perfect ice! You'll probably be able to hear the ice balls clunk down into the ice tray and it might sound a bit different from what you're used to since they're larger and shaped differently than normal ice cubes.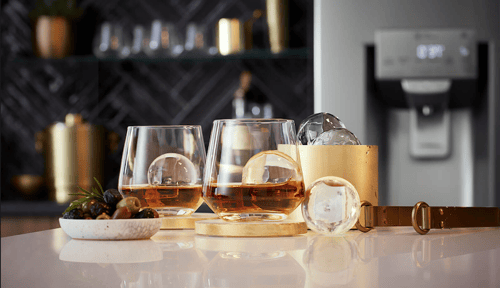 Here are some of the features you'll find in these refrigerators in addition to craft ice:
The InstaView Door in Door design. Door in door refrigerators save energy by creating an insulated section in the door for your favorite snacks and drinks that you can access without losing cold air from the fresh food section. With InstaView, you can knock on the tinted panel and it will turn transparent so you can see what's inside without opening the door.

Tall Ice & Water Dispenser with measured fill. In addition to the craft ice in the freezer section, you can get fresh cold water and ice through the door. The tall dispenser design gives you plenty of room to fill big water bottles and more, and the Measured Fill option will dispense 4, 8, 16, or 32 ounces of water.

CoolGuard stainless steel panel and three cooling technologies. The stainless steel panel at the back of the fresh food section (check it out in our video above) plus three cooling technologies (Smart Cooling, Linear Cooling, and Door Cooling+) help maintain exact temperatures throughout the interior.

Smart ThinQ technology. Get a notification on your smartphone if the door is left open, or use your phone to tell your refrigerator to start making more ice in preparation for a sports practice or a party. You can also monitor energy usage and how many times the door is opened each day. Use the Smart Grid feature so your fridge will use less energy during peak usage times, saving you money!
Overall, you're getting a ton of bang for your buck! Plus, the counter depth model has above average capacity at 23.5 cubic feet, while most counter depth French doors are 21-22 cubic feet. If you're looking for a smart refrigerator in the $3,000-$4,000 price range, you should definitely take a look at the LG craft ice refrigerators.
What do you think? Will this feature take your home bar to the next level? Leave us a comment below - We'd love to hear from you!