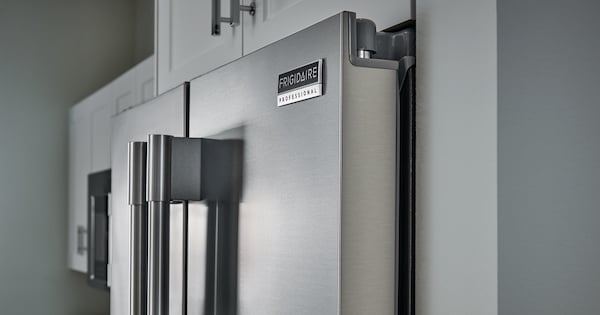 When you are researching a new refrigerator, the choice between counter depth and full depth can be an important one. This is especially true if you have a kitchen with a built in cabinet opening for your refrigerator that is finished on one or both sides and has a cabinet above it. When you are looking at refrigerators, you'll want to be sure to notice the difference between counter depth and full depth models.
Basically, counter depth models have a 24" deep case and are designed so that only the doors stick out beyond standard cabinetry and countertop depths. (Before we continue: check out our refrigerator buying guide for more info on choosing a new refrigerator!)
These are very popular in French door and Side by Side models and to a lesser extent single door bottom freezer models. The main drawback is that you will sacrifice capacity versus a full depth refrigerator of equal width and height. A full depth refrigerator installed in a counter depth opening will be less attractive but will provide more overall cubic footage versus a comparable model with the same height and width that is counter depth.
Pictured below: On the left, a full depth refrigerator in a space designed for counter depth. On the right, a counter depth refrigerator in a space designed for counter depth. The difference is clear!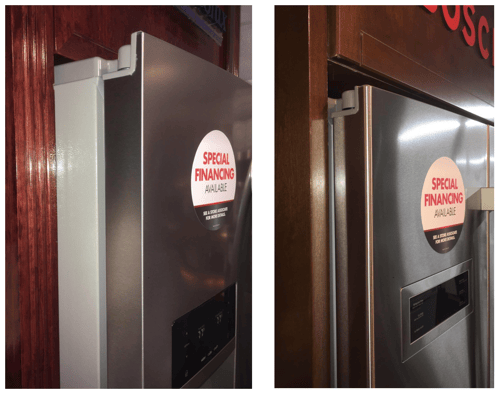 Standard counter depths are 25 inches, but yours may not follow this rule - check to make sure, especially if you have an older home! And double-check the dimensions of any refrigerator you are interested in to make sure that it will fit in the space you have for it. Some refrigerators may have thicker doors that protrude more than others, and if you have cupboards built above the refrigerator cavity, height is another important factor. If you want a panel ready refrigerator, the depth of the custom panels can also impact how much the refrigerator juts out from the cabinetry.
Counter depth refrigerators offer a more seamless look than a full-depth model, but you'll need a wider model to achieve the same capacity as a full depth refrigerator. However, that can mean more space for bulky items like big holiday platters or cold cut trays. The advantages of counter depth models are almost completely about the aesthetic appeal. The tradeoffs are in capacity and pricing: counter depth models are typically at least $1,300, and you won't find one for under $1,000.
Some brands have taken it a step further with integrated refrigerators: these models are designed so that the doors are flush with the surrounding cabinetry rather than sticking out slightly. These models are especially ideal for installing custom panels as a result. They are a less expensive alternative to built in models and are mainly available from non-US brands as of this writing, such as Bosch, Fisher & Paykel, and Electrolux. Check out our article on built in refrigerators to learn more about integrated refrigerator designs!
Have more questions about counter depth models? Please leave us a comment below. We'd love to hear from you!
Editor's Note: This blog was originally written in October of 2017 and has been completely revamped and updated for accuracy as of the publication date noted above.