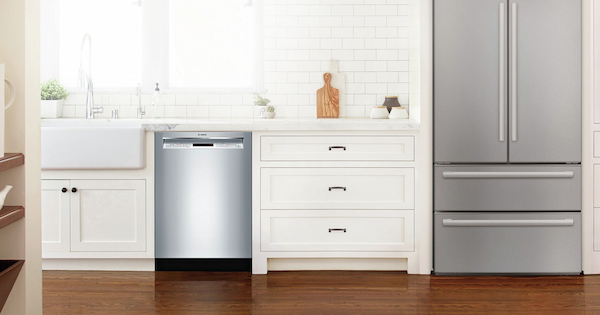 If you're looking for a dishwasher, you might be wondering how much you really need to spend to get the most useful new features. Lots of things have changed over the past 5-10 years - dishwasher interiors have gotten more spacious, for one thing. In this post, I'll show you a few of the dishwashers that I think offer the best bonus features at a low price. And remember that holiday sales can shave up to 30% off the retail price of an appliance, too!
To be clear, there are dishwashers cheaper than the ones I'm going to recommend. However, the ultra-cheap models tend to suffer from noisy operation, worse cleaning performance, and so on. They also usually have cheap plastic tubs that can crack or stain over time.
Great Features Available on Entry Level Dishwashers
Here are some features to consider for entry-level dishwashers from various brands.
Stainless steel tubs - Please, get a stainless steel interior tub. They are quieter, are more durable, and offer better drying performance than plastic tubs. Some budget dishwashers have partial stainless steel tubs - Bosch is pretty much the best option, with stainless steel walls and door liner combined with a plastic base. Samsung offers models with a stainless steel interior door but plastic walls, which to me isn't quite enough.

Hidden top controls or even stylish front controls are an option from many different brands.

Height-adjustable upper racks are pretty common in the $500+ range and can help you fit bulky items in either the upper or lower rack. Less hand washing is always a good thing in my book!

Third level racks - At their most basic, third racks are shallow trays for placing things like spatulas, serving utensils, and extra silverware. Most if not all of them are removable if you need the space for tall items in the second rack.

Sanitize cycles have mild to moderate utility, in my opinion, and have become relatively common. I use the Auto/Sensor cycle with my dishwasher and rarely have cause to use any other cycle, so I won't emphasize cycles in my top picks. If you need a specialty cycle like China/Glassware, they're not hard to find.

Quiet operation

under 50 decibels

is relatively easy to find in the ~$600 range. Once you get under $500, the options can be quite noisy.
I recommend paying attention to stainless steel tubs at the bare minimum. Quiet operation is also a nice quality-of-life perk. Everything else is up to you!
My Top Picks for the Cheapest Dishwashers with the Best Features
The absolute cheapest dishwasher I'd recommend that will still perform well: Bosch's $499 entry-level models like the Bosch SHE3AR76UC in black (it also comes in white at $499, and stainless steel at $599). These models have mostly stainless steel tubs (the floor/tub base is plastic) and relatively quiet 50-decibel operation.
Bosch gets consistently good marks from third-party review organizations like Consumer Reports for cleaning performance.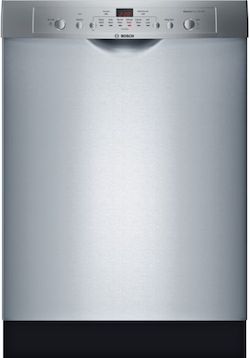 One of the cheapest Whirlpool dishwashers with good reviews is the Whirlpool WDF550SAHS, a front control model in stainless steel with a stainless steel tub. It also operates at a quiet 51 decibels and is ADA compliant. It retails at $899. There's also the Whirlpool WDT730PAHZ, which retails at $749 and has hidden top controls.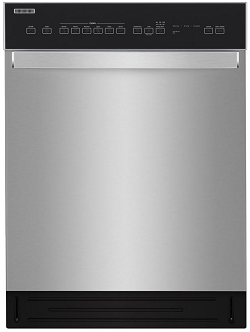 If you want a dishwasher that looks more expensive on the outside than it really is, check out Frigidaire. Frigidaire generally offers the cheapest dishwashers with hidden top controls and fingerprint resistant stainless steel exteriors. Check out the Frigidaire FFID2426TS at around $599 retail. However, this model has a plastic interior tub, and at 54 decibels, it's going to be a bit noisy.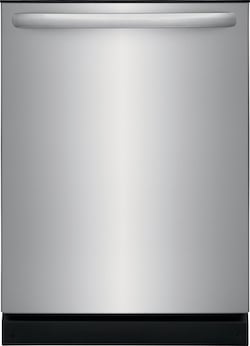 Other options:
If you prefer front controls but don't like plastic buttons, there are some great models today with seamless touch controls, like the LG LDFN3432T. Maytag dishwashers are another great option.

Many brands offer bonus drying features now that many dishwashers don't come with heated dry (which costs you $$ and doesn't necessarily perform better than other methods). Plastics are particularly resistant to drying in general (the plastic cools down more slowly than metal or glass, so water tends to pool instead of condensing off of the items). These "extra dry" features come with a tradeoff: cycle times will be longer

For example, GE Dry Boost claims to work 3X better than heated dry alone, and they offer this feature on their $500-$700 dishwashers and plastic tub models, so that could be worth considering.

The quietest and cheapest dishwashers currently available come from Bosch at 44 decibels (library-quiet!). Check out the Bosch SHEM63W56N at $849 retail in black or white. The stainless steel model is $899.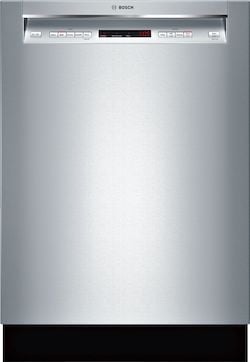 Thanks for reading! I hope this post helped you find a few great options for a cheap dishwasher. Check out our reviews of the best dishwashers of the year for more choices.
Editor's Note: This blog was originally written in May of 2021 and has been completely revamped and updated for accuracy as of the publication date noted above.