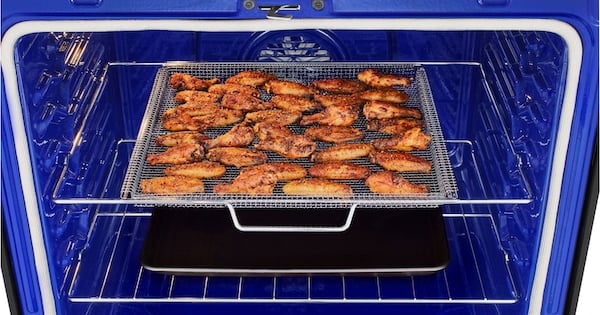 Frigidaire was the first to the market with gas and electric ranges with Air Fry in late 2019, but as of mid-2020, other brands are catching up. We wrote extensively about Frigidaire air fry here, but if you want to compare your options across multiple brands, you're in the right place!
Air frying is basically convection + powerful heat. It's how those countertop air fryers work, and it's how these air fry ovens work, too. The heat and air movement quickly cooks your food while also drying out the surface to make it crispy without requiring deep frying. Many brands are now offering air fry in their ovens. If you want this feature, you now have four different brands to choose from.
Jump To:
How Air Fry Ovens Work
There's no actual "frying" happening with air fry - but the results are pretty similar to frying while using less oil. By whipping up convection currents and moving hot air around your food, your food cooks quickly, and a dehydrated crispy crust forms on the outside.
Compared to a countertop air fryer, air fry ovens need to work harder to evenly heat a larger space - and cook more food at once. These ovens usually skip preheating, pumping out heat, and running a convection fan on the oven's back wall. Your food will cook faster than the regular bake setting.
Although several brands are offering their own "air fry trays" to go along with these ovens, a special tray isn't necessary to get great results. The ideal air fry setup is:
A wire basket for the food so hot air can circulate around all sides of the food (or a rimless metal baking sheet)

A baking sheet on the rack underneath the basket to catch drips and spills

You can also place parchment paper on the lower baking sheet to trap oil and prevent it from smoking

You may need to run your range hood while cooking to remove any smoky odors
This feature works best with the food placed on a single rack. It's a good idea to reference your range's owner's manual for suggested cooking times and temperatures. You can also place the food on a solid baking sheet if you don't have a wire basket or sheet. Try to use a flat baking sheet rather than a rimmed baking sheet to ensure the best air circulation.
GE Appliances
GE is offering a wide variety of models with Air Fry in their GE and GE Profile lines. You can also find wall ovens with Air Fry in their Profile and Cafe lines. GE has the most color options out of any brands: black, white, stainless steel, black stainless steel, and their unique slate and black slate colors.
Fuel: Gas, electric

Styles: Freestanding/rear control, slide-in/front control, and wall ovens

Price Range: $909-$2,799
Slide-ins start at $2,009. As of this writing, they are not offering a separate air fry tray. GE makes the point that their air fry doesn't require a special tray - which is technically true for all air fry ovens.
LG
Most of LG's ranges now offer Air Fry, including freestanding rear control ranges and slide-ins in both PrintProof stainless steel and black stainless. Many of their ranges now come with wifi connectivity as well!
Fuel: Gas, electric

Styles: Freestanding/rear control, slide-in/front control

Price Range: $899-$2,399
They sell an air fry tray separately for about $60. Higher-end ranges come with the InstaView oven door - just knock on the glass to turn on the oven light!
Samsung
Samsung is offering a good number of options in slide-in and rear control styles in stainless steel, black stainless, and their own Tuscan stainless steel. Most of the options are slide-in ranges and all are wifi-connected.
Fuel: Gas, electric

Styles: Freestanding/rear control, slide-in/front control

Price Range: $899-$3,000+
Samsung stands out by including the air fry tray with their ranges! Slide-in models start at $1,699.
Frigidaire
Frigidaire offers several different Air Fry models in their Gallery and Professional lines. They are also offering Gallery single and double wall ovens with this feature.
Fuel: Gas, electric

Styles: Freestanding/rear control, slide-in/front control, and wall ovens

Price Range: $1,149-$1,999
The ReadyCook air fry tray is sold separately for about $50. It is included with the slide-in Frigidaire Professional models.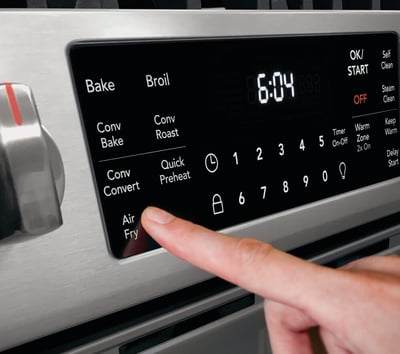 Brand Comparison
Most Options: GE Appliances has the most models available in the most colors. They should likely be your go-to if you are on a budget or need a black or white freestanding or slide-in range.

Cheapest Options: LG, GE, and Samsung all have freestanding ranges starting at around $899. Samsung offers the cheapest slide-in option at $1,699.

Wall Ovens: Frigidaire and GE offer air fry wall ovens.

Air Fry Tray: Samsung includes an air fry tray, while Frigidaire includes it with their Frigidaire Professional models. GE does not have an air fry tray as of this writing. LG and Frigidaire sell air fry trays separately for about $50-60, although the trays are not necessary to get good performance from this feature.
At this time, we aren't seeing any induction ranges with Air Fry. Samsung offers mostly slide-ins with this feature, while GE is more evenly split between slide-ins and freestanding styles.
We hope this overview helps you decide which brand you want to explore further for your next range!
Editor's Note: This blog was originally written in October of 2020 and has been completely revamped and updated for accuracy as of the publication date noted above.