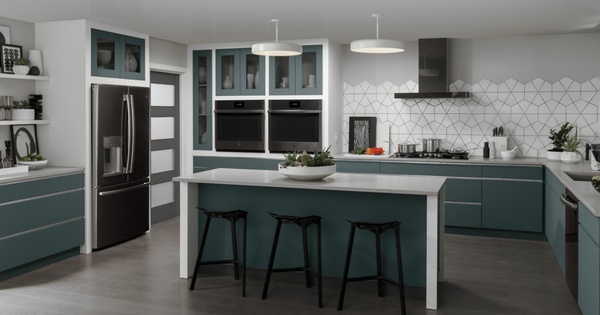 Appliance manufacturers are jumping into the black stainless steel appliance trend with both feet. GE announced in 2018 that it would offer a wide array of black stainless steel appliances in both their everyday GE Appliance brand as well as their upscale GE Profile brand. In 2019, they fulfilled that promise! Black stainless steel appliances are also currently offered by LG, Samsung, KitchenAid, Frigidaire, Whirlpool and Bosch. Black stainless is by far the biggest trend the appliance industry has seen since the stainless steel trend began about 17 years ago.

When purchasing black stainless steel appliances, you should generally purchase all the appliances from the same manufacturer if you want an exact match. They are all sharp looking and fingerprint resistant but the finishes and hardware differ by brand. In this article, we'll take a close look at GE black stainless products, specifically their Profile line, to help you decide if they are right for you should you decide on black stainless.
Recommended Article: Black Stainless Steel Pros & Cons
Here's a quick video comparison of black stainless steel from several brands, including GE. Check it out!
CLICK HERE FOR ALL GE BLACK STAINLESS MODELS
As you can see, the new GE Profile black stainless line features a shiny "smoky" stainless steel finish with a matching handle. The GE brand badge has also been altered slightly to blend in more with the rest of the appliance (see picture below). Some manufacturers like KitchenAid offer black stainless steel with a traditional stainless steel handle for contrast. This is a matter of preference. For those interested in connected or smart appliances, you'll also be excited to know that Profile is GE's primary connected line so you'll be able to use cool features like Alexa integration in the new black stainless steel models.
This new appliance color looks great against white or light gray cabinets, which is the dominant trend in kitchen design at the moment. Black stainless steel is also better at hiding fingerprints than regular stainless steel by nature. The only downside to black stainless is that it is still a relatively untested color. It is possible that the color could be discontinued in a few years, leaving consumers seeking single replacement products out of luck. This seems less and less likely now as more brands are showing overwhelming support for black stainless steel.
Pictured below: A closeup of a GE black stainless steel refrigerator's matching brand badge.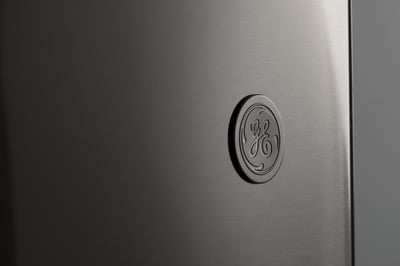 If you aren't sure about black stainless steel, GE offers more great colors you can explore:
Appliances GE offers in black stainless include...
French door refrigerators (few manufacturers offer top or bottom freezer models in black stainless)

Dishwashers

Ranges, including double oven and slide in models in gas and electric

Single and double wall ovens (30")

Wall mount chimney range hood in 30" width

Countertop and over the range microwaves

The GE Kitchen Hub (click the link to read more about this cool tech!)
Click here to explore all GE black stainless steel products!
GE black stainless steel appliances create a whole new look for the kitchen that is soft, elegant and different. They are exceptionally beautiful products and a great alternative to regular stainless or black appliances. Once you see them you will probably fall in love with the look! Black stainless steel has a long way to go to catch up with the popularity of traditional stainless steel, but it is on its way as more products are being introduced in the color and more customers are seeing it on display in stores and in friends' and family member's homes. There is no way to be sure, but my opinion is that black stainless steel is here to stay.
They are really a game changing item in the appliance industry. Even if you are not ready to buy yet, you might want to see them in person and experience the look.
We hope you enjoyed reading about the new GE black stainless steel line. We encourage you to write a comment below. We value your input!
Editor's Note: This blog was originally written in January of 2018 and has been completely revamped and updated for accuracy as of the publication date noted above.