Mini fridges are useful little appliances for rec rooms, dorms, offices, and more. A mini fridge is typically from 1.7 to 4.5 cubic feet and can be found in all refrigerator styles or as refrigerators with small freezer sections. We'll cover fridges at a range of sizes and price points to help you find the perfect option for your needs.
Before we dig into the best mini fridge models of 2023, here are a few things to keep in mind:
If you're buying a mini fridge for college dorm living, note that your college housing office may have rules about the size of the refrigerator and other factors like energy efficiency (lucky for you, most of the models on our list are Energy Star rated).

Any model that is not specified for built in installation needs clearance around all sides and the rear for ventilation - or you'll end up needing a replacement pretty quickly!

Any model that is not specified for outdoor installation should be installed indoors in a temperature-controlled area. "Outdoor installation" includes garages, porches, and so on.

Generally, mini fridge freezers just won't perform as well as freezers in full-size models. They are also usually manual defrost rather than frost free, so you'll have to clear out the refrigerator and defrost it around once a year.
We've chosen models from Danby, GE Appliances, and Summit that are reliable and highly rated by our customers. Let's take a closer look! Looking for a beverage center? Check out our best beverage cooler reviews!
NOTE: As of January 2023, our recommendations remain unchanged since the last time this post was updated in February 2022.
Table of Contents
Models marked with * have a freezer section.
1. Danby DAR044A6DDB - 4.4 cu ft - $439
Danby has been around since 1947 and specializes in compact and apartment-size refrigerators and freezers. This 4.4 cubic feet capacity all refrigerator comes in black with stainless steel look and is Energy Star rated with eco-friendly R600a refrigerant. The Danby DAR044A6DDB has automatic defrost, a mechanical thermostat, and an interior light.
The interior has two and a half tempered glass shelves plus a vegetable crisper with glass top. The door storage includes a CanStor beverage dispenser, one full-width plastic shelf with room for tall bottle storage, and two half-width plastic shelves. The door is reversible.
Danby covers this model with a 12-month warranty on parts and labor. If you're looking for a nicely styled mini fridge without a freezer that has great storage options at a low price, check out this Danby model! It's one of our top sellers!
Dimensions:
Height: 33.07"

Width: 20.75"

Depth: 21.30"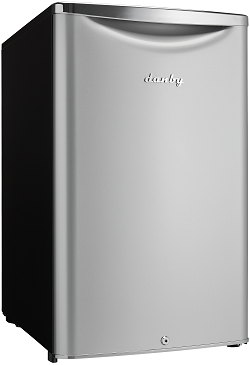 2. GE GDE03GLKLB - 3.1 cu ft - $408
Looking for a refrigerator with a freezer? The GE GDE03GLKLB is a 3.1 cubic feet double door mini fridge that is Energy Star rated and ADA compliant. It's available in black, or a faux stainless steel look called CleanSteel.
The 0.93 cubic foot freezer section features an open interior space with an ice tray compartment plus a door shelf. The refrigerator section has a clear vegetable crisper drawer plus two glass shelves and interior lighting. The refrigerator door offers can storage and two half-width fixed shelves. The refrigerator section is frost-free, while the freezer is manual defrost.
Customers find this model to be quiet and effective. It's a little narrower and shallower than the Danby model above. If you're looking for the best mini fridge with a freezer for under $450, GE is a stellar option to consider! It's also a good option for college dorms if you want to be able to keep a pint of ice cream or a couple of microwaveable frozen meals on hand.
Dimensions:
Height: 33.38"

Width: 18.75"

Depth: 20.13"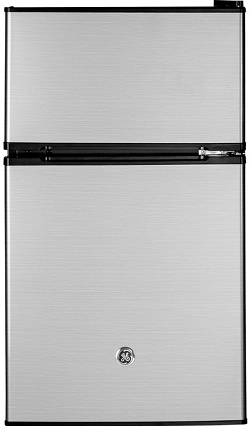 3. Danby DAR026A1WDD - 2.6 cu ft - $319
Need something smaller? This 2.6 cubic feet all refrigerator model from Danby fits the bill and can easily fit just about anywhere. The Danby DAR026A1WDD is Energy Star rated and comes with Danby's CanStor beverage dispenser and door storage for tall bottles. The top is scratch-resistant, so you can use it for storage. The door swing is reversible, and the integrated door handle keeps this model super compact. It has mechanical dial controls and automatic defrost.
Danby covers this model with an 18-month warranty on all parts and labor, too! It's a great deal for just $319 in white or black (model DAR026A1BDD).
Dimensions:
Height: 27"

Width: 17.7"

Depth: 20.1"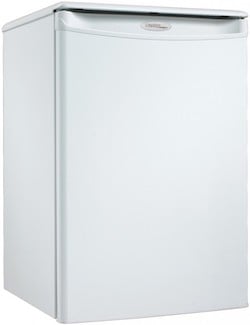 4. GE GCE06GSHSB - 5.6 cu ft - $608
If you want a built-in capable mini fridge, GE has another winner for our list with the GE GCE06GSHSB, a 5.6 cubic feet model retailing at around $608 in stainless steel. It's available in black or white as well for about $588 and is ADA compliant as well as Energy Star rated.
This model features a tiny 0.49 cubic foot freezer shelf with room for two mini ice trays and a defrost tray for manual defrosting. The refrigerator includes two adjustable glass shelves and a transparent crisper. The door has one full width shelf for short items, two half width shelves including tall item storage, and a can storage section.
If you're looking for a cheap undercounter refrigerator or a nicer-looking freestanding mini fridge with a freezer, this model might be the perfect choice for your needs! Its compact size makes it a good choice for dorms as well.
Click here to read over 90 real customer reviews of this product!
Dimensions:
Height: 34.13"

Width: 23.63"

Depth: 23.75"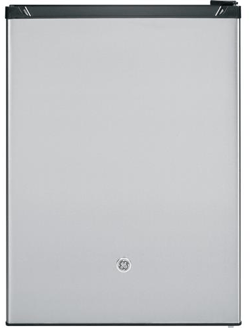 5. Summit AL54 - 4.8 cu ft - $1,475
Looking for a premium mini fridge? Summit is a refrigeration expert offering compact appliances for commercial or home use, many of which are ADA compliant. The Summit AL54 line is available in several configurations, including a stainless steel model with a full-length professional-styled handle and a panel ready model.
This model is commercially listed to NSF-7 standards and its 32" height allows it to be installed under lower ADA compliant counters. This frost-free refrigerator uses fan-forced cooling for even temperatures throughout the interior. It is built-in capable with a reversible door, sealed back, and a right angle plug, so you can plug the unit in flush against the wall socket.
The black interior includes a slotted bottom for holding bottles and three adjustable glass shelves plus two fixed full-width door shelves. The digital thermostat with electronic temperature controls allows for precise temperature management from 36 to 43 degrees. The warranty covers 1 year parts and labor and 5 years on the compressor.
If you're looking for a premium mini fridge or the best mini fridge for beer that's sure to impress your friends, Summit may offer the best bang for your buck with this reliable and nicely featured model!
Dimensions:
Height: 32"

Width: 23.63"

Depth without handle: 22.63"

Depth with handle: 24.63"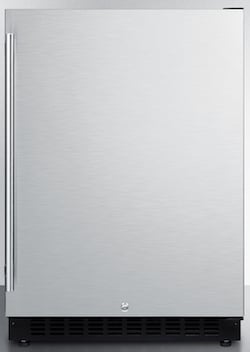 That sums up our review of the best mini fridge models of 2023! Each of the models has different strengths. Check out Danby and GE for basic to mid-range mini fridges, and consider Summit or other specialty brands like Marvel refrigerators if you want a higher-end built-in model. Other brands to look for include Frigidaire and Avanti, but Danby and GE in particular have a range of highly rated models.
What are you looking for in a mini fridge? Do you have any brands you think offer particularly good models? Which contender do you think is the best mini fridge of 2023? Leave us a comment below - We'd love to hear from you!
Editor's Note: This blog was originally written in May of 2019 and has been completely revamped and updated for accuracy as of the publication date noted above.