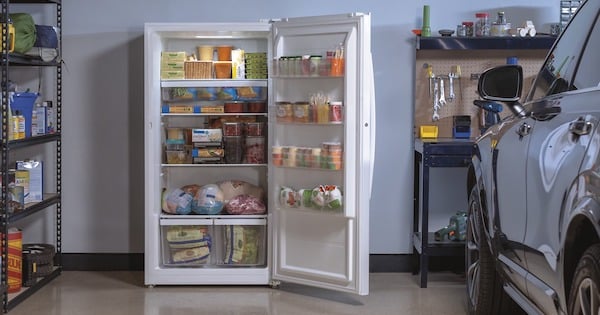 If you are shopping for a new refrigerator, you may be wondering what a frost free refrigerator is. "Frost free" is a term that has been used in the refrigerator industry for decades. Terms like "automatic defrost," "frostless," or "no-frost" all refer to the same technology. Many older style refrigerators and some modern mini refrigerators and freezer-only units require manual defrost.
Frost buildup on the coils in the freezer can impair the unit's ability to keep things cool. It can prevent the door from sealing properly and give your frozen foods an unpleasant "freezer" flavor. Manual defrost freezers need to be cleaned out 1-2 times a year and allowed to sit for 2-3 hours so the frost can melt. This is not a chore that everyone enjoys... or will actually do!
How Do Frost Free Freezers & Refrigerators Work?
Frost free refrigerators and freezers have a heating element to defrost the evaporator coils, and a tray of some sort to collect the water and allow it to evaporate to the outside. The water usually collects into a drain pan and will evaporate on its own. This ingenious system eliminates the need for the manual defrost process. Usually, the defrost cycle runs on a built-in timer and operates a few times a day.
Most refrigerators designed to go in your kitchen are frost free by default. It is worth double checking when you are shopping to ensure that the unit is frost free, but the vast majority are. This is a great feature for saving you time and effort!
There are a few types of refrigerators and freezers that remain on the market that may be manual defrost, such as:
Mini fridges made for dorms and offices - usually below 10 cubic feet

Some smaller apartment refrigerators - usually in the 10 to 14 cubic foot range

Many chest freezers and some upright freezer units
...So keep in mind the auto vs manual defrost issue if you are shopping for these units.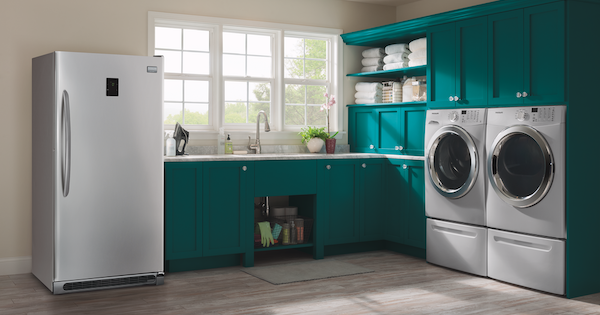 Frost Free vs Manual Defrost
The main cons of frost free defrost are:
Uses more energy than manual defrosting - a frost free chest freezer will use up to twice as much electricity each year compared to a manual defrost model.

Noisier operation since the freezer has to work harder to cool the interior after the defrost cycle.

Sources are mixed on whether automatic defrosting helps prevent freezer burn or encourages it - some argue that the temperature fluctuations caused by the defrost cycle throughout the day can cause freezer burn.
Is freezer burn a real concern? It's not certain. The temperature changes in the interior of the freezer are very small, only a few degrees. The evaporator coils may be heated up from 0 degrees to 32 degrees during the auto defrost process, but that doesn't mean the freezer storage area is being heated that much. As long as your food is wrapped properly and used up in a timely manner, you should be fine.
The energy usage issue is more of a concern with chest or upright freezers than with refrigerators. A freezer in the 14 cubic foot range might cost about $50-55/year to operate if it has automatic defrost and closer to $30-35/year if it's manual defrost.
Manual defrost freezers have a few advantages, including:
They use up to 40% less energy than self defrost freezer models.

They are typically slightly cheaper than frost free models.
If you don't mind the once-a-year chore, they can be a great choice. For added convenience, look for a model with a front drain so it's easier to connect a hose to drain water during defrosting.
Every time you open your freezer, you're adding moisture from the outside into the freezer compartment that can turn into frost. If you open your freezer often, a frost free model would be a better choice to manage this frost buildup. If you want to deep freeze food for long term storage, a manual defrost deep freezer could work well for your needs.
We hope you enjoyed this brief discussion of frost free freezers vs manual defrost. This should help you decide if a frost free refrigerator is right for you. Please leave a comment below. We'd love to hear from you!
Editor's Note: This blog was originally written in November of 2017 and has been completely revamped and updated for accuracy as of the publication date noted above.