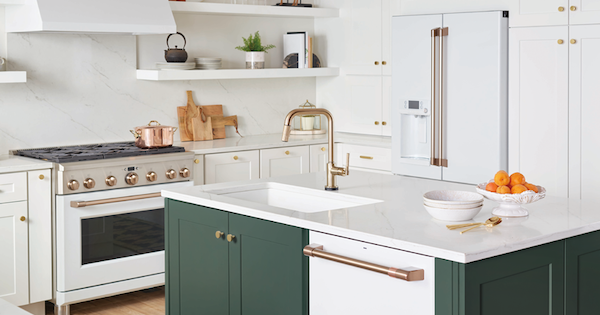 GE took a bold step in 2018: not only did they begin offering new appliance colors, they also offered consumers the ability to customize appliance hardware. Instead of matching your kitchen to your appliances, you can match your appliances to your kitchen! In this article, we'll explore new GE Café colors and these custom options, as well as the new Modern Glass collection, and how they can impact your kitchen redesign.
What exactly is GE offering to consumers? You might know about GE's "umbrella" of different brands like GE Profile. These new colors and customizable handles fall under GE's rebranded line of GE Café appliances. The GE Café line is restaurant-inspired, offering powerful appliances with premium features. One thing that GE has taken into consideration when approaching the mass market for premium appliances is customizability, an option that is usually reserved for custom built-in appliances. GE made this new collection available in August 2018.
We've now expanded this article to discuss the new Modern Glass Collection (released in 2019) as well! Click the links below to skip to the section you're interested in:
The Matte Collection and Stainless Steel Collection - With Custom Hardware!
You might be familiar with what traditional black or white appliances look like - we've all felt the pebbly plastic "elephant skin" texture of an older white or black refrigerator. That's not what the GE Café Mattes are about! These smooth metal finishes are indisputably high-end.
What makes these Cafe models stand out? The hardware. GE lets you customize the handles and knobs of the Cafe appliances in four different shades to suit different kitchen aesthetics! This used to be an option only available for ultra-premium appliances: the ability to choose the hardware such as knobs and handles. Each GE Café appliance features a copper cuff on the bar handle, inspired by high-end cookware, but you can choose from several colors of brushed stainless steel-based, fingerprint-resistant hardware. These colors include:
Brushed Copper: Looks especially vibrant with GE matte white appliances but can add gorgeous contrast to GE matte black appliances as well!

Brushed Bronze: A warm metal that pairs well with spruce green cabinets and more.

Brushed Black: For a monochromatic, industrial-inspired modern look.

Brushed Stainless: A clean choice that goes with just about anything.
The trim piece with the Cafe branding on it is copper no matter what handle color you choose.
As of late 2020, Cafe also offers matching side panels for select refrigerators, so if your refrigerator has one or more sides exposed, you can have side panels installed that match the color and finish of the doors.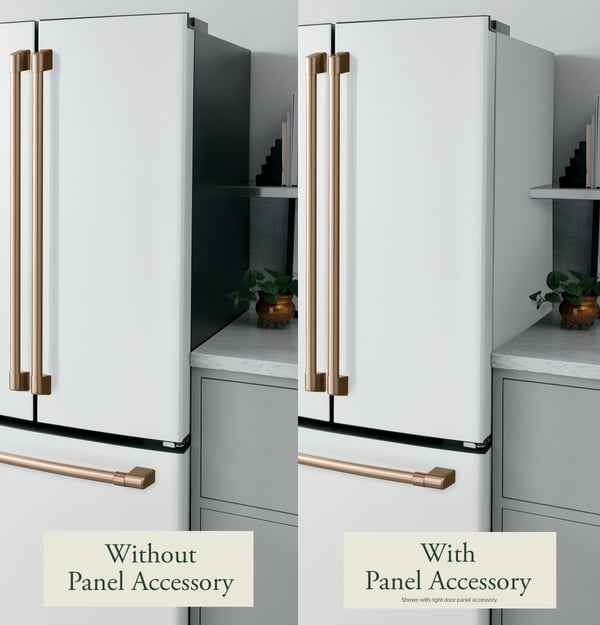 Before we dig further into the custom hardware, let's go over the appliance colors: matte black, matte white, and stainless steel.
Check out our exclusive video of the Matte Collection at the 2018 NECO Expo!
GE matte black appliances offer a smooth, low-gloss look and add depth to your kitchen. This color can act as a counterbalance to eggshell whites and brick or bring out colors in wood and stone elements that you didn't know existed. We've also seen it paired with deep colors from blue to coral! Matte black GE appliances should pair well with natural materials and a range of different cabinetry styles. GE is rebranding their Black Slate finish as Matte Black. The actual finish won't change, but the color will now fit into GE's larger push into matte finishes and customization.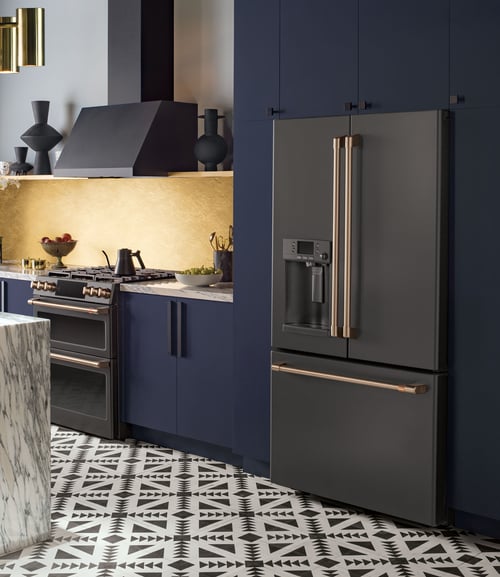 GE matte white appliances have a soft, satiny sheen for a clean, bright look. Combine it with other light colors for an airy feel, or surround it with bold colors! Although both matte white and matte black look great with strong colors, the white finish is often paired with bolder, more saturated colors, while the matte black color pairings are usually a touch more subdued and less intense.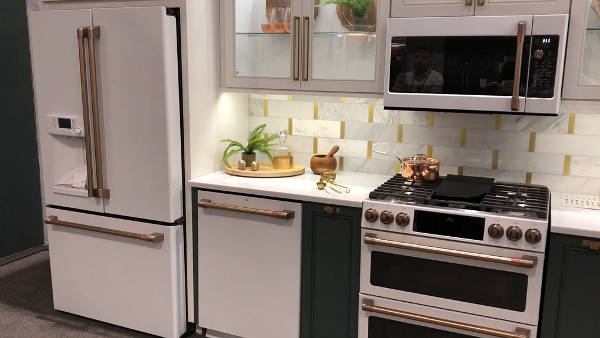 The Stainless Steel Collection rolled out in May of 2019, so you can now customize stainless steel Cafe models with different handle colors if you want to stick with a tried-and-true finish but with the addition of your own personal touch. But if you prefer the modern, minimalist look, you should definitely check out the Modern Glass Collection further down as well!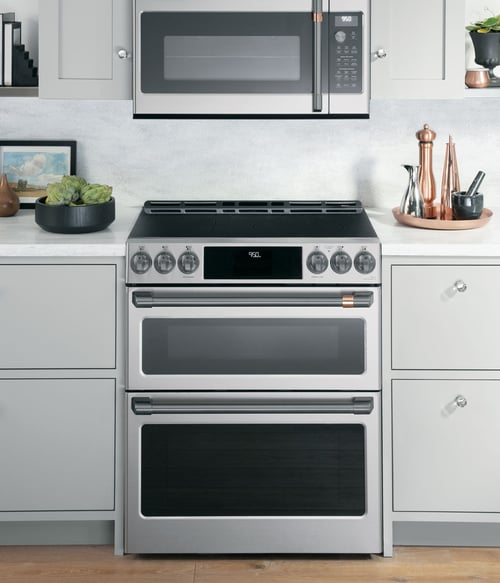 Once you add the custom hardware into the mix, things really start to come together! You can customize knobs for ovens and cooktops, and bar handles for refrigerators, ranges, microwaves, dishwashers, and ovens. Maybe a bold contrast like brushed copper hardware against matte white appeals to you, or perhaps modern simplicity is more your style - in which case, try brushed black or stainless hardware against matte black. There are a ton of amazing possibilities here! And if you ever want to change things up later on, you can swap out the hardware with a different color.
Whether you're looking for a cheerful, warm aesthetic or something sleek and elegant, these new matte colors from GE and the custom hardware let you choose the perfect combination to meet your needs.
You'll find that in-store offerings of these matte appliances will feature brushed bronze hardware on GE Matte White appliances and brushed stainless hardware on GE Matte Black appliances, but you can custom order additional hardware in the store to customize your look.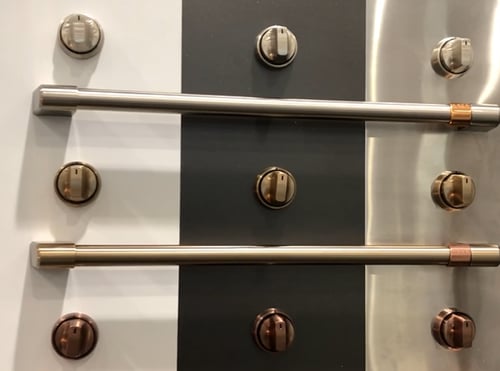 If you're looking to fill your kitchen with a suite of custom appliances without the custom pricing, GE is offering the following appliance types in their Matte and Stainless Collections:
Single and double wall ovens

Slide-in ranges and professional gas/dual fuel ranges

Gas, electric, and induction cooktops

French door refrigerators, including counter-depth models and models with Keurig built in

Countertop microwave ovens

Dishwashers

Chimney-style vent hoods (check out the GE Kitchen Hub if you'd prefer an under-cabinet installation plus smart features)
The many options available, including Wifi connected smart appliances, mean you can choose the perfect kitchen suite whether you're building a new home or renovating your current one.
The Modern Glass Collection, AKA the Platinum Finish - Sleek & Integrated
In February 2019, GE's press release announced the Modern Glass Collection, and as of Fall 2019 a full suite of these appliances is now available for purchase. This finish involves sleek designs with minimal hardware for an integrated, seamless look. Glass panels over stainless steel create a high-gloss style. Handles are low profile or integrated. The focus is on simple, clean lines, and this collection will pair well with slab countertops and modern handle-less cabinets. Expect to see smart features as well!
Check out our exclusive video of the Modern Glass Collection at the 2019 NECO Expo!
Also referred to as the platinum finish, GE is starting to roll out this option across more appliances after bringing it to select wall ovens in April. As of this writing, you can find the following appliances in Modern Glass:
Single and double smart wall ovens (in 27" and 30" widths)

Advantium 5-in-1 smart ovens

Slide-in gas, induction, dual fuel, and electric smart ranges (single and double oven models)

Dishwashers with pocket handles and hidden top controls

Over the range and countertop microwaves

Wall-mount chimney hoods

Electric and induction cooktops

A 4-door French door refrigerator (seen in our video)

A new 4-door French door with French doors for both the fresh and frozen sections
Learn more about the platinum glass finish here.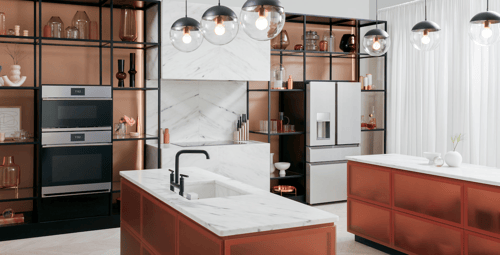 We hope this article helped you learn more about the new GE Café colors. Like many other appliances, these GE Café appliances may be made part of special rebate offers and discounts - learn more about how appliance package deals work here! You can also explore another premium trend in our article on black stainless steel appliances.
If you have any questions or want to share your impression of the customizable hardware options or Modern Glass, please leave us a comment below. We'd love to hear from you!
CLICK HERE TO VIEW GE CAFE APPLIANCES!
CLICK HERE TO VIEW ALL CAFE APPLIANCE REBATES!
Editor's Note: This blog was originally written in November of 2018 and has been completely revamped and updated for accuracy as of the publication date noted above.