Samsung is one of the most innovative appliance manufacturers and they introduced Black Stainless into their line in late 2015 and early 2016. They now offer a complete suite of kitchen appliances from French door refrigerators to wall ovens and dishwashers in this new exciting color. They also offer laundry products in black stainless steel. Samsung's black stainless steel is a premium finish that is resistant to fingerprints and smudges and it gives a warmer and softer look to the appliances. Their handles also have the black stainless steel finish, matching the appliance. Subtle accents like the bar handles add an industrial feel, while the smooth graphite look of the appliance is an alternative to the brushed metal look and has a little more of a gloss to it.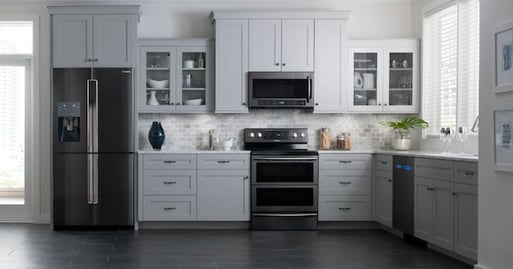 Read Our Article: Black Stainless Steel Appliances - Pros & Cons
Samsung's black stainless steel appliances create a whole new look for the kitchen that is soft, elegant and different. They are exceptionally beautiful products and a great alternative to regular stainless or black appliances. Once you see them you will probably fall in love with the look. Black stainless steel has a long way to go to catch up with the popularity of traditional stainless steel, but it is on its way as more products are being introduced in the color and more customers are seeing it on display in stores and in the homes of their friends and family members. There is no way to be sure but my opinion is that black stainless steel is here to stay.
Take a look at these appliances in person. They are really a game-changing item in the appliance industry. Even if you are not ready to buy yet, you might want to see them in person and experience the look.
Thank you for reading this blog. We hope that you found it informative and helpful. We encourage you to write a comment below. We value your input!
Editor's Note: This blog was originally written in February of 2018 and has been completely revamped and updated for accuracy as of the publication date noted above.