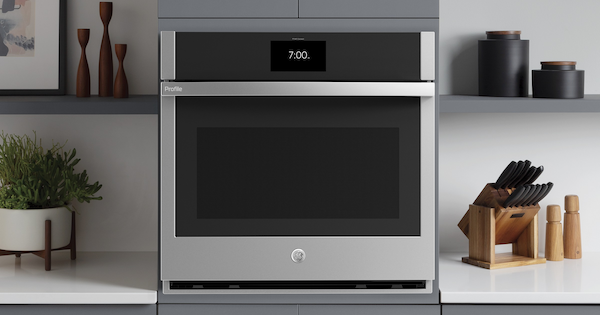 An electric wall oven provides a high-end built-in look and lets you access your oven without having to bend over. They tend to be more expensive than traditional ranges and are available in standard 24", 27", and 30" widths. Compared to a typical range oven, they tend to be smaller, but not everyone needs six cubic feet of oven space (and if you need jumbo oven capacity, a double wall oven might be perfect)!
Our list of the best wall ovens for 2020 covers a variety of brands and price points to help you find the perfect option for your home. All but one of these 30" models features true convection, and prices range from $1,649 to $4,149. We've numbered them for your convenience, but they are listed in no particular order.
Table of Contents
Before We Get Started: 4 Quick Buying Tips
Consider the controls. This is the part of your wall oven you'll have to deal with first whenever you want to cook something, so make sure the control layout makes sense! High-end models may offer touchscreens and advanced cooking features. Although practice makes perfect, your initial impression can help you decide if this wall oven works for you.

How does it clean? Different brands offer different cleaning options. Some offer heavy-duty oven racks that can be left in the oven for a high-heat self clean cycle. Others offer a quick lower-heat steam clean option. A model may only come with steam clean or self clean because the coating that allows the steam cleaning to work can't handle the high temperatures of self clean cycles, although brands like LG and GE offer both.

Check the dimensions if you're replacing an older model. Come into the store with your wall oven cutout dimensions on hand! Although most of today's models are relatively interchangeable if you choose one with the same width, there are still variations in depth and height that can impact how or if a wall oven fits into your cabinetry. Many brands offer Fit Guarantees to help with this. Read more about wall oven dimensions here.

Understand convection. A couple of key points to remember are that True Convection/True European Convection/European Convection are all the same thing - a fan plus an additional heating element to improve air circulation. True convection is a nice option for bakers. Fan convection is the step down option and is still really helpful for improving multi rack cooking and roasting results. You can read more about convection here.
1. Cafe CTS90FP4NW2 - 5.0 cu ft - $4,549
For high-end style and plenty of smart features, look no further than the Cafe CTS90FP4NW2, available in stainless steel at $4,349, matte black at $4,449, and matte white at $4,549. The Cafe lineup allows you to customize the hardware for a personalized look - read more about it in our New GE Cafe Colors post. You'll notice the unique French door design right away: instead of a single pull-down door, this wall oven is designed with two swing-open doors that you can open one-handed simultaneously.
This range also features wifi connectivity, like several high-end GE appliances. With a wifi-connected wall oven, you can use your smartphone to preheat, change the oven temperature, and set and adjust cooking timers. Other features like slowly illuminating halogen oven lighting add to the high end feel.
With True European Convection and ten-pass broiler and bake elements, you have a ton of cooking power at your fingertips! If you love to cook and bake and want to make the most out of smart connected appliances with precision convection cooking modes and more, this GE Cafe model might be among the best wall ovens for your home.
Features:
True European Convection with Direct Air

WiFi connectivity

Steam Clean and traditional high-heat self clean options

Progressive halogen interior lighting

Heavy-duty roller racks with a smooth glide

Precision cooking modes can eliminate preheating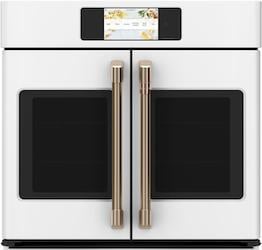 2. KitchenAid KOSE500ESS - 5.0 cu ft - $2,499
Available in premium black stainless steel at $2,599 and in black, white, or stainless steel at $2,499, the KitchenAid KOSE500ESS wall oven comes in a professionally-inspired design with great features. Even-Heat True Convection provides fast and even results, while the EasyConvect Conversion feature helps to convert new recipes to work with your convection oven. The built-in temperature probe means you can quickly check on the progress of a roast without opening the oven door, too.
This wall oven gives you a premium look and feel with glass touch controls that wipe clean easily, a towel bar handle, and a SatinGlide roll-out extension rack. The three oven racks allow you to take full advantage of the oven's spacious interior. Note that it doesn't feature steam cleaning options like many newer ovens, which can be a nice option to have for a quick clean-up.
The KitchenAid KOSE500ESS is one of the best wall ovens for baking thanks to the convection features and the Even-Heat Preheat function. If you need a wall oven in black or white, this model will look good and perform well, too!
Features:
Even-Heat True Convection

Traditional high-temperature self cleaning

EasyConvect Conversion System

Two standard racks, one gliding extension rack

ADA Compliant - Height, Side, and Front Reach

Built-in temperature probe
Click here to read over 500 real customer reviews of this product!
KitchenAid KOSE500ESS - $2,499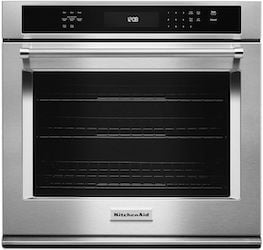 3. GE Profile PTS7000SNSS - 5.0 cu ft - $2,749
GE has made it to our list yet again, this time with a model from their high-end GE Profile line: the GE Profile PTS7000SNSS. It retails at $2,749 in stainless steel, and is also available in black slate and black stainless steel for $2,849. There are a lot of cool features packed into this wifi connected wall oven!
First, let's start with the precision cooking modes. Using the 7" interactive touch screen, you can choose a precision cooking mode for a range of different foods, from frozen pizza to meats and baked goods, and skip preheating entirely. There's also an air frying option, and you can also access recipe walkthroughs that will even show you which oven rack to place your entree or the best position for the meat probe. This technology aims to make it so much easier to cook both new and familiar recipes!
The advanced convection system, True Convection with Direct Air, moves air down through vents in the oven ceiling to provide improved airflow to all parts of the food and down into the cookware as well. With the multi-rack convection setting, air will flow mainly from the back wall instead. The convection fan also reverses direction to improve air circulation. This is definitely one of the best wall ovens for baking, and for cooking in general!
Features:
True Convection with Direct Air

Wifi connectivity

Self clean and steam clean cycles available

Precision temperature probe

10-pass bake element

10-pass dual broil element

Intuitive 7" touchscreen with lots of cool features!

One standard rack, one roller rack
GE Profile PTS7000SNSS - $2,749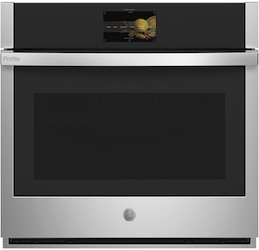 4. Bosch HBL5451UC - 4.6 cu ft - $2,199
You might know Bosch more for their ultra-quiet dishwashers than their wall ovens, but the Bosch HBL5451UC is one of their best wall oven offerings today! Available in sleek stainless steel at $2,199, it offers 4.6 cubic feet of capacity and Genuine European Convection (a fancier way of saying True Convection, which incorporates a fan and third heating element).
The heavy-duty knobs lend a premium feel to this model, and the 11 specialized cooking modes help you get gourmet results with the push of a button. These modes include options for pizza, dough proofing, convection roasting, convection baking, and more. These settings take the guesswork out of preparing a great meal!
This wall oven will be completely flush with your cabinetry once installed for a fully integrated look. The simple combination of knobs and digital touch controls have a slightly commercial feel. This Bosch wall oven has all the features you need to make tasty meals and will look great in your kitchen!
Features:
Genuine European Convection

Heavy-duty knobs

11 specialized cooking modes

Recessed 8-pass broil element

EcoClean two-hour self-clean cycle
5. LG LWS3063ST - 4.7 cu ft - $1,799
The LG LWS3063ST is a 4.7 cubic foot capacity wall oven available in stainless steel at $1,799 or premium black stainless steel at $1,999. Read our article about black stainless steel appliances to learn more! This wall oven also offers True Convection and EasyClean steam-cleaning as well as traditional self-clean options. The Crisp Convection feature is ideal for pastries and other delicate baked goods.
This LG oven comes with LG's NFC Tag On feature (compatible with Android smartphones with NFC technology), which will allow you to create recipes and control your oven with the LG Smart ThinQ app. You can also use Smart Diagnosis to troubleshoot any issues. It doesn't allow true remote control of your wall oven since you have to be within a few inches of the oven's NFC tag for this to work. So this feature make be a nice option for people who occasionally want to experiment with smart appliances but otherwise want a familiar wall oven design and feature set.
At under $2,000 this is one of the best wall ovens in terms of value!
Features:
True Convection

EasyClean 10-minute steam clean plus self-clean options

LG NFC Tag On

Brilliant Blue interior

Hidden 8-pass bake element and 8-pass broil element

Convection Conversion

ADA compliant
Click here to read over 12 real customer reviews of this product!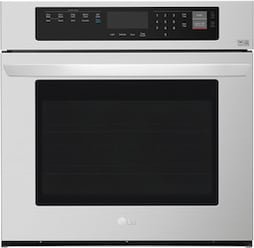 6. Frigidaire Professional FPEW3077RF - 5.1 cu ft - $2,299
If you're a multitasker who often juggles cooking multiple dishes at once, the Frigidaire Professional FPEW3077RF might be the best wall oven for you! It comes in smudge-proof stainless steel at $2,299. With the PowerPlus No Preheat option and dual timers, cooking two or three recipes simultaneously just got easier! You can use the PowerPlus temperature probe to alert you when a dish has reached the internal temperature you've set, too. Of course, it also features True Convection and Convection Conversion for fast, even baking.
The smudge-proof stainless steel exterior doesn't require much upkeep, and for the interior you can use the two-hour self-clean cycle. The hidden bake element means you can wipe up spills easily, too. If you prefer traditional dial controls for a commercial style look, this Frigidaire model comes with one dial for selecting the oven mode and one for selecting the temperature.
Consider this wall oven if you're not interested in smart appliances and prefer a commercially inspired look. The only drawback to this model is that the No Preheat option makes the oven a bit noisier than usual. This model has just enough features to make cooking easier, without overloading you with choices!
Features:
PowerPlus Convection

PowerPlus temperature probe

PowerPlus No Preheat option

Dual timers

Convection Conversion

PowerPlus 2-hour Self-Clean cycle

ADA compliant
Click here to read over 55 real customer reviews of this product!
Frigidaire Professional FPEW3077RF - $2,299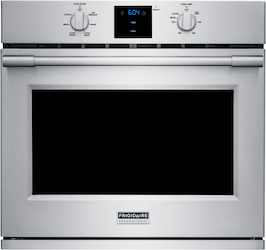 7. GE JTS3000SNSS - 5.0 cu ft - $1,649
The GE JTS3000SNSS was upgraded for 2019 with a new high-end look! It has a sleek and minimalist feel with glass touch controls and a full-width designer-style handle. This model comes in stainless steel at $1,649, GE's premium slate finish at $1,749, and classic black or white at $1,549. We've written about GE's slate finish vs stainless steel if you're curious! This oven is the least expensive on our list and has one main difference compared to the other options: it doesn't have convection.
This single wall oven keeps it simple with basic presets in an easy-to-use control layout. New for 2019, this model can be connected to the GE Appliances Kitchen app so you can preheat and check in on your wall oven from your smartphone. It also comes with "scan-to-cook" technology: scan the barcode on your favorite packaged food with your smartphone and the oven will adjust its settings automatically.
This upgrade to your trusty 30" wall oven model will give you some cool smart technology at your fingertips. It contains convenient upgrades like steam cleaning and heavy-duty oven racks, plus connected appliance technology, all in a quality, professional-looking build.
Features:
Steam Clean and traditional self-clean options

Heavy-duty oven racks can be left in during self-clean cycle

10-pass bake element

8-pass broil element

Glass touch controls

Connect it to your smartphone to preheat remotely and more

Does not have convection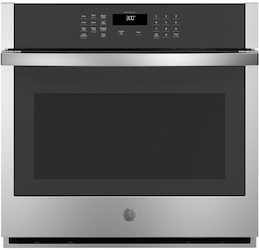 That's it for our list of the best wall ovens for 2020! Deciding which is the right option for you depends on a variety of factors. The LG model (#5) and GE Appliances model (#7) are available for under $2,000, although the GE model does not have convection. If you want an option with a built-in temperature probe, take another look at our reviews for the KitchenAid model (#2), Bosch model (#4), and Frigidaire Professional model (#6). If you need a wall oven available in black or white, take a look at KitchenAid (#2) and GE (#7).
Do you have a wall oven already, or are you interested in upgrading to one? What makes the wall oven so appealing? Let us know which one you choose. Leave us a comment below - We'd love to hear from you!
Editor's Note: This blog was originally written in June of 2018 and has been completely revamped and updated for accuracy as of the publication date noted above.