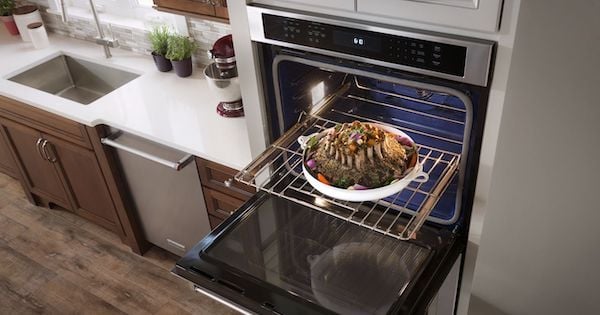 Are you a chronic kitchen multitasker? Whether you like to meal prep a week's worth of meals at once or love to host dinner parties, the double wall oven is a premium appliance to help you handle it all. Stacking ovens conserves floor space and means you don't have to bend over to load and unload casserole dishes and trays of cookies.
Our review of the top seven best double wall ovens covers a range of 30" electric models with different features, styling, and prices to help you narrow down the best double wall oven for your home. We list them in no particular order - they are numbered for your convenience.
NOTE: As of January 2023, our recommendations remain unchanged since the last time this post was updated in February 2022.
Table of Contents:
Before We Get Started: 4 Quick Buying Tips
Consider the controls. This is the part of your wall ovens you'll have to deal with first whenever you want to cook something, so make sure the control layout makes sense to you! High-end models may offer touchscreens and advanced cooking features. Although practice makes perfect, your initial impression can help you decide if this double wall oven works for you.

How does it clean? Different brands offer different cleaning options. Some offer heavy-duty oven racks that can be left in the oven for a high-heat self clean cycle. Others offer a quick lower-heat steam clean option. A model may only come with one or the other because the coating that allows the steam cleaning to work can't handle the high temperatures of self clean cycles, although brands like LG and GE offer both.

Check the dimensions if you're replacing an older model. Come into the store with your double wall oven cutout dimensions on hand! Although most of today's models are relatively interchangeable if you choose one with the same width, there are still variations in depth and height that can impact how or if a wall oven fits into your cabinetry. Many brands offer Fit Guarantees to help with this. Read more about wall oven dimensions here.

Understand convection. A couple of key points to remember are that True Convection/True European Convection/European Convection are all the same thing - a fan plus an additional heating element to improve air circulation. True convection is a nice option for bakers. Fan convection is the next step down and is still really helpful for improving multi rack cooking and roasting results. Some double wall ovens come with convection in one oven and not the other, or different types of convection. You can read more about convection here.
1. KitchenAid KODE500ESS - 10.0 cu ft - $4,199
The KitchenAid KODE500ESS provides 10 cubic feet of capacity with two 5.0 cubic feet ovens. KitchenAid's professionally-inspired design really shines in stainless steel at $4,199 or black stainless steel at $4,299, but you can also find this model in white at $4,199 as well. Learn more about black stainless steel appliances in our article!
KitchenAid's Even-Heat True Convection is a high-end feature that comes in handy for all sorts of recipes to get evenly cooked results with less time in the oven. For recipes you're trying out for the first time, the EasyConvect Conversion system adjusts the recipe for convection cooking. Both ovens have temperature probes you can stick into a casserole or roast to monitor the internal temperature without opening up the oven doors.
This double wall oven doesn't come with a ton of preset programs, so it's a great choice for confident cooks who want total control over the cooking process. With extra-large oven windows, glass touch panel controls, and bright halogen interior lighting, this appliance looks great and works hard, too.
Features:
Even-Heat True Convection (both ovens)

Temperature probe (both ovens)

EasyConvect Conversion system

SatinGlide roll-out extension racks

High-temperature self cleaning cycle

Even-Heat Preheat
Click here to read over 795 real customer reviews of this product!
KitchenAid KODE500ESS - $4,199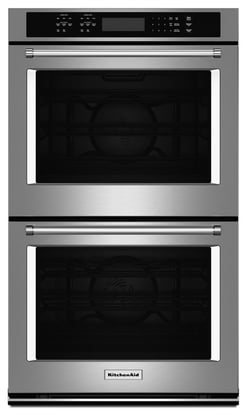 2. GE Profile PTD7000SNSS - 10.0 cu ft - $4,442
GE's Profile line offers high-end designs with smart appliance features ideal for connected high-tech households. The GE Profile PTD7000SNSS offers a refreshed exterior design released in 2019 with two 5.0 cubic feet wall ovens in a sleek stainless steel finish for $4,442. It's also available in black stainless at $4,664.
The upper oven comes with True European Convection with Direct Air, while the lower oven features True European Convection (sans Direct Air). This smart wall oven offers a 7" touch display that replaces traditional dials and controls for a truly high-end experience. With the precision cooking system, you can select what you're cooking or baking, such as beef tenderloin, and the oven will automatically handle the timing and temperature changes via information gathered from the temperature probe. You can also use the display to walk through various recipes step by step.
Do you want to be able to check on the status of a timer without leaving the living room or start preheating the oven on your way home from the grocery store? Then you can definitely appreciate a Wi-Fi connected double wall oven! The 10-pass bake and broil elements ensure even heating, and you also get a few presets like Convection Bake, Convection Broil, Convection Roast, Hot-Air Frying, and more.
With a handful of helpful preset programs, recipe walkthroughs, and the ability to control and check on your ovens with your smartphone, this GE Profile double wall oven is ultra-convenient for busy households!
Features:
True European Convection (both ovens - upper oven with Direct Air)

Dual broil elements

Wi-Fi Connect with precision cooking modes & more

Heavy-duty roller racks compatible with high-heat self-clean cycle

Steam clean cycle also available

Temperature probes (both ovens)

7" touchscreen controls

Progressive halogen oven lighting
Click here to read over 330 real customer reviews of this product!
GE Profile PTD7000SNSS - $4,442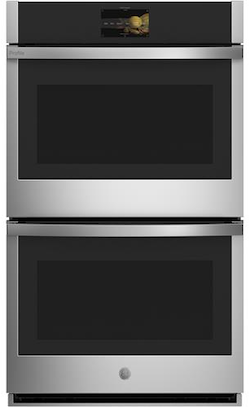 3. Bosch HBL8651UC - 9.2 cu ft - $4,249
Next up on our list of the best double wall ovens of 2023 is the Bosch HBL8651UC. This stainless steel model, available at $4,249, has a fully featured top oven with Genuine European Convection and a more basic bottom oven, both 4.6 cubic feet of space for a combined capacity of 9.2 cubic feet.
If you want the option to keep it simple or mainly want a second oven for basic dishes or to keep finished dishes warm, this type of double wall oven may work well for your needs. Use the convection cooking and temperature probe in the upper cavity to get the perfect roast while using the lower cavity for the side dishes.
Bosch offers one of the best double wall ovens for people who value simple controls with this model. You can find similarly featured double wall ovens at a lower price range, but the quality that Bosch appliances are known for can make up for that!
Features:
Genuine European Convection (upper cavity)

12 custom cooking modes for upper cavity, including Pizza, Pie, Warm and Proof


EcoClean 2-Hour Self-Clean Cycle


Temperature probe (upper cavity)

Convection Conversion feature

Recessed 8-pass broil element

Fast Preheat reduces preheat time
Click here to read over 85 real customer reviews of this product!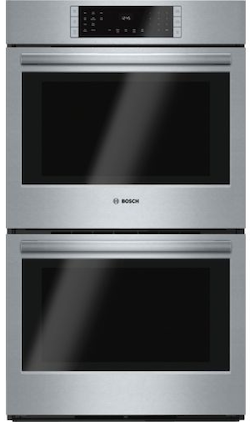 4. GE Cafe CTD70DP2NS1 - 10.0 cu ft - $4,664
The GE Cafe line provides an industrial restaurant-inspired look that takes your kitchen to the next level. If you're looking for the best double wall ovens with commercial designs, meet the GE Cafe CTD70DP2NS1! Available in stainless steel at $4,664. Ten cubic feet of capacity plus True European Convection with Direct Air in both ovens and 10-pass bake and broil elements means you have a ton of cooking power at your fingertips.
With the Wi-Fi Connect feature, you can control your oven or check in with your smartphone. Updated in 2019, the full color glass touch display is easy to work with and can walk you through hundreds of recipes. Precision cooking modes eliminate the need to preheat, and you even have a cooking mode for air frying!
If your pie filling bubbles over, no problem: it cleans up quickly with the Steam Clean program, or you can use the high-heat self-clean option to bake off debris from the racks and oven cavity. You can feel like a pro chef in your home kitchen with progressive halogen interior lighting, bar handles, and glass touch controls - GE thought of everything in this double wall oven model. This double wall oven is part of the GE Cafe stainless steel collection with customizable handles and knobs. Learn more about the new Cafe styling here!
Features:
True European Convection with Direct Air (both ovens)

Wi-Fi Connect and touchscreen display recipe walkthrough

Dual broil elements

Steam Clean option for both ovens

Heavy-duty roller racks, safe for high-heat self-clean

Progressive halogen oven lighting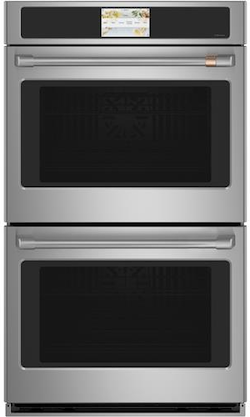 5. Frigidaire Gallery GCWD3067AF - 10.6 cu ft - $3,599
The Frigidaire Gallery line aims to be flexible and practical with contemporary finishes to suit any kitchen. The new-for-2021 Frigidaire Gallery GCWD3067AF double wall oven is available in smudge-proof stainless steel at $3,599 or in black stainless steel at $3,699.
Both ovens use Total Convection, which Frigidaire claims as their most advanced and powerful convection system. You get great cooking modes such as No Preheat (good for food that needs to cook for over 10 minutes), Air Sous Vide (good for preserving flavors and moisture), Air Fry (good for - you guessed it - making healthy and delicious fried food), and more - all in this wall oven! This wall oven features both steam clean and self clean options, and also offers the Temperature Probe.
For a double wall oven that's made for versatility in the kitchen, this Frigidaire Gallery model is hard to beat! Plus, the Frigidaire Fit Promise is a guarantee that this wall oven will fit your existing cabinet cutout of the same width and configuration or Frigidaire will reimburse you for modification costs.
Features:
Total Convection (both ovens)

Steam Cleaning and Self Cleaning

No Preheat

Air Sous Vide

Steam Roast for crispy roasted meals and Steam Bake for more even baking

Temperature Probe

Premium Touch Screen Control Panel

Gliding rack
Frigidaire Gallery GCWD3067AF - $3,599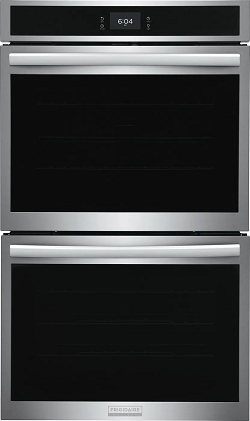 6. Whirlpool WOD77EC0HS - 10.0 cu ft - $3,599
The Whirlpool brand has #1-rated wall ovens and is the #1-selling appliance brand in the USA, so it's no surprise we included the Whirlpool WOD77EC0HS in our best double wall ovens review. It's available in fingerprint resistant stainless steel at $3,599 and in black stainless at $3,699. It features True Convection and 10 cubic feet of capacity.
This double wall oven comes with new Whirlpool connected appliance technology, including integration with the popular recipe app Yummly® for Yummly® Guided Cooking and Scan-to-Cook technology. You can also use your smartphone or virtual assistant to start the oven remotely, easily troubleshoot issues, and send multi-step cooking information for recipes with multiple temperature adjustments. The touch display uses a proximity sensor to wake the display, and it even adjusts the size of the text based on how far you are from the oven!
Learn more about the great features in Whirlpool's new connected appliances in our article linked in the previous paragraph. We love that Whirlpool kept these smart features focused on things you will find useful and easy to access.
Features:
True Convection

Gliding roll-out rack

Adjustable Self Clean

Panoramic halogen lighting

Convection Conversion

Bread Proofing function, Delay Cook, and more

Yummly® integration and voice control

Touchscreen with proximity sensor display

Self-close door
Click here to read over 30 real customer reviews of this product!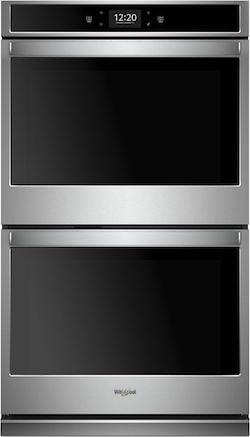 7. LG LWD3063ST - 9.4 cu ft - $3,199
Last but not least on our list of the best double wall ovens is the stainless steel LG LWD3063ST model priced at $3,199, also available in LG black stainless steel at $3,399. Both ovens feature true Crisp Convection technology with options for a quick 10-minute EasyClean steam cycle or 3-4-5 hour high-heat cleaning cycles.
LG's NFC Tag On technology offers a connected appliance option that is generally available at a lower price than other Wi-Fi connected appliances and ovens. This technology connects your double wall oven to your smartphone with LG's Smart Oven app, which is only available with Android phones that have the Near Field Communication feature.
The Brilliant Blue interior lighting provides a high-end feel with three-dimensional lighting. With features that are flexible and easy to use, such as the Variable Warm and Broil programs that can be set to high, medium, or low, this oven is a versatile workhorse!
Features:
Crisp Convection

EasyClean 10-minute steam clean option

3-5 hour high-heat self clean options

Settings include Variable Broil, Variable Warm, and more

Brilliant Blue interior

NFC Tag On technology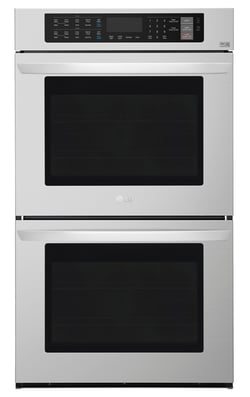 That finishes up our reviews of the best double wall ovens for this year. If you're feeling adventurous, explore new black stainless steel color options from KitchenAid, Frigidaire, and LG. Take a closer look at the LG model (#7) if you're looking for a double wall oven upgrade under $3,200, or look into the GE, Whirlpool, and LG models to explore the connected appliances trend.
Let us know which one you choose. What features do you look for in a double wall oven, and which ones do you ignore or avoid? Leave us a comment below - We'd love to hear from you!
Editor's Note: This blog was originally written in May of 2018 and has been completely revamped and updated for accuracy as of the publication date noted above