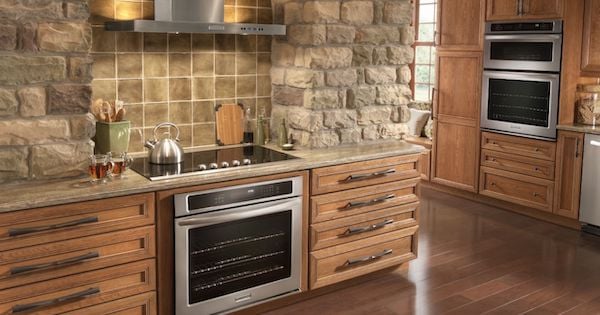 If you are in the market for a new wall oven, one of the challenges can be finding a wall oven with the same dimensions as your existing oven. Wall oven dimensions vary among manufacturers and typically range between 24" and 30", with 30" electric models being the most popular followed by 27" electric. One of the most challenging wall oven dimensions to work with in terms of replacement is 24" for both electric and gas. We have some tips for understanding wall oven dimensions and more!
Wall Oven Sizes Explained
Wall ovens can be 24", 27", or 30" wide, and a few brands now make 36" options as well. The 30" is most common, followed by the 27". However, wall ovens in any width category can have actual widths that are wider or narrower than 27" or 30", so it's important to do the (admittedly annoying) prep work of measuring first!

24" models are typically around 2-3 cubic feet of capacity, while 30" models can be up to about 5 cubic feet.

The wall oven's overall width is different from the cavity width. The wall oven's front overlaps the cutout area.

Older wall ovens tend to be smaller, so it's important not to assume the width and other measurements!

Single wall ovens are typically around 30" tall, while double wall ovens may be 53" or more.

The wall oven depth and rear clearance requirements are designed with the "standard" counter depth of 24" in mind, but check the depth of your cabinet area to make sure.
Tips for Buying a Compatible Replacement Wall Oven
The easiest way to replace your wall oven is to go for the same brand and width as your previous model.

Measure the cutout space for your wall oven. Then compare it to the "Installation Instructions" for the wall ovens you're considering to see if the cutout dimensions match. If a cutout is slightly too large for the wall oven you want, this may be workable. If it is too small or over an inch larger on either side, it may not be a good fit.

Most cabinets are a standard 24" deep, and most wall ovens are sized with that taken into consideration. If you have an older home or custom built cabinets, it's worth the extra effort to check that you have enough depth available for your new model!

If you are considering a larger model, note how wide the overall cabinet is.

Most wall ovens come with 1" trim kits, but wider trim kits are also available if you need to cover up a larger cutout.
Below is GE's guide to measuring for a new wall oven! You can also read a version of this walkthrough here.
"Hidden Costs" to Be Aware Of:
Relocating a junction box (for hardwired ovens) or gas line - A new wall oven, especially if it is from a different brand than your old one, may not fit around where the current junction box/gas line is placed.

Other electrical adjustments - If your old wall oven was plugged in rather than hardwired, for example, local codes may require it to be hardwired when you replace it. In some cases, replacing a particularly old wall oven may require other changes to the wiring - Talk to your contractor or electrician about this issue.

Cabinet modifications - We'll go over "fit guarantees" below that can help with this, but these guarantees aren't "guaranteed" to cover all of the costs of installing a new wall oven!
Fit Guarantees & the Frigidaire Fit Tool
Some brands like GE Appliances offer "fit guarantees" that mean you can get costs covered to a certain extent if your cabinets need to be professionally modified to fit a wall oven that was expected to be compatible with your existing space. Typically the amount they'll cover is $300. Whirlpool, Maytag, KitchenAid, Electrolux, Samsung, and Frigidaire are additional brands that offer "fit guarantees" for their wall ovens as of this writing. Once you've chosen your new wall oven, make sure to look into the requirements for qualifying for these fit guarantees. For example, you will likely need to have information on hand like the model number and serial number of the previous wall oven, you may be required to provide photos, and the guarantee may only apply to certain sizes of wall oven.
Frigidaire once offered the Frigidaire Fit Tool when this blog was initially published in 2017, which would take the model number of your existing wall oven, regardless of brand, and return a list of new Frigidaire wall ovens that would meet your needs. Frigidaire no longer offers this tool but they have joined other brands providing the "fit guarantee."
We hope you enjoyed this article and will find the tool useful for you in shopping for your next wall oven. Please leave us a comment below. We'd love to hear from you!
Editor's Note: This blog was originally written in February of 2017 and has been completely revamped and updated for accuracy as of the publication date noted above.