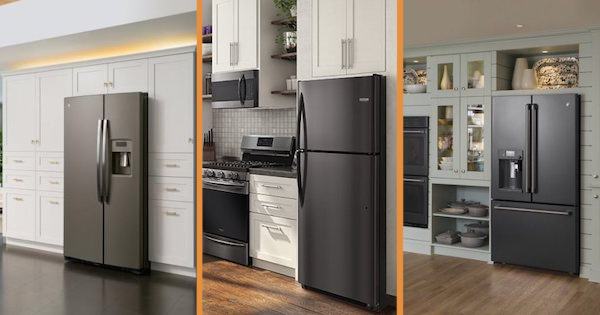 A color revolution going on in the appliance industry has produced three awesome new premium finishes to choose from. For years, stainless steel ruled the premium appliance industry as the finish of choice. That appears to be changing - fast! In the past few years, several manufacturers introduced black stainless steel as an option, and it has started to catch on. Just about all of the major brands are offering black stainless steel, including GE, LG, KitchenAid, Samsung, and more.
Prior to the introduction of black stainless steel, the only other option in the mainstream high end market were slate appliances from GE. However, as black stainless is catching on, interest in slate and the new black slate also appears to be on the rise. Let's look a little deeper into why this color revolution is taking place, what your options are and which might be best for you. We'll also examine how GE has taken the lead as the only manufacturer offering appliances in all four premium finishes.
Table of Contents
If Everybody Has It, Is It Still "High-End"?
As we mentioned, stainless steel has been the go-to finish in the mainstream premium appliance market for over a decade. While it was revolutionary when it was introduced and certainly offers a more high-end look than traditional black or white, consumers today are looking for something new.
Drawbacks of Traditional Stainless Steel Appliances
Everyone has stainless steel. There is nothing cutting-edge or unique about a finish that is found in every high-end home in every neighborhood coast-to-coast!

Stainless steel is prone to fingerprints. The industry recently came up with a solution to this challenge with the advent of smudgeproof stainless steel appliances. This material typically has a brushed effect to reduce the appearance of fingerprints.

Stainless steel appliances are typically monochromatic with a stainless finish on the the appliance and the handle. To some consumers, this is... boring!
Manufacturers responded with cutting-edge new colors. GE was an early mover in the market with the introduction of slate appliances around 2012-2013. While GE had success with the color and kept it in their lineup, traditional stainless steel continued to dominate the market and the share of the market captured by slate was hardly worth mentioning.
However, around 2015, Korean appliance manufacturers LG and Samsung introduced black stainless steel appliances. As we moved into 2017, things really heated up as GE added black slate to their lineup. Now, in 2020, we'll compare these new colors so you can decide which one is right for you!
Black Stainless Steel Appliances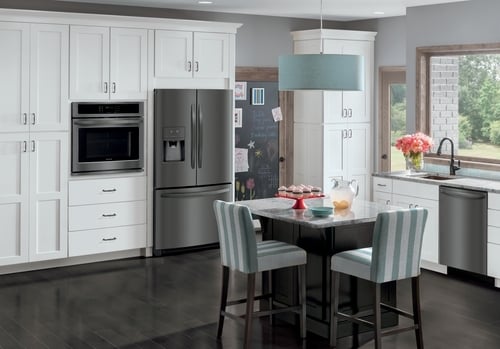 (Pictured above: a Frigidaire black stainless steel kitchen suite.)
As of early 2018, black stainless steel is offered by every major mainstream manufacturer, with Bosch being the last to join the trend in 2018. Read our complete review of black stainless steel appliances on our blog! These are some factors worth considering:
Pros:
Hot new color

Easy to clean

Less prone to fingerprints than traditional stainless steel

Available with stainless steel handles for contrast (certain manufacturers - namely KitchenAid)
Cons:
New color that is somewhat untested by the marketplace

Certain brands have had issues with chipping/peeling of the black stainless finish

Most brands are, at best, scratch resistant to pencil hardness

Color variations exist among different manufacturers - hard to match across brands

Depending on the manufacturer, you may have limited options for which models you choose for your kitchen
Who Makes Them:
LG

Samsung

KitchenAid

GE (their main line and Profile line)

Whirlpool

Frigidaire (their main line and Gallery line)

Bosch
(Maytag is the only mainstream brand missing from this list. They were offering cast iron black as a matte finish for budget-conscious, durability-focused consumers, but have discontinued this.)
GE black stainless has been around since 2017, and offers one of the widest selections of products in this color while other brands have been more conservative. If you want a broad pool of models to choose from when building your kitchen suite, you should definitely consider GE black stainless steel. LG and Samsung also offer a lot of products in black stainless.
Slate Appliances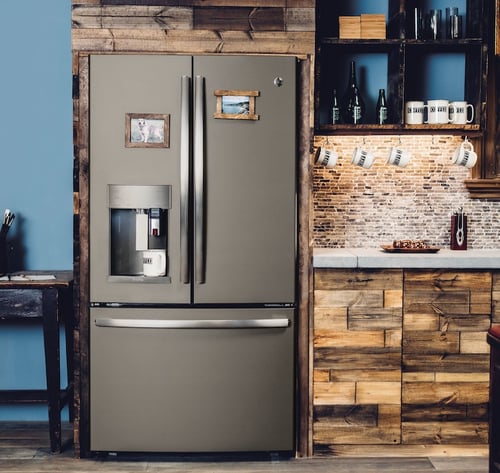 Slate is a totally different option. It maintains a metallic look but with a matte finish that is not as stark and cold as stainless steel. Slate is a stone-inspired finish that is warmer than stainless steel and black stainless steel while still offering the versatility of those finishes. It has a warm, earthy tone that can match with a variety of materials and colors.
GE compares the application of this finish to automotive painting - the paint is baked onto the underlying steel to create a durable surface.
Pros:
Warm earthy tone is versatile and unique

Resistant to fingerprints and smudges by nature

Less prone to fingerprints than traditional stainless steel

Looks especially great against white cabinetry, which dominates today's new kitchen market

Well-tested by the market - it has done well for several years and is unlikely to be discontinued

GE offers a wide variety of models in this color
Cons:
Won't match well with the shiny finish of stainless steel - If you're going to go with slate, you'll need to commit to that matte finish for all of your major kitchen appliances

May not look great with certain cabinetry finishes

Only available from GE Appliances
Who Makes Them:
GE Appliances is the exclusive producer of slate appliances. It is available in their GE and GE Profile lines.
Black Slate Appliances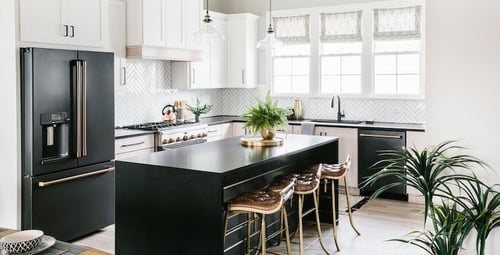 As black stainless steel appliances began to take off, GE reacted quickly in 2017 to a rising trend in matte colors and introduced black slate. Black slate is the same stone-inspired matte finish found in GE slate, but with bold black coloring and stainless steel handles for contrast. As of this writing, their main competitor for a dark matte finish is the LG black matte finish (click the link to read our comparison of GE black slate vs LG matte black).
Black slate is available in the main GE line, the GE Profile line, and the high-end GE Cafe line. In 2018, GE took their premium GE Cafe line a step further with The Matte Collection, offering appliances with customizable hardware in matte white or matte black finishes. Click the link to learn more! They are planning to rebrand black slate as matte black - the color itself won't change, just the name.
Pros:
Warmer and richer tone with a matte finish

Naturally resistant to fingerprints and smudges

Looks great against white cabinetry

Contrasting handles available in the premium GE Cafe line; matching handles in the GE Appliances and GE Profile line
Cons:
Won't match well with the shiny finish of stainless steel appliances - You'll need to commit to a total matte-finish kitchen if you're going to go with black slate

May not look great with certain cabinetry finishes

Relatively untested color in the marketplace

Available in a more limited range of appliances than slate
Who Makes Them:
GE Appliances is the exclusive producer of black slate

appliances. They are

available in all three of their lines: GE, GE Cafe and GE Profile. They are making a big commitment to black slate appliances. Check out our full article on GE black slate appliances and watch the video below from GE for more information!
How to Choose?
Of course, ultimately the decision is up to you. Unlike other new appliance colors, slate is popular enough that it seems unlikely to be discontinued, and black slate may be heading in the same direction. The risk of going for a new color is that if the color is discontinued later, you won't be able to replace the appliances with that same color. If you enjoy renovating your kitchen then this may not be as much of a concern!
Stainless steel is still a safe bet and an incredibly popular finish available from all major brands. It really works well if you prefer an industrial-inspired look. It is a classic finish! Plus, you can mix and match from different appliance brands more easily, and there are a wide range of appliances available in this finish.

Slate may be for you if you are sick of stainless steel and are looking for something warmer and more nature-inspired in your kitchen. Natural materials like granite really pop with this finish, so it's a great choice for kitchens featuring marble, stone, and wood, for example. GE offers a wide variety of appliances in this color, unlike the more limited array for black stainless steel and black slate. You are stuck with one brand when it comes to this color, but the same goes for choosing black stainless since the finishes differ so much between manufacturers.

Black stainless is a darker, richer color than stainless steel, but every manufacturer has their own take. For example, KitchenAid's black stainless is a satiny brushed black, while Samsung's has a mirror finish and a graphite gray tone. You can try to mix and match different brands, but it will be difficult! On the other hand, it seems likely that it will stick around since so many brands have released black stainless steel products. If you like stainless steel but are ready for something different that is still likely to match with most kitchens, black stainless steel might be worth considering.

Black slate has a satiny brushed finish for a softer look than most black stainless steel options. The GE Cafe line offers an even more unique design with contrasting bar handles, although you can customize the hardware to match the matte black finish as well. If you want your appliances to blend more smoothly with your kitchen, the matte black slate might be ideal.
When it comes to durability, slate and black slate are somewhat safer choices than most black stainless steels right now. The baked-on finish is more durable than black stainless - with the exception of Bosch's black stainless, since the color is mixed directly into the stainless steel earlier on in the manufacturing process.
As you can see, it is an exciting time for appliance consumers looking for bold new colors. There are many options to choose from. With shiny finishes, you have stainless steel and black stainless steel. In a matte finish, you have slate and black slate. Many brands are offering additional different options, too. At the moment, the industry leader in choices is GE, since they are the only brand offering all four color and finish combinations. So far, they've been succeeding in their new offerings to consumers - their growth outpaced the industry last year!
Thank you for reading this blog. We hope that you found it informative and helpful. We encourage you to write a comment below. We value your input!
Editor's Note: This blog was originally written in September of 2017 and has been completely revamped and updated for accuracy as of the publication date noted above.